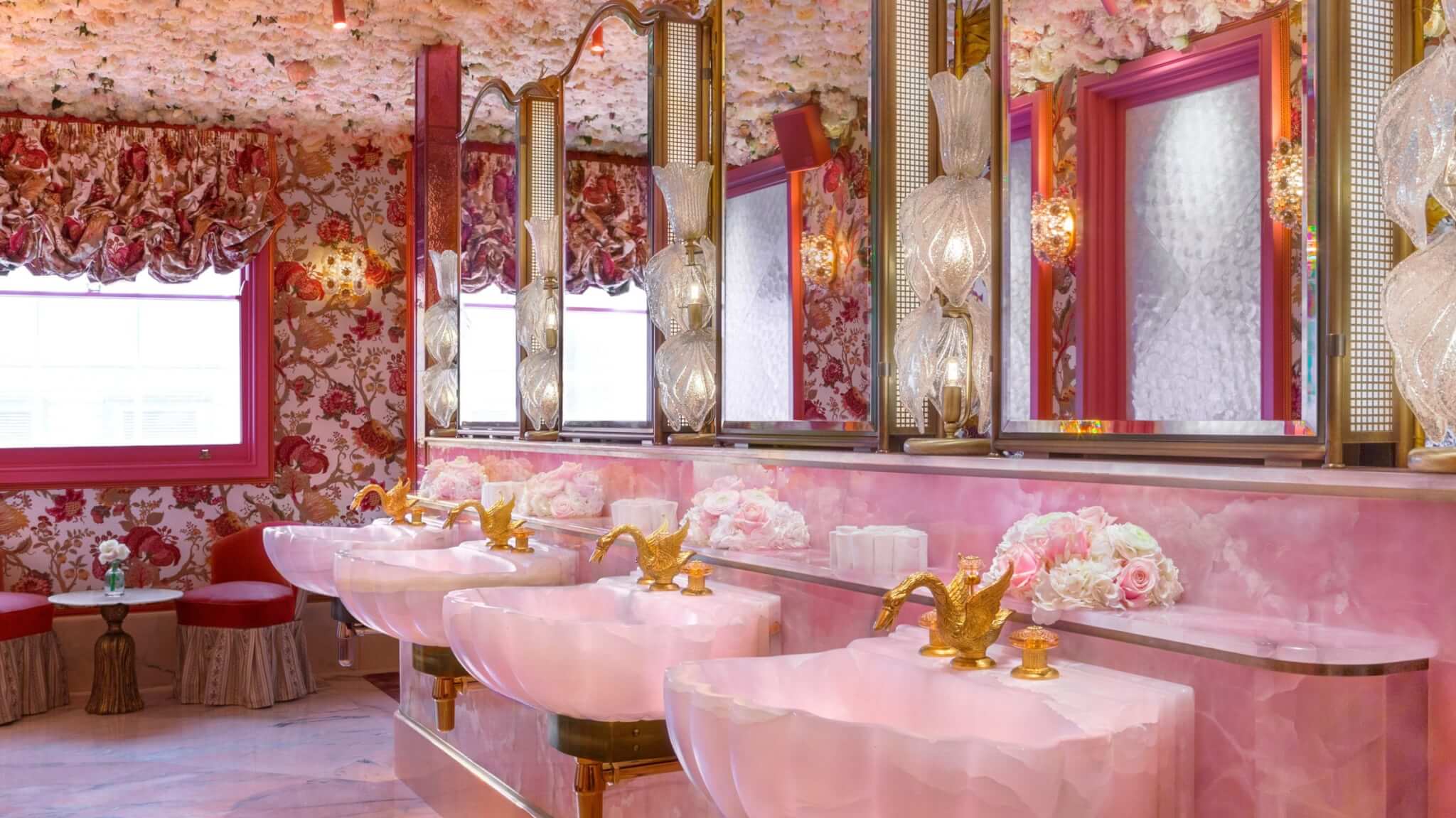 16 Aug

Best Powder Rooms From Around The World
BEST POWDER ROOMS: MY FAVOURITES FROM AROUND THE WORLD
A powder room is always fun to design. It's a great space to be creative, create surprises and particularly in restaurants and hotels, set a new mood that is exciting for your guests. Here are some of the best powder rooms that I have, or would love to visit, from around the world.
BLVD, CHICAGO
I always love powder rooms that set a mood. BLVD in Chicago certainly does this with beautiful dark textured wallpaper, a luxurious cream coloured chandelier and gold framed mirrors in every corner. There are also plush pink velvet ottomans and several custom 1950s-era vanities- not to mention the amazing black marbled floor.
Best Powder Room Interior Designs: BLVD, Chicago
ANNABEL'S, LONDON
There is a lot to love about the powder room at Annabel's in London. In full millennial pink style, inclusive of pink stone basins, pink marble and doorframes, pink flowers covering the ceiling and even pink lighting fixtures – this powder room is a design experience in itself, with beautiful details everywhere you look.
Best Powder Room Interior Designs: Annabel's, London
Annabel's powder room also features a decadent printed pink flower wallpaper and opulent golden swan faucets. It's a truly amazing design to experience for yourself.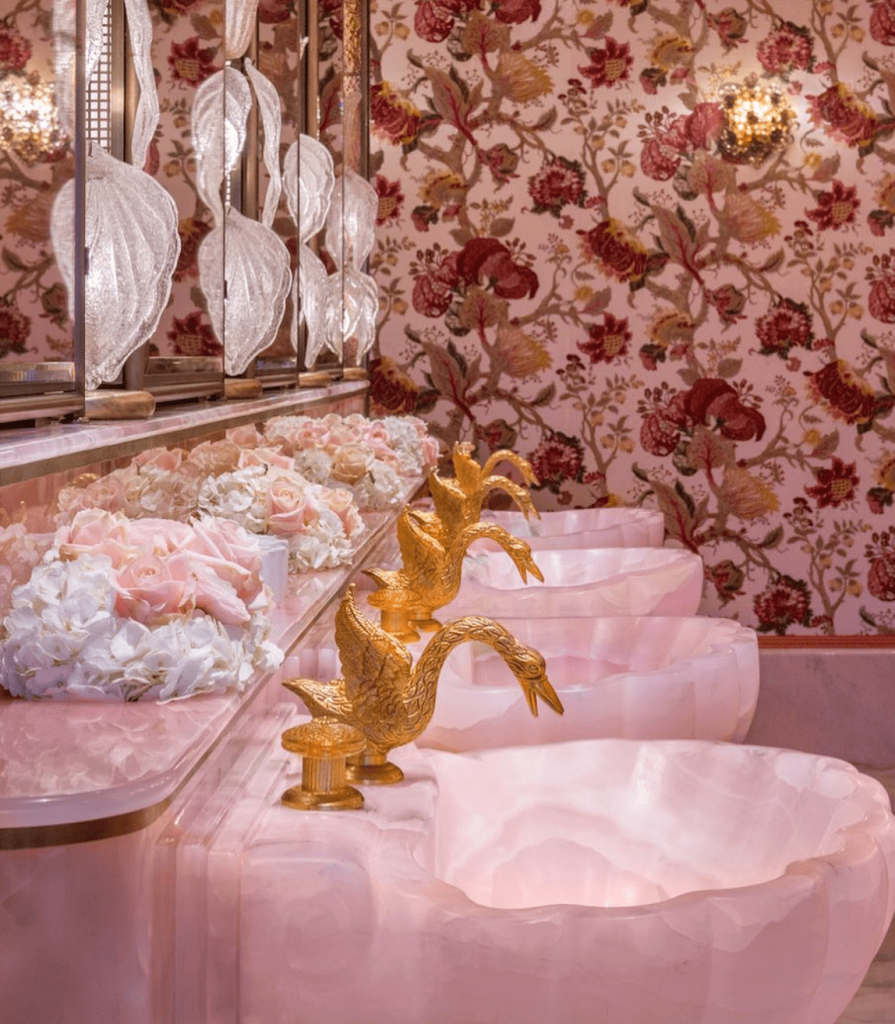 Best Powder Room Interior Designs: Annabel's, London
NOPI, LONDON
Angular, honeycomb-shaped walls creating a dazzling hall of mirrors turn the powder room at NOPI restaurant in London into something very spectacular. Plus, in addition to the captivating mirrored illusion, there are exquisite touches of gold and white marble.
Best Powder Room Interior Designs: NOPI, London
VIC'S, NEW YORK
The lady's powder room at Vic's in New York features a very Instagramable, bright and fun pink flamingo wallpaper. Large mirrors are used to emphasise the large print creating the illusion of more, along with the ceiling being covered in the paper as well.
Best Powder Room Interior Designs: VIC'S, New York
THE SILO HOTEL, SOUTH AFRICA
The elegant, airy design style of the powder rooms at The Silo Hotel in South Africa was created by making the amazing views the focal point, with five-and-a-half-foot-meter convex windows completely opening up each space to the beauty around it.
Best Powder Room Interior Designs: The Silo Hotel, South Africa
ISABEL, LONDON
The Isabel in London presents an individualised powder room experience. Rather than stalls, guests have their own bathroom, each of which has its own unique De Gournay hand-painted wallpaper. Absolutely stunning.
Best Powder Room Interior Designs: Isabel, London
PARK CHINOIS, LONDON
If you imagine Moulin Rouge with 1930s Shanghai, you'll get a feel for the luxurious design of the powder room at Park Chinois in London. With a rich gold, jade and burgundy colour scheme, lavish wallpaper, sultry lighting and dark textured materials, this powder room definitely makes my list of best powder room interiors.
Best Powder Room Interior Designs: Park Chinois, London
---
HAVE YOU BEEN INSPIRED BY THESE INCREDIBLE POWDER ROOM INTERIORS? IF YOU ARE INTERESTED IN HAVING A SPACE DESIGNED, RESIDENTIAL OR COMMERCIAL, PLEASE CLICK HERE TO CONTACT ME.
---