02 Jan

My 2017 Design Trend Predictions

First of all, I want to wish all of my clients and readers a happy New Year! 2017 has definitely come around very quickly, but I am now rested after a wonderful family break and ready to take on the year with inspired energy.

For my first blog post of the year, I wanted to do a round-up of my favourite predicted interior design and decorating trends. From colour to materials, be inspired by these trends, including Pantone's 2017 Colour of the year, which I discuss below too- enjoy!
Introducing "Greenery"
Image source unknown
PANTONE has released the colour of the year– I had predicted that it might be a shade of green and what a gorgeous shade the colour is!
Green has to have always been one of my favourite colours; deep dark green and a pop of chartreuse have always stood out to me. I believe that green is a great base colour, which can then be pared together with shades of pink, purple, aubergine, blues and white, these would have to some of my favourite colour combinations.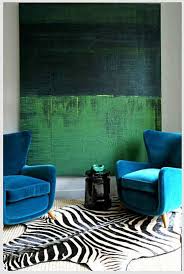 I think that green brings warmth and a strong sense of grandeur to a living space. A gorgeous wallpaper in a print featuring a deep shade of dark green makes a stunning backdrop to furnishings. Walls painted in a deep dark green can add drama and be a great backdrop to an interior. If you wanted to use the colour in a committal way, green ceramics and pottery make fabulous vases and crockery, you could also introduce more freshly-cut greenery in vases around your home. If you find a serving platter or plate in the greenery shade, food also looks great presented on green- it gives it a fresh, healthy vibe.
Terracotta
Image source: AD Magazine France
Whether it be rustic garden pots, kitchen pavers or a wall colour, Terracotta has been tipped to be on-trend for 2017. Personally, I have always loved the earthy, warm feelings that terracotta can bring to a space, whether it be indoors or outside in the garden.
To introduce the trend, I would suggest starting in the kitchen- try potting some fresh herbs such as rosemary or basil. Put these in smaller terracotta pots on your bench or shelf, then you can also help yourself to some fresh herbs, as well as add some greenery to your space while you are at it.
Upholstered furniture
Boronia House, designed by Marylou Sobel, photographed by Maree Homer.
Styled by Kate Nixon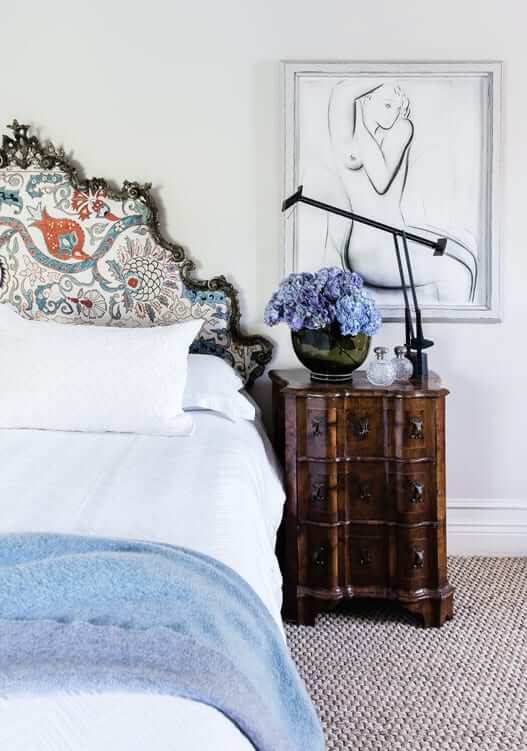 Boronia House, designed by Marylou Sobel, photographed by Maree Homer.
Styled by Kate Nixon
Although I believe that bespoke, custom upholstered furniture is always stylish, I am excited for this trend to really take off. I love using fabrics to create soft, comfortable and welcoming spaces for my clients, I particularly love the way headboards create that luxurious, hotel-like feeling in your own home. Headboards can also be easily updated in a couple of years with new fabrics, so it is also an easy way to make simple changes when you wish.
The colour navy in place of black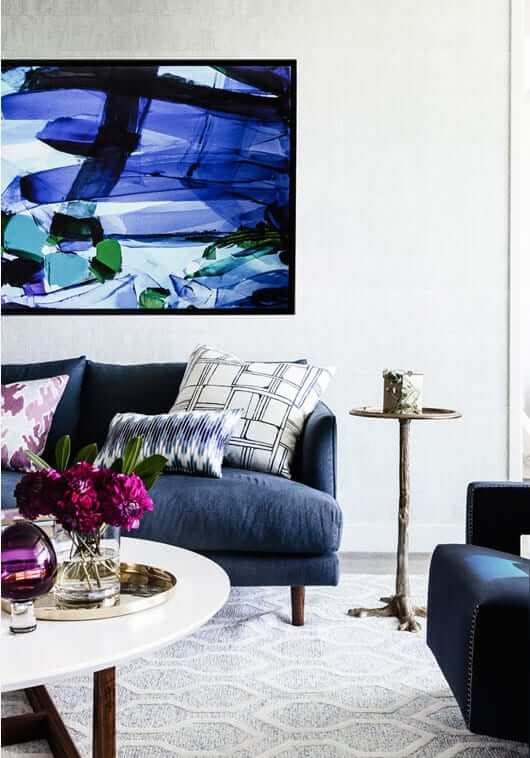 Fawkner Park Project, designed by Marylou Sobel
Styled by Bree Leech and photographed by Maree Homer.
Navy is such a sophisticated, timeless colour- I am really looking forward to seeing more of in incorporated into interiors this year (and fashion for that matter).
Navy adds a touch of class to your interior, you can select upholstery in this colour, wall art, prints or cushions to update your interior with this trend. I have also seen some fabulous cabinetry in navy blue, which looks stunning pared back with brass hardware.
Earthy tones
Image source William Sawaya
Image source Kara Rosenlund
Colours such as saffron and cinnamon are tipped to also trend this year. A gorgeous pop of saffron in the form of a cushion or throw can really set a room off- bringing it to a whole new level.
These earthy colours have a homely, warm feeling to them- I think using them in the bedroom or living areas are a great way to make the home feel welcoming and comfortable.
---
What are your new year trend predictions?
Do you have thoughts on the predictions in the post, I would love to hear them.
Drop me a comment below, let's connect!
---