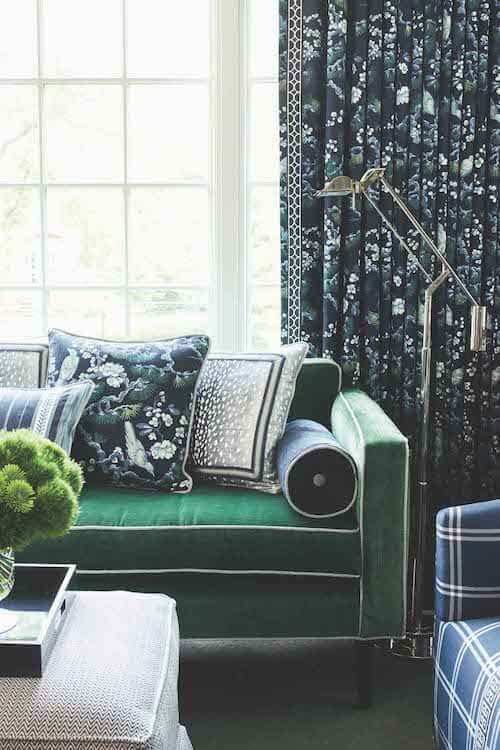 14 Sep

Beautiful Textiles Part 1:
Interview with David Klaristenfeld
One of my favourite elements of an interior to consider for any project are beautiful textiles. They help to set the tone of a space and bring other elements together for a harmonious, finished aesthetic. Creating sophisticated interiors by layering various patterns and textures is always an exciting task, with consideration given to the functionality of the textile but also the comfort or feeling it brings to a living space.
Today, I am delighted to feature Fabricut Inc., a collection of luxury textiles spread across multiple brands that I love working with to transform my client's homes. They are a very interesting company dedicated to truly beautiful interiors, and so I am excited to share with you an interview with David Klaristenfeld, Vice President of Fabricut Inc. Enjoy.
How and where are your fabrics made – what is the process?
Fabricut Inc. has six brands under its umbrella — Trend (our value brand), Fabricut (our mid-market brand with a wide range of design options), Stroheim (higher-end wovens, draperies and silks), Vervain (mainly higher-end traditional prints inspired by art and historical textile designs), S. Harris (our edgier, more contemporary line featuring luxury solids and fashion-forward designs) and Fabricut Contract (our hospitality division).
Our fabrics are made all over the world.  We have over 60,000 different fabrics and that takes a lot of production. We produce fabrics in India, France, England, Pakistan, Israel, Turkey, China, Italy and, even recently, in Turkmenistan, to name a few countries. Of course, many of our fabrics are manufactured in the United States.
We are curators of existing designs as well as creators of exclusive product. We both weave and print our own exclusive product under each of our own brands.  Our exclusive prints can start from a creation in our art department or by re-creating an existing archival pattern. Most recently, our Vervain brand collaborated with the New York Botanical Garden and our designers were granted exclusive access to their incredible archives of historical texts and illustrations, from which we created the collection's patterns.
Stroheim – Sheer Illusions
What are your favourite fabrics from the latest collections / which upcoming styles are you and the company most excited about?
Not a fair question — it's like asking me which child is my favorite. But, if I had to choose items from the most RECENT lines (which itself is over 2,500 skus), I would select our Pulp Design Studios for S. Harris collection (very modern), our Sheer Illusions collection for Stroheim (a stylish, unique collection of sheers), our Modern Nuance Collection for Fabricut, our Vern Yip II Collection for Trend (traditional with global influences) and the New York Botanical Gardens Collection for Vervain I mentioned earlier. And, every so often, it's fun to reconnect with an older pattern, like Secret Garden from Vervain — it's one of my favorites (mainly because they never let me get involved with the design and I got to pick the colors).
I am excited about many of our upcoming launches for our brands. We have new wallcovering arriving in Trend (Jaclyn Smith, whom you may recall from Charlies Angels, and Vern Yip).  We also have some great new collaborations coming for Stroheim and Vervain, but I'm not allowed to talk about them yet!
What is your (or your designers') favourite thing or commonplace to draw inspiration from? 
Like I said, they really don't let me near the art, but I think that each of the designers draw inspirations from many different places; architecture, gardens, fashion, fine art. Texture also plays a major role in what the designers select.  More recently, it's been very important to produce fabrics with performance qualities for homes with kids and animals, so customers can achieve a great look that's liveable and lasts.  An upcoming collection in development for S. Harris was inspired by S. Harris Creative Director Jodi Finer's favorite female artists.
Reflecting on how the company has progressed over its impressive 60 years so far, what do you feel has changed the most about your fabrics or any other part of the company that has seen a progression?
One of the most interesting developments in the past 10 years is the quality of fabric from places like Turkey and China.  Ten years ago, those countries couldn't create fabrics to compete with fabrics from the US or Europe. While not there yet, the fabrics being produced in these countries far surpasses where they were back then.  Additionally, for the first time ever I feel that the internet has opened up the world of fabrics to the consumer.  I don't think it will ever replace working with designers; more often than not, we see designers coming to us to fix problems their clients experience when purchasing their own fabrics on the internet.  However, it gives the consumer an ability to really see the breadth of what's available to designers around the world.  And there are a ton of fabrics out there.  Our hospitality business has increased tremendously over the past 20 years, and our export business has taken on a very large role in our company's profile.
Overall – Fabricut
What do you enjoy most about your role as Vice President of Fabricut Inc.?
I have the best job in the world.  I wake up every morning to a new adventure.  I am responsible for our export division, our showroom network, our luxury brands and our marketing department.  I also work on all our licensing programs and, since I was a lawyer for six years, get to draft our contracts.  Any given day I could be in Russia or Australia, negotiating a showroom lease in Los Angeles, exploring a new license with a fashion designer, or working on approving our latest advertisement in Elle Décor!  I work with a cadre of incredibly talented creative people (of which I am not) — our own design team, the editors of the major shelter magazines and the interior designers to whom we sell our product.  Like I said, best job ever.
---
A huge thank you to David and the team at Fabricut Inc. Keep an eye out for our next blog: Australia's Exclusive Stockists of Fabricut Inc. brands. Stay tuned…
---