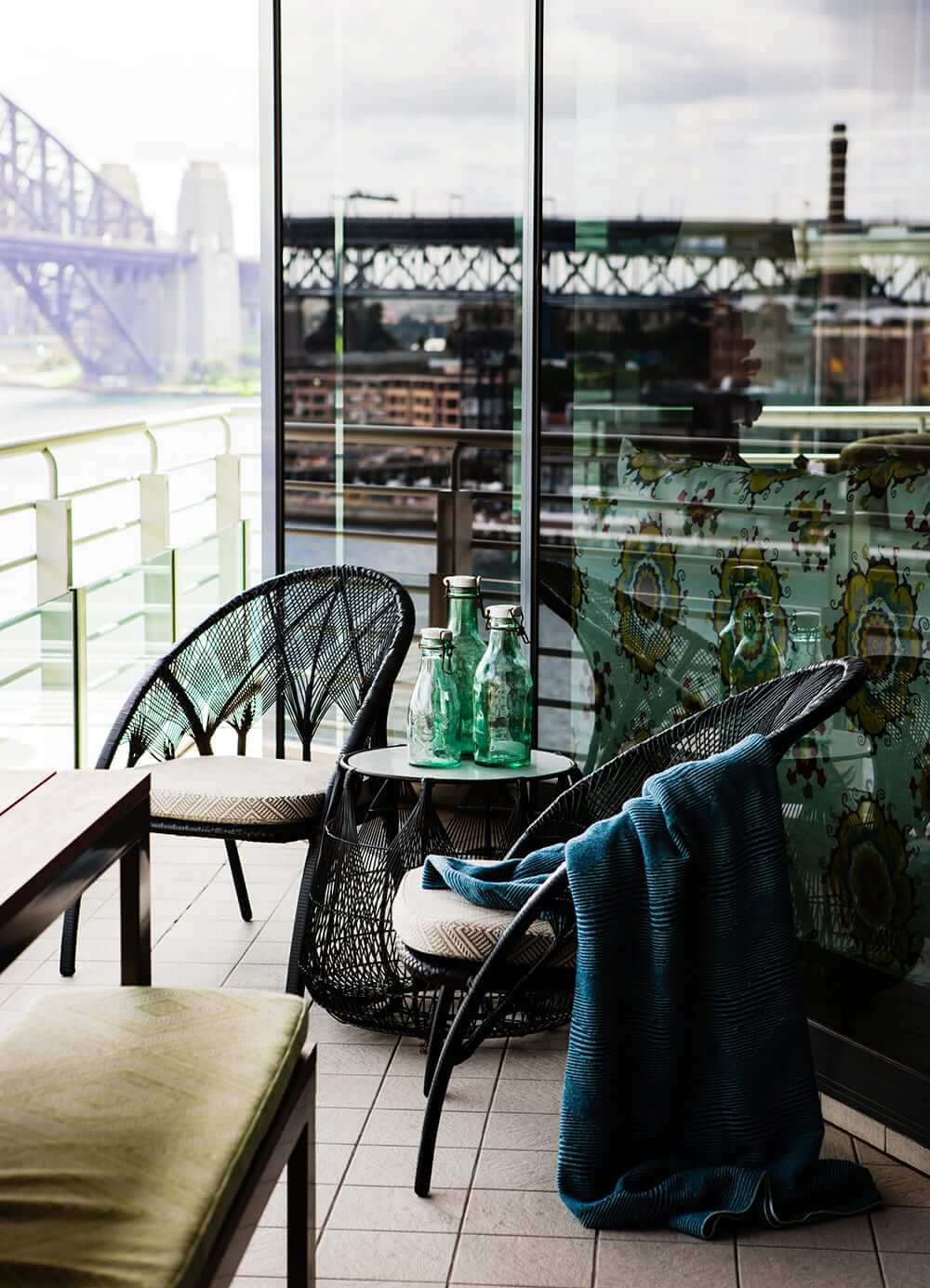 25 Sep

Inside Design – Design through the seasons

It makes sense to change your interior design to match the changing seasons; after all, the way you live changes with the seasons so why shouldn't your home environment?  Changing elements of your interiors to suit the seasons has a range of benefits – to you and to your pieces.

Any designer would love to have a client who wants to completely change their interiors each season to fully match and embrace the changing weather! For so many reasons this doesn't happen, but there are ways to ensure the feeling of ease that comes from being in a space that sits perfectly in its environment.

Fabrics are an ideal way to modify your furnishings for the environment.  Considering outdoor furnishings, Melbourne gardener Paul Bangay has just released a gorgeous range of outdoor fabric through Elliott Clarke.  He loves to change his outdoor cushions with the season and I agree with him wholeheartedly for three reasons.  One, you ensure that your furnishings suit the weather and season, practically and aesthetically; two, you limit the wear and tear that goes along with furniture and fabrics living outdoors so that the pieces all together have a much longer life; and three, it keeps your home and surrounds looking and feeling fresh – and stops you from getting bored!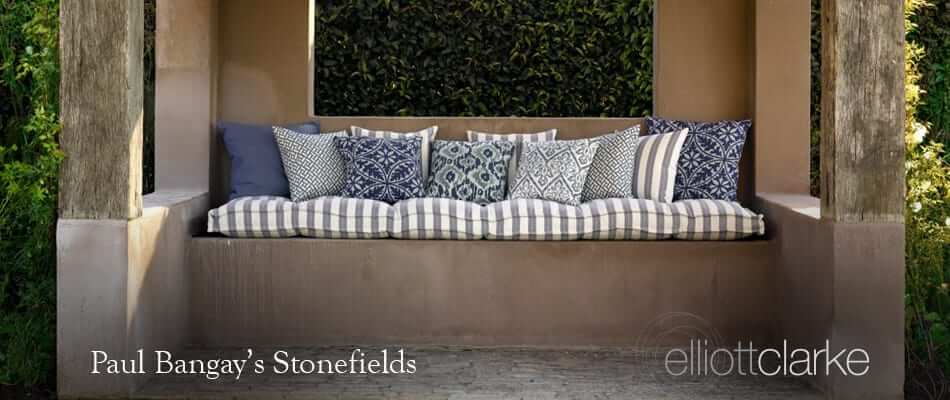 Paul Bangay Outdoor Fabric for Elliott Clarke
It's harder to make regular upholstery changes on indoor pieces so perhaps the easiest  way to 'go with the seasonal  flow' is to start with a neutral foundation, one that is suitable for any  climate.  Then you can modify the room for the season using accents, accessories and furniture arrangement, etc.
How to modify a room
Scatter cushions, vases, throw rugs of different colours, patterns and textures are invaluable for this purpose.  They can be brought out each season, just like we bring out winter clothing and bedding, and can completely change the aesthetics of a room.  You can choose how much of a change you wish to make with each season as it comes, from just adding a throw rug, or swapping all your accessories to suit a seasonal palette, or anything in between.
Throw rugs and scatter cushions can change the tone of a room – indoors or out.
Candles can be used all year long to different effect.  In summer, especially in an outdoor room, they have an ability to bring that gorgeous, atmospheric feeling that we associate with those long summer days.  In winter, they set a mood indoors that feels intimate and cosy.
If you do choose one look to extend through the year, and don't want to rely solely on switching up your accessories, you can reach something of a compromise between the seasons – for example, combine velvet curtains with pale linens for your sofa fabric.  The contrasting fabrics will bring some interest to the room and the heavier curtaining can block summer's strong sun (especially if it is in Australia), to create a shaded oasis on a hot day.  In winter these same curtains will provide warmth in the evenings (especially if you add an insulating layer) but can be drawn back during the day to reveal gorgeous winter sunlight.
Heavy curtains and light linens for an all-year-round compromise
Furniture placement also goes a long way to change a room from feeling light and airy in spring/summer to cosy and intimate in autumn/winter.  Furniture placed to look out towards the outdoors in summer can give a something of a holiday house vibe, you can watch the kids playing, enjoy your abundant garden, soak in the sun, and generally get that sense of bringing the outdoors in.  A more inward looking arrangement in winter, perhaps centred around a fireplace, brings warmth and heart back into the room while also making it cosy – an ideal place to spend cold winter days.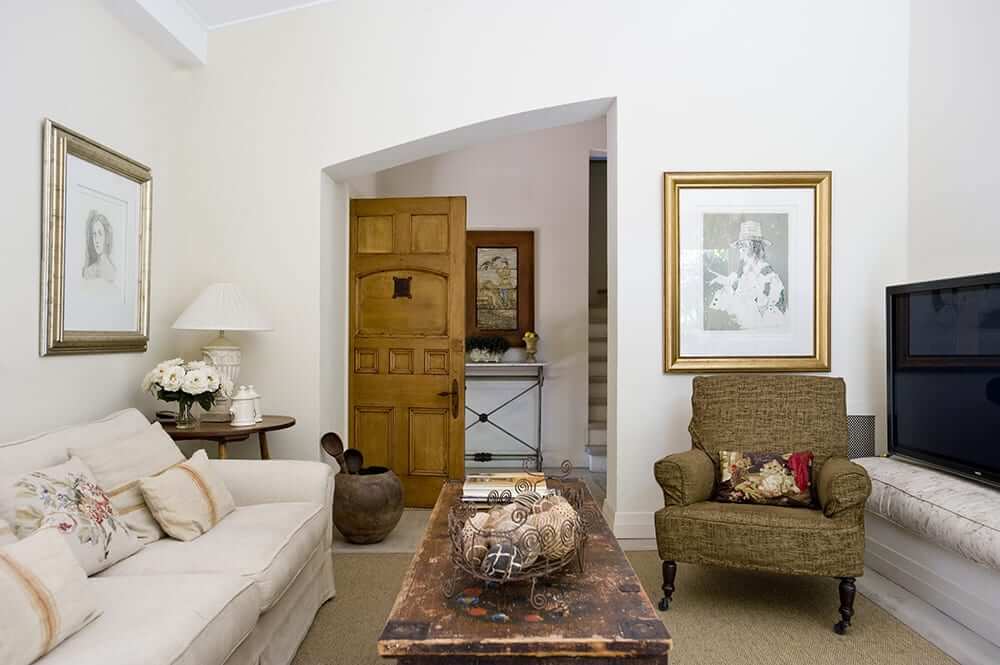 A neutral room can be completely transformed season to season
Some rooms tend towards a climate oriented look, and that's okay.  An 'archetypal' study, with dark wood, leather and tartan, say, is inherently wintery but can work all year round.  In summer that room will still work and even become a haven, because it will feel cool and soft against the harsh summer sun.  And when sunlight does shine in the look will be lightened.
Of course, my favourite way to make subtle changes to suit the seasons is by bringing in gorgeous seasonal cut flowers.  It is a simple thing but the impact can be impressive!  Does anything else say summer more than vases spilling over with hydrangeas, gardenias or frangipanis?
Flowers show off the seasons and bring something beautiful to a room
Changes can be fun and inspiring.  While you might have many pieces that you love and want to look at all year long, it is also great to rotate pieces, especially if they have a particularly seasonal feel.  It can freshen your home up beautifully, and help you see it in a new light.
_____
Paul Bangay for Elliott Clarke – http://www.elliottclarke.com.au/