10 Sep

How to achieve a cohesive outcome from design choices

Recently, we've posted a couple of blogs where I talk about my ideal client or ideal project. How my favourite type of interior design project is most definitely helping clients to design (or re-design) their entire home. This allows for a cohesive outcome from design choices. And today I am going to explain how. 
Let's start at the beginning
Of course, I start with the brief provided to us from the client, considering their style and the needs of the people who will live in the space. In addition to the brief, I will then consider the architectural details of the building itself… Are we creating a new space from scratch allowing for ultimate creative freedom, or are we working with an older property with important history that needs to be considered when designing spaces. 
When designing, I consider the space in its entirety, so that every element seamlessly works as a whole, nothing in isolation. The challenge is to achieve an end result that is both artistic, but with an element of surprise. So now we understand the client brief and the project in hand, how do we achieve that cohesive outcome?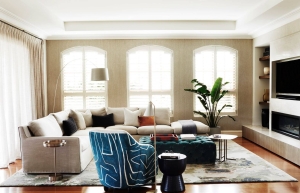 A blank canvas… 
Every interior design project begins as a blank canvas. From the initial consultation and brief, we already have an idea of colour, texture and materials that we would consider using to align with the personality and needs of our client. 
We take the blank canvas and then carefully consider each layer.
Similar tones throughout – to create a design that flows through the entirety of the space, we ensure that colour tones work throughout every room. 

Accent details and textures – it's important to consider texture alongside colour when designing, and although these details may seem quite small, they can have a big impact on the overall look and feel of a space. 

Architectural details – whether this be highlighting existing architectural details of the existing property, or introducing entirely new features to the space, this is another important aspect of our cohesive design. 
And then finally, how each of the above elements all feed back to each other, weaving the design language into a visual story for the client. 
All isn't lost…
Not every project is a completely blank canvas. Of course, I do consider existing furniture and art that the clients own and determine whether they can come along to the new home, especially if they are valuable or investment pieces, or simply because the client just loves them! But I am very honest and quite ruthless in determining what comes and what goes.
Bringing design to life
Often for those not living and breathing interior design like my team and I do each day, many important elements can be forgotten as part of a cohesive design outcome. I consider hard surfaces, joinery (and joinery hardware), sanitary ware and appliances. During the design process we are considering the practicality of the space, while repeating colours, textures, tones and details throughout the home, including bringing those elements from inside the home to the outside, such as outdoor patios, terraces and gardens. 
Searching and sourcing
Of course a crucial part of the interior design process is considering the furniture and lighting layout for each space. While I am busy working on a client's design project, I am also searching and sourcing while I am designing. This is one of the reasons I prefer to design an entire home rather than a specific space… as my process allows me to find pieces that will work in different spaces and bring the design together. 
At Marylou Sobel Interior Design the entire process is underpinned by the clients needs, how they like to live in and use their space. Creating a beautiful home that is not only unique in style to the client, but forever practical in day to day life. And that invaluable feeling of comfort. I design to ensure that my clients feel comfortable in their new space as if it had always been that way…