27 Nov

How to redesign your Sydney Federation-style home – and what to consider before you start

If you own a Federation-style home in Sydney, you're probably tempted to do it up. But with revamping comes risks: a heritage home is subject to rules and regulations, and you don't want to lose its history with a complete overhaul. You also can't play it too safe, either; otherwise, what's the point? In our experience, a Federation-style home redesign can be hugely rewarding, but a balance between respecting the architecture and infusing modern functionality is so important.

But what's Federation-style, you ask? Many heritage homes in Sydney are built in this style: think red-brick exteriors, tall chimneys, and ornate ironwork (filigree). Or, think back to the pictures of houses you drew as a child: pointy rooves, walls scribbled in red, and a little, square window.

Why we drew Federation-style houses as kids remains a mystery, but what we do know is that this style of architecture is uniquely Australian. It spans the period from 1890 to 1915, and it refers to the establishment of the Federation of Australia in 1901, when the Australian colonies officially became the Commonwealth of Australia. The architectural style is a mash-up of Edwardian and Victorian (but it's less uptight, and it takes our country's balmy climate into account).

HOW TO KNOW IF YOUR SYDNEY HERITAGE HOME IS FEDERATION-STYLE

If you have a heritage home in Sydney, it's probably Federation, especially if it's located in a suburb like Woollahra, Paddington, Centennial Park, Redfern, Mosman, Newtown, or Bellevue Hill. In fact, the first Federation Queen Anne house – which is one of 12 Federation styles – was built in 1885 and stands in Bellevue Hill.
Caerleon in Bellevue Hill, Sydney. Built in 1885, this two-storey house was named after Caerleon, a small town in Wales. Photo: Wikipedia/CC
YOU'LL KNOW IF YOU HAVE A FEDERATION-STYLE HOUSE IF IT HAS:
A red-brick exterior
Australian-themed motifs in the timber or cast-iron latticework (look out for emus, rising sons – the symbol of the Federation's new dawn, and the dawning of a new century – kangaroos, and native flora). Post-1900 you can find geometric Art Nouveau influences
A covered verandah with columns (brick or timber)
A dominant but intricate roof-line (featuring gables, chimneys, and more)
Gorgeous leadlight windows
Victorian interior features, like pressed ceilings and timber skirting/cornices
"Federation houses are quite stately," adds Marylou. "They also usually have ornate gardens with fountains, bathrooms with busy colour schemes and patterned floors, and not-great lighting."
According to Marylou, if you want to redesign your Federation-style home, then you need to think about the following before anything gets knocked out or painted over…
KNOW THE RULES, BUT HAVE FUN
If you have a heritage home in Sydney (or anywhere in Australia, for that matter) you'll need to check with your local council about what can and can't be done. For example, many Federation-style homes have brick or sandstone exteriors that can't be touched, or they have limited, painted colour schemes that need to remain (usually found at the top of some Federation-style roofs, in a V-shape). Once you're clear on the rules, the fun starts.
"If someone wanted to renovate a Federation house, I'd modernise aspects of it, like fittings, but still pay homage to its history by retaining some of the main features that make it Federation," says Marylou.
"If the council allowed, it could be a lot of fun to knock it about a little – say, to let in a lot of light, or to paint the red brick white, or another colour of choice."
Marylou adds that she'd retain any Federation-style detailing: for the bathrooms, she'd still use a patterned tile but modernise the layout, and perhaps add a free-standing bath but install a separate shower. For the kitchen, she'd keep any skirting and cornicing.
LET THERE BE LIGHT!
Federation-style homes tend to have a lot of dark timberwork, black granite in the kitchens, and some rooms can be a bit pokey. To add a modern-take to a musty look, just add light. You'd need to consider different lighting, such as task lighting versus aesthetic, but light makes a huge difference when it comes to revamping a Federation home.
"If I client wanted to revamp their Federation-style home, I'd paint any dark timber white, lighten the floors by either painting or staining them, get rid of any large-format black granite in the kitchen, and I'd install new light fittings," says Marylou.
A Federation-style home that MSID revamped: the kitchen was painted in lighter colours to visually open up the space, while original detailing like cornices were kept. Photos: Simon Kenny
Marylou adds that floor-to-ceiling height is generous compared to modern builds and, light-wise, a lot can be done with that, plus not all light fittings need to be modernised – some, like pendants or chandeliers, can highlight the home's old-world feel.
"I'd definitely keep any leadlight windows, as they are beautiful and pay homage to the home's history," says Marylou. "I'd possibly change their placement and repurpose some of them, if the design welcomed it or just leave them as is. I would also add a skylight or two where possible, to let extra light in."
CONNECT THE INDOORS TO THE OUTDOORS
Federation houses are quite 'close-up', and they generally lack indoor-outdoor spaces. Many of them have manicured gardens and covered verandahs, but these spaces are distinctly separate from the inside of the house.
"There's grandeur but not openness," says Marylou. "Lots of glass and sliding doors are modern, and Federation-style homes don't have features like that. For a modern look, the trick is to bring the indoors, outdoors." She adds that a conservatory or a modern wing, with glass doors leading onto the verandah, could open up that side of the house.
Marylou suggests using outdoor furniture on the verandah, and if allowed, opening up the verandah by extending it (as long as the original columns and detailing is kept on the outside, of course).
In this Federation-style home, MSID redesigned the space to bring the outside, inside. Photos: Simon Kenny
CREATE A LAYOUT THAT'S FAMILY-FUNCTIONAL
How today's homes are used is very different to what a Federation house was designed for. With a Federation-style home, the layout is traditional and not conducive to modern, family living. For example, the bedrooms in a Federation home are generally right near the front door, on the left and right (unless it's a double-storey, then they're upstairs).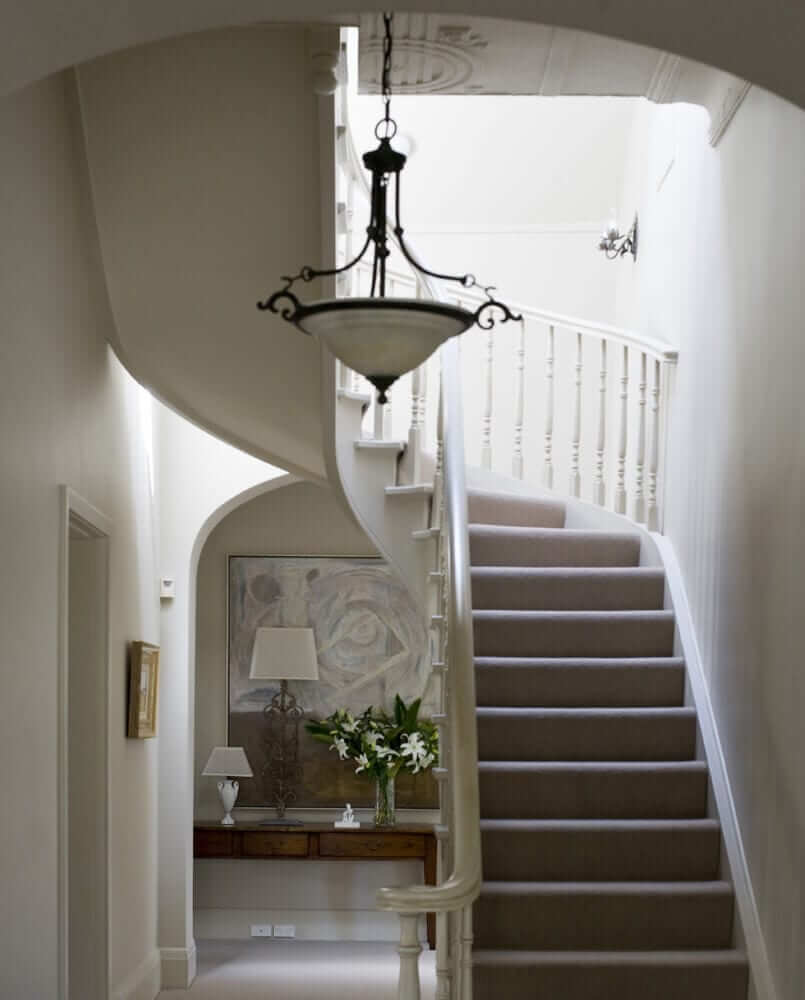 A classic, double-storey Federation-style home that MSID redesigned. Here, the stair balustrade – which was once a stained, red-brown timber – was painted white to give a modern and lighter feel. Photo: Simon Kenny
"No one likes bedrooms at the front, or very formal living rooms, which tend to feature in Federation homes – for life in 2020 and beyond, the rooms need to be more casual, and the layout needs to be shifted around," says Marylou.
"An idea would be to keep one room as a study or home office in the front and make the other a guest bedroom. The kitchen and family room could also lead out onto the garden."
Finding a balance between paying homage to a Federation-style home's history and infusing modern functionality is possible. You just need to have the right interior designers on board – Marylou Sobel Interior Design has experience with redesigning Sydney heritage homes, and we can guide you through the process, step-by-step.
Want to redesign your Sydney heritage home? Contact us for expert advice that respects your home's history and breathes new life into an old space.