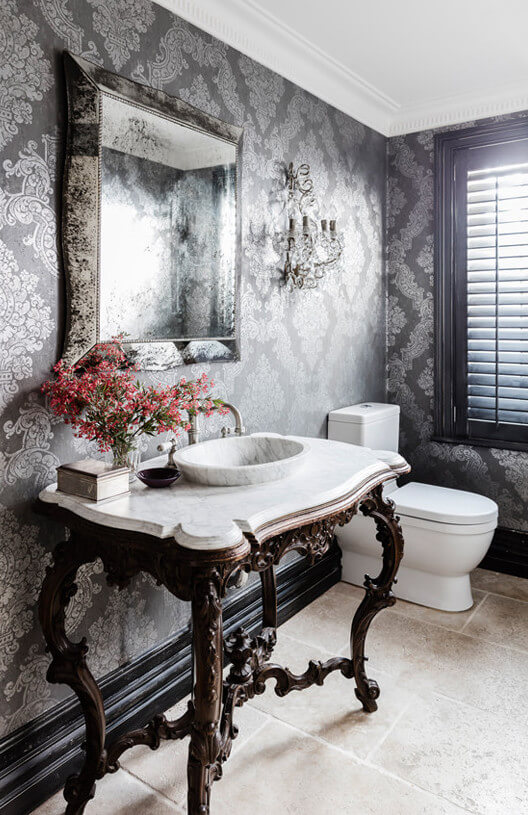 15 Jan

Clever design additions to give your powder room that WOW factor
Welcome to a new year!
Here at Marylou Sobel Interior Design, we are excited about 2019 and all that it is set to bring, including some big new projects. We will also be premiering the stunning images from some of our 2018 projects with our readers and followers- so stay tuned for those.
To kick off the new year on the blog, I thought why not share some tips on creating a powder room with that wow factor! A dramatic powder room has to be one of my favourite spaces to design and there are a few tricks of the trade that I often turn to in order to take the room to that next jaw-dropping level.
I hope you enjoy…
Lighting
Lighting has two jobs when it comes to a bathroom- function and aesthetics. However, in a powder room, the function becomes less about makeup application and shaving and more about creating a certain feel and welcoming guests.
When lighting a powder room, I always make sure that the accent lighting is a beautiful, eye-catching feature, a real statement. I like to either use wall sconces or a pendant, even a small chandelier, depending on the space and effect that we are going for.
Original image source unknown
Original image source unknown
*Design Tip…
When working on your lighting plan, be sure to have all the lighting on a dimmer, that is your downlights as well as your feature lights. Have them on separate switches too. This way, you can adjust the lighting according to the mood you wish to create.
Wallpaper
Wallpaper really has the ability to do so much for a powder room. Whether you are choosing to wallpaper the entire room or just an accent wall, it can really make a lasting impression.
Wallpaper can set the mood and tone of the room, create atmosphere and welcome guests into a sanctuary that feels like a world away. When choosing your design, consider the size of the print and the scale in comparison to the size of the room and whether or not it will see natural light. In a powder room, one can play with the proportion and scale in a way that creates intrigue and drama, a little more riské than the rest of the home.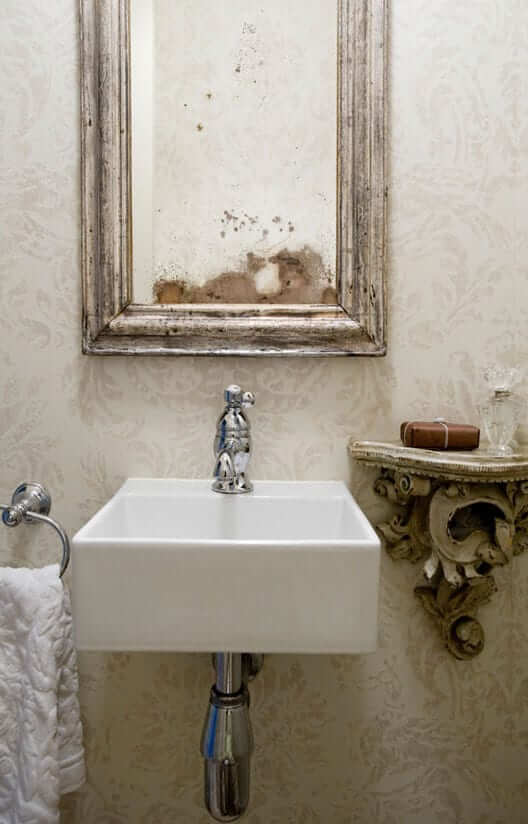 Designed by Marylou Sobel Interior Design, Photographed by Simon Kenny
Image source unknown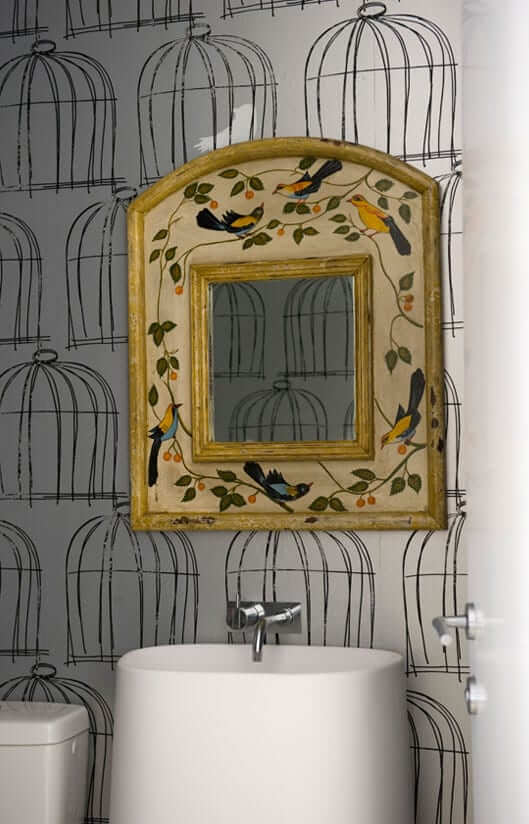 Designed by Marylou Sobel Interior Design, Photographed by Simon Kenny
*Design Tip…
When starting out with your design, wallpaper selection can be a great place to begin. Much the same as a piece of artwork, you can work off the colour palette and tones in the wallpaper and build your bathroom design around those elements.
Hardware & Tapware
The hardware selections for your bathroom will really bring the room together and give it that luxurious touch. You need to consider the finish, colour, style and placement of your tapware, ensuring that it keeps in flow with the other selections you have made for the room. Consider whether or not the taps will be placed on the vanity, or on the wall, you will also need to think about the length of your spout in comparison to the depth of your vanity and basin.
Photo via Milieu Magazine

Designed by Giannetti Home Los Angeles
*Design Tip…
When in doubt, have a play! Look at the tap and spout and the basin and how it will all work together. You can select tapware that is unique to just this space and so can take a risk and use something eye-catching and a talking point.
Joinery
I really love sourcing an interesting, beautiful vanity for powder room projects, it can really help to take the powder room to that next level. Depending on the style and aesthetic of the client and their design preferences, a vintage cabinet can be turned into a stunning vanity, or, a custom vanity can be measured and made to order. The possibilities are really endless and when combined with the right hardware, can really give the bathroom that wow factor.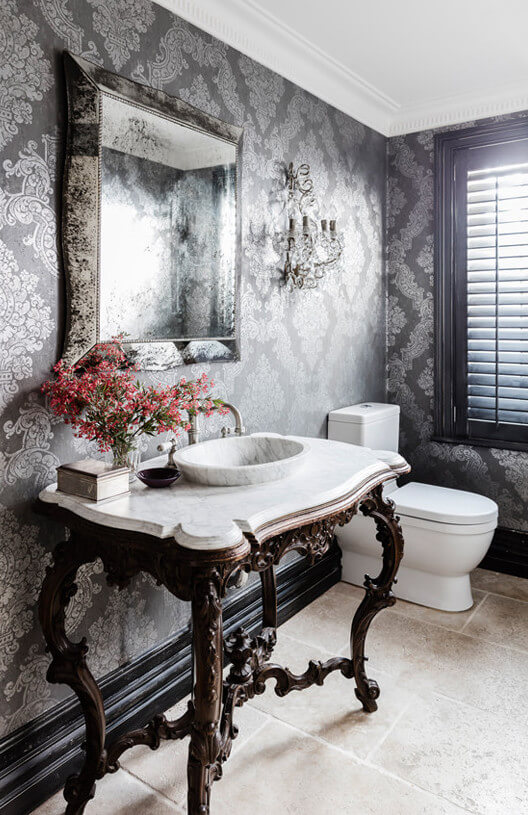 Designed by Marylou Sobel, Photographed by Maree Homer
Designed by Marylou Sobel Interior Design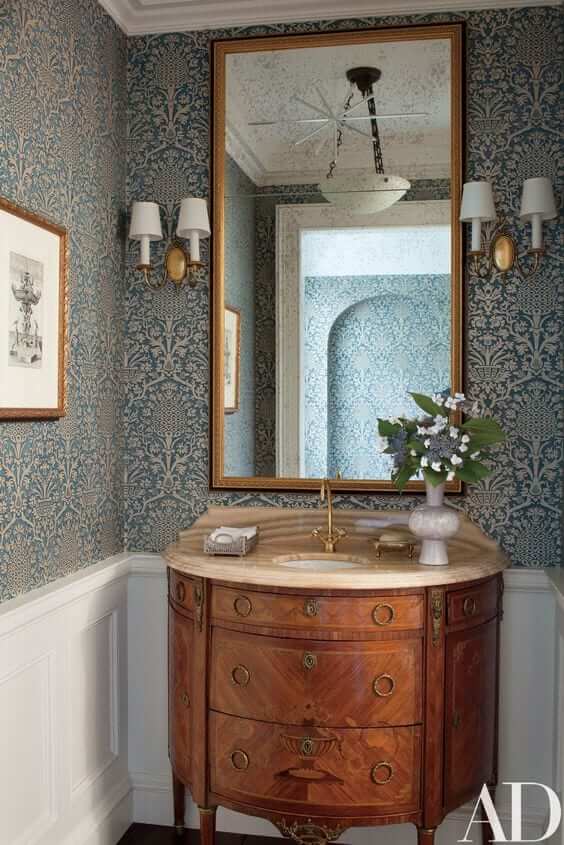 Photo source Architectural Digest
*Design Tip…
When sourcing a vanity for your bathroom project, consider how the plumbing and fixtures will work in with the cabinetry. If in doubt, consult with your plumber before you purchase.
Mood & drama
This is where you can really be creative! Every choice that you have made when making your bathroom selections can contribute tot he mood of your powder room.
When beginning the project, work out the look and feel that you wish to create and make your selections accordingly. A visual moodboard can really help here.
Designed by Marylou Sobel Interior Design, Photographed by Maree Homer
*Design Tip…
You can begin with the wallpaper selection or colour palette or piece of furniture that you intend to use as the vanity, and the rest can grow from there. Stay with the overall style of the home, and embellish it.
---
I hope that you have enjoyed this first blog post for the new year. If you have been following me for a while, you will know that I love a dramatic, beautiful powder room and never tire of designing them.
If you would like to discuss an upcoming design project, please do not hesitate to reach out to me, via my contact page.
I look forward to hearing from you in the comments below or over on Instagram, where I post daily design inspiration and behind the scenes. Click here to find us.
---