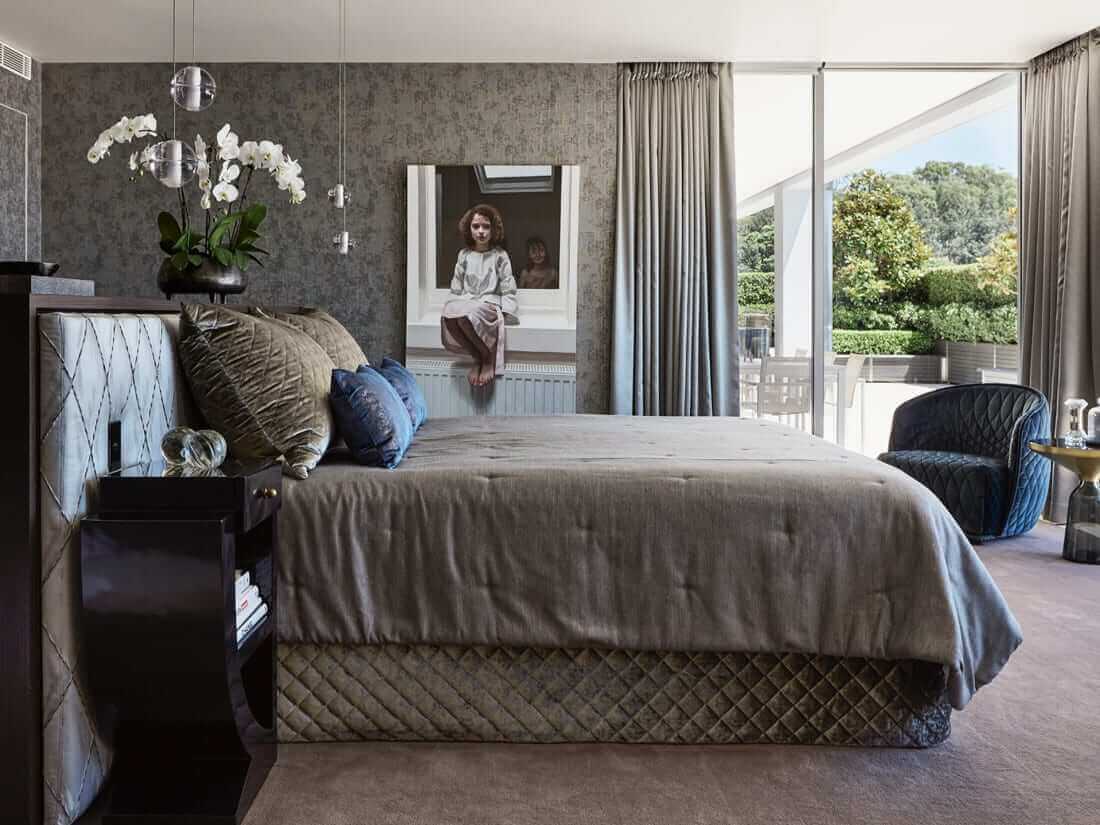 13 Jan

Flirting with fabrics – fashion and interior design

If you follow us on Instagram, you may have picked up on our weekly Fusion Friday posts, comparing the latest fashion trends with interior design styles or spaces. Despite being a lover of fashion, I am not influenced by fashion when I am designing a space, but my understanding of textiles and how they can be used as a crossover, like linen for example will crush whether its a suit or a curtain and wool or velvet will keep you warm whether you are wearing it or sitting on it.

I found myself being drawn to fabrics from a young age. I appreciate their tactile feel; I just have to touch them. I can tell by touching a fabric if I want to use it or wear it… if they don't feel good, I won't use them at all. My stand out favourites? Linens and velvets. Today I'm going to share my advice and preferences for using fabrics within interior design. 
Everything Natural
I much prefer everything that is natural when I am designing, from stone worktops to beautiful hardwood floors, and I feel the same way about fabrics. Whether I am wearing them or designing with them, fabrics need to be made from natural materials. You would never catch me wearing polyester, and similarly you would not find me using it within my designs. (Okay, maybe if it's a West facing balcony or space where we need to be mindful of the sun, but just maybe).
Textures vs patterns
Given the choice, textured fabrics would be my preference over a strong patterned fabric. Using different textured fabrics allows you to layer, mixing different textures and colours. Pattern on pattern looks great too with the right combinations. But if you would like something easier on the eye, go for patterns that have the same tones within the patterns/fabrics. 
Using patterned fabrics in your interior design can work well for smaller pieces of furniture in the room, like a feature chair/ottoman or cushions. You can have a lot of fun with cushions, one of the reasons why I prefer plain fabric for a big-ticket item such as a lounge or curtains.
Patterns can become an important feature when you are designing a space, for example using a beautiful patterned fabric for a bedhead, creating a talking point in the room. I personally love animal print, so I am always happy to add that somewhere. A Suzani is a beautifully embroidered Indian patterned fabric that I am partial to using in my design where appropriate. It creates a one-off individual piece of furniture that can become the hero piece in the space, as seen here.
Colour and fabrics
When trying to understand the colours that you want to use to design your home, first consider the colours you can find in your wardrobe (I have given this advice on this blog before). Your fashion choices can help you to understand your colour palette when designing your perfect home if you're unsure of your favourite colours and need to better understand what you gravitate towards most. 
Make subtle choices of colour, textures and patterns so that they are not contrived. I will often suggest picking a 'hero' piece from the space to work with to determine a colour palette, for example a piece of art, or in this example, a fabric. If you're working with a patterned fabric and you look closely, you can identify an array of different colour opportunities to work with. Pick the least obvious colour for the most dramatic effect.
Talk to us about fabrics
Working with fabrics came naturally to me; I can skim through collections and ranges and quickly identify exactly which designer/range each piece originated. I work with wonderful fabric suppliers in Sydney, who I frequent often, bringing back to the studio with me the whole story behind my choices and why they're perfect for what we are achieving for our client. I hope you have as much fun searching for your next perfect fabric for your design project.
If you'd like to work with us on your next interior design project, please feel free to reach out to us to see if we are a good fit, we'd love to hear from you.