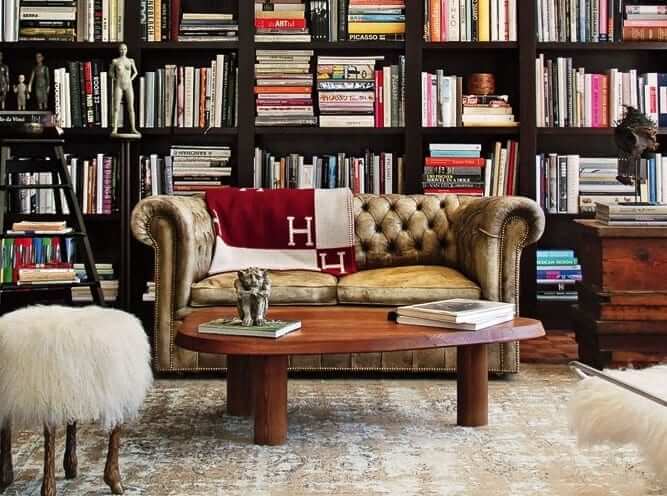 03 Aug

Friday Favourites- Home Libraries
 I am back, refreshed and as inspired as ever after my trip to Europe. If you were following along with me on Instagram, you will know that I was lucky enough to visit some beautiful places in France, what an amazing journey it was!
I felt so inspired by all of the rich history and culture of the towns I visited, as well as in the chateaus I had the pleasure of visiting and chateaus that have been adapted and turned into hotels where we were fortunate to stay in. It inspired me to seek out opportunities to celebrate more of the history and the stories that families pass down from generation to generation, here, in my home and the homes of my clients.
I am often drawn to book collections in homes that I visit, whether friends, family or clients- I believe that a book collection can provide you with an intriguing insight into someone's personality, interests and family history. A home library is a special place, to hold family heirlooms, book collections, photo albums and more.
Whether it is a small nook, a wall or an entire room, I love to admire beautiful home libraries, so, for this round of Friday Favourites, I wanted to share some beautiful home libraries with you.
I love this traditional plush velvet sofa, in this stunning citrus colour, paired back with the dark panelled walls and geometric tiles. The steel-framed window makes for plenty of natural light for the reader to enjoy a relaxing afternoon in their home library.
Image source here

I love the grandness of this room and how the sofas face the large floor to ceiling openings, rather than in toward the room itself. One could spend hours here by the fire, cosy with a throw and curled up with a good book.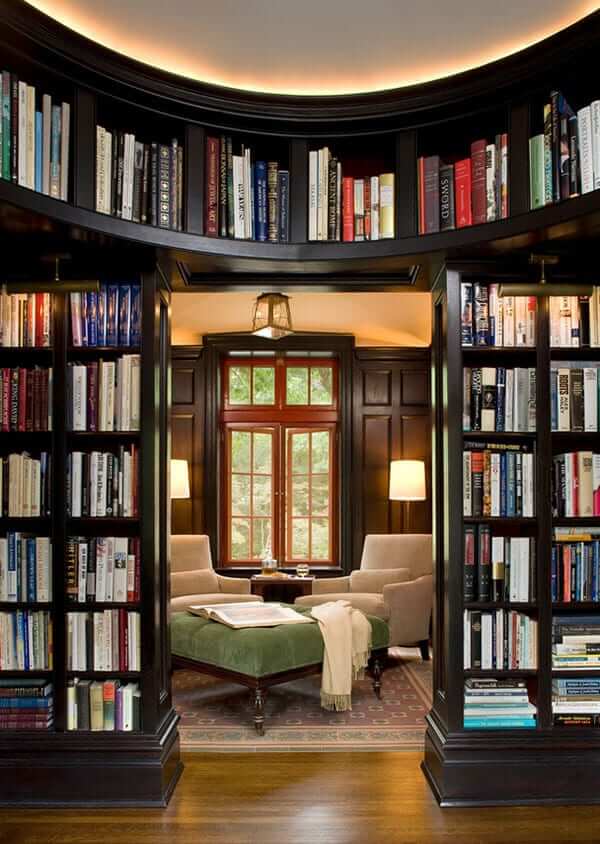 What a cosy nook to spend some time in, I love the entrance to this small yet inviting room, with shelves filled with books- so tempting, you could lose hours in there.
Everything about this room has character, and, I am sure, a story to tell. From the classic leather chesterfield sofa to the sculptures, it would be a pleasure to spend time in this library. I particularly like the styling of the books themselves and how they have been stored, stacked both horizontally and upright, it makes for a beautiful feature.
This room is full of colour, light and life- I just love it. I think it is unique and beautiful to have the artwork displayed on the bookshelf like that. I also really love how they have hung the gold sconces to highlight the piece of art and the books.
It's no secret that I love a bit of leopard. But more so, I really like how these book shelves feature beautifully detailed glass doors. Great for keeping the dust away and preserving special books and other treasured pieces, whilst adding character to the room also.
Contemporary, bright and styled to perfection, this room looks gorgeous, complete with the pop of purple, stunning. Custom-built cabinetry can really lift and add value to any home and this shelving is a perfect example of that.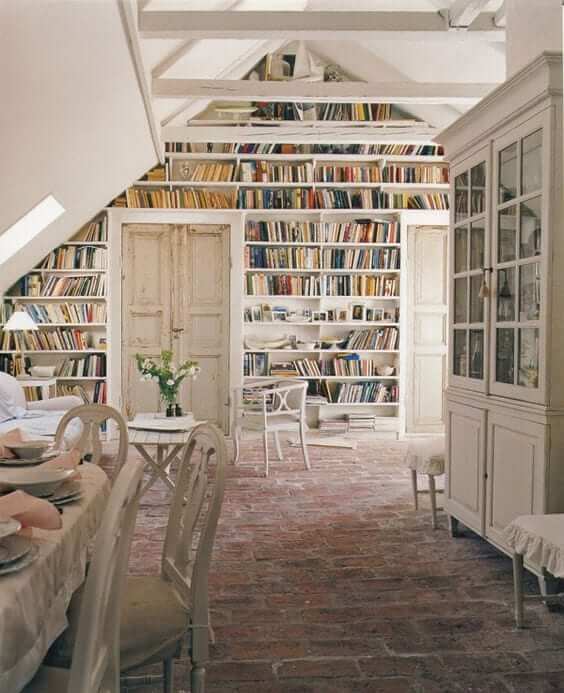 Antique furniture, doors and the cobblestone flooring make me long to know the history of this room- just beautiful. Simple and all-white, this French-style living space features floor to ceiling book shelving, the style inspired by a organised chaos, that would take your breath away and leave you not knowing what to start reading first.
Image via Elle Decor
Stunningly sophisticated, this home library has an art deco edge to it, I believe. From the wall panelling to the staircase and furniture selections, everything is beautifully detailed and comes together perfectly.
 Comfortable, homely and inviting, this traditional home library would be a lovely space to spend some alone time in. The interesting artwork and sculptures really add character and I am sure history to the room too.
Image source unknown
What a fun design concept- the colour coordination of this room is quirky, yet effective. I am sure of an evening this space would also look great, effectively lit by the well-placed sconces lighting up the shelving.
Image source unknown
When a wall doubles as a book shelf you know it's a clever, inspired used of space. I really like how the shelving is built out to have a sculptural effect, rather than having a flush finish, so different and it really has an impact.
Have I inspired you with any of these lovely home libraries? Did you have a favourite? I would love to hear your thoughts, drop me a line below in the comments section.