24 Mar

Friday Favourites- Stunning Accent Walls

It has been a while since I curated some images for my Friday Favourites, so I am excited to bring you this week's edition, which is based all around accent walls.

Commonly referred to as feature walls, at times these walls can be a feature or a blank canvas to a very interesting interior. But may I suggest that you really plan out your accent wall and create a beautiful space that the eye is drawn to. I have always loved using wallpaper as an accent or an entire room if the client will let me.
Designed by Marylou Sobel and photographed by Maree Homer
The client brief for this bedroom was to create a contemporary feel, so the wallpaper really complemented the sumptuous fabrics and furnishings and finished off the room perfectly.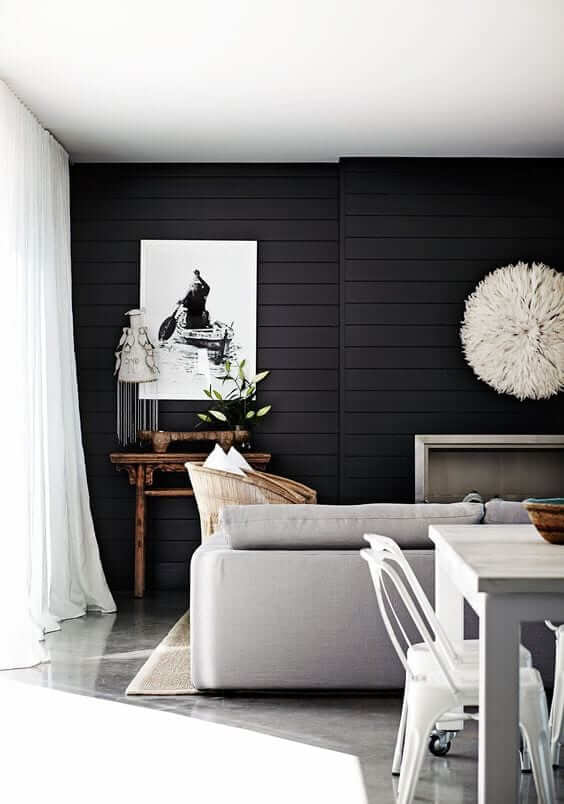 Architect Eduardo Villa, via Real Living Magazine
I love a panelled wall to create a coastal or country feel, by choosing to run the VJ panels either horizontally to simulate the horizon, (pictured above) or vertically. Below the wall is painted in a dark charcoal to really demand the attention and make the artworks pop.
Designed by Marylou Sobel, photographed by Maree Homer.
The wall is made from stone and was designed by Bruce Stafford and Associates. It is a very textured and different way to depict a feature wall, I loved how this came together with the console I sourced, which was a very special piece with logs found in the waterways of Venice
Designed by Marylou Sobel, photographed by Maree Homer.
In the image above, I wanted to create a haven for my clients who live amongst the hustle and bustle of Sydney City. A moody, romantic retreat was put together and this stunning indigo wallpaper by Elitis really set the look off. 
Image source unknown
I also love the use of Toile in the image above. Toile is usually a linen cloth, sometimes silk with a repeated surface decoration, sometimes with Chinese figures. I love the way this dining room comes together with the pops of yellow against the black and white really works- it would be a cheerful place to enjoy breakfast.
Image via My Domaine
I absolutely love how the room above comes together. The niche wall and windows are really set off by the use of the beautiful coloured wallpaper- what lucky girls to live in this room!
Image source unknown.
This symmetrical wall-panelling makes for a sophisticated, well thought out look. Although it is simple, it is very effective and would make this space feel luxurious and spacious.
Above, the designer has used wall decals to create a textured, natural concrete look. With the right mouldings in crisp white, the accent wall to create this master room can be created for a stunning effect.
Image source Schumacher fabric
Another fabulous way of creating a stunning accent wall is to upholster it with fabric. Like in the image above, a thoughtfully chosen textile can be applied to the wall, allowing it to seamlessly feature alongside an upholstered sofa, with cushions in a print to compliment the room.
Image source wallanddeco.com (Italy)
The above wall is also a decal, but how magnificent does it look? With the grand scale of this wall, the decal really does it justice- a piece of art that large would mean sourcing something pretty spectacular, however, I believe that this Italian decal design has a beautiful effect.
Powder Room from the Holdsworth Street Project, designed by Marylou Sobel
Photographer- Simon Kenny.
Powder room from the Centennial Park Residence, designed by Marylou Sobel
Photographed by Maree Homer
Those who know my work will know that I love to create powder rooms that have that wow factor. In the two powder rooms pictured above, I carefully selected wallpaper to create a visual treat for guests, but still in keeping with the rest of the home.
---
Do I have you feeling inspired to create a living space, entrance or hallway
featuring a fabulous accent wall?
I would love to discuss your dreams and vision and help you to bring them to life.
Visit my Portfolio to view some of my past work and my Interior Design page to
find out a little more about me and how I can help.
Until then, following me on Instagram means a daily dose of design and Sydney lifestyle inspiration, I hope to connect with you there. 
-Click here to find me on Instagram-
---