28 Apr

Friday Favourites- Stunning Staircases
Sharing with you some beautiful architectural staircases
I often share staircases and entrances that I love over on my Instagram Profile, which always gets plenty of attention. So, for this week's round of Friday Favourites, I have decided to gather a collection for you to view all in one place.
I absolutely LOVE a staircase that takes centre stage and demands attention. One that begs the eye and mind to come in for a closer look, following it's path to wherever it may lead me… Whether it be classical and full of character and detailing, or more contemporary with clean lines, a staircase is an opportunity to design and create something truly beautiful and long-lasting.
I hope you enjoy this week's edition of Friday Favourites!
This beautiful staircase comes via Thomas Pheasant on Instagram, where the details of the Musée Rodin are simply stunning.
This elegant, timeless staircase is from the National Gallery of Art in Washington, DC. Constructed in the 1940's, this staircase has stood the test of time and will continue to be a feature of the historic gallery.
Image via Decorista Daydreams.
Wow- this rustic staircase is perfection! What character! The vintage chandelier really sets this foyer off, I would love to see the rest of the home.
Image via Architectural Digest
Although this circular staircase features clean, simple lines, the finish choices provide plenty of character and warmth. Even though concrete is used, the timber steps really soften the look.
I have always loved and admired the engineering behind a cantilevered staircase. It also creates a beautiful, open feel to the home, allowing plenty of natural light to spill through.
This magnificent staircase is from the amazing Hotel Particuliers in Paris. I am in love with all of the stunning detail and would absolutely love to stay there one day.

The details! How intricate is the ironwork on this stunning staircase?
Image source unknown
With the grandeur of a historic picture theatre, this inviting and captivating staircase takes centre stage.
Image source unknown
I just love how symmetry works in this classic and beautiful grand stairway.
Image source- Ralph Lauren's New York Flagship Store
Forget shopping at Ralph Lauren's store in New York- can I move in?
I love the beautiful curves & the architectural aspects of this magnificent staircase.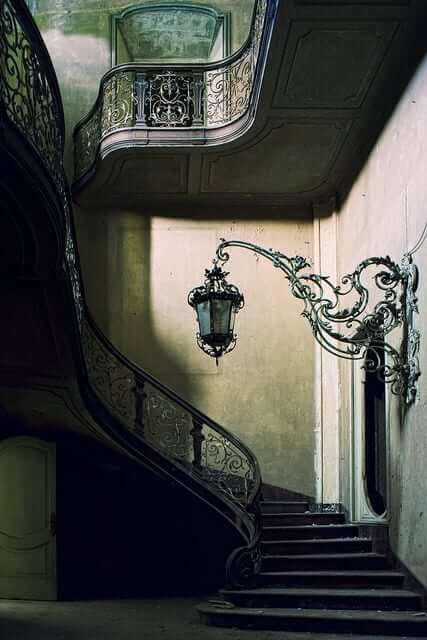 Image source unknown
Romantic iron-work and moody lighting has the above staircase looking very intriguing- I would definitely love to explore this home.
A captivating treat for the eyes, this winding staircase would take you on a journey.
---
Did you have a favourite?
Comment below and let me know which one you absolutely love.
For much more staircase inspiration, click here to take a look at my Staircases Board on Pinterest.
---