10 Jun

How to find furniture that's right for your space
How to find furniture that's right for your space
Finding the right furniture to suit your space can become a very trying task for some. Considering space, colours, textures, prints, materials, cost, variance, style… it can all become too much for somebody who is inexperienced in furnishings, isn't quite sure where to start, or simply spoilt for choice. 
The starting point for us as designers is to get a brief from our interior design clients; what would they like to achieve in the space? We ask our clients to provide us with images, so we can get an idea of their style and taste. 
There are many elements to consider when choosing furniture…
Firstly, considering the architectural elements of the home, the space that you are sourcing furniture for. The position of the windows and doors in the room, the height of the ceiling, the position of the lighting. 
We then consider the position of furniture in relation to the shape of space and outlook. Depending on the views of the room, whether that be of beautiful greenery, ocean or even harbour views (if you're living in Sydney like us), this will guide your choice of colours and style, the look and feel you are trying to achieve.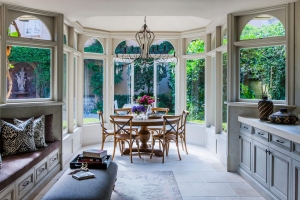 Don't think small space, small furniture…
This is a common mistake, as that can actually make your space appear even smaller than it actually is. My motto is 'big is always better'. Mixing different proportions of furniture always makes for an interesting space, for example a large sofa with a small side table can be a very appealing combination. 
Mixing doesn't have to be exclusively for sizes either. Combining different eras and ages of furniture can have an equally pleasing impact. Eclectic pieces, for example an antique chest of drawers, combined with a contemporary sofa, can be brought together with layering of textures, rugs, fabrics, scatter cushions, curtains, blinds, artwork. They all work to bring a space together. 
When exploring furniture options, I always consider and respect the architecture and style of the property. I like to mix old with new, so I often experiment with combining different styles from eras and ages, you may be surprised at the effect and impact it can have. Mixing styles whilst considering the original details/style of the property is one of our favourite things to do. We like to pay homage to the original details, but furnishings allow us the opportunity to do this with a more contemporary twist. 
A splash of colour…
Use furniture to introduce colour to the room; colour can be used in the fabric choices, the artwork, the rug, it can be used wherever you feel comfortable depending on the outcome you want to achieve. 
Toy with the idea of using the colours already present in the architectural elements, such as stone or timber. Keeping the colours tonal will be very soft on the eye. This goes for texture too. 
Make your space flow using furnishings…
Create a flow around the furniture by spacing the pieces equidistant from each other. Create vignettes of furniture and lighting. Surprise people and create more than one sitting area in a room. 
Considering the dimensions and proportions of your furnishings is very necessary, as this brings a cohesive aspect to the aesthetics of the space. 
One final word… well, 4 actually 
Buy once, buy right. This statement quite effectively sums up our philosophy when it comes to furniture. We emphasise to our clients the importance of buying quality pieces, that will last. As an interior designer, I design beautiful spaces for my clients, spaces that are timeless and will stand the test of it, so it's important that the pieces selected for the space can do the same. 
I hope that you've taken some inspiration from our advice today and can use it on your quest to find your perfect pieces for your home. If you are interested in working with an interior designer in Sydney, then please feel free to contact us on (02) 9360 5881 or send us an online enquiry, we'd love to hear from you.