17 Jul

Inside Design . . . Decorating with Metal

In design, I love organic materials in all their guises – stone, wood, linen and, possibly my favourite, metal.

Metal is particularly on trend at the moment, especially as part of the very 'now' industrial chic aesthetic – furniture, countertops, etc. – but that is not how I most love to use metal.

For me, metal is a fabulous material with which to decorate.  This is not a new concept! Metal has been used decoratively for centuries – just think of those fabulous wrought and cast iron candelabras, picture frames, bed heads, gates, fire grates, and beautiful pressed metal ceilings of times past.  Even in more recent times, metal has been used prominently in design, particularly furniture design.  Think of the designers Le Corbusier (chairs), Eileen Gray (side table), Marcel Breuer (chairs), Warren Platner (dining table), and Achille Castiglioni (Arco lamp) – they are all celebrated for their use of metal in their furniture design.

I have used metal as a decorative element in many of my projects – often as accessories like lamps, frames, vases, etc.  Metal as a decorative detail brings an entirely new textural element to a room; it has a beauty that is earthy, yet also somehow unearthly.  Also, metal pieces are a great way of incorporating recycled or re-purposed pieces into your design.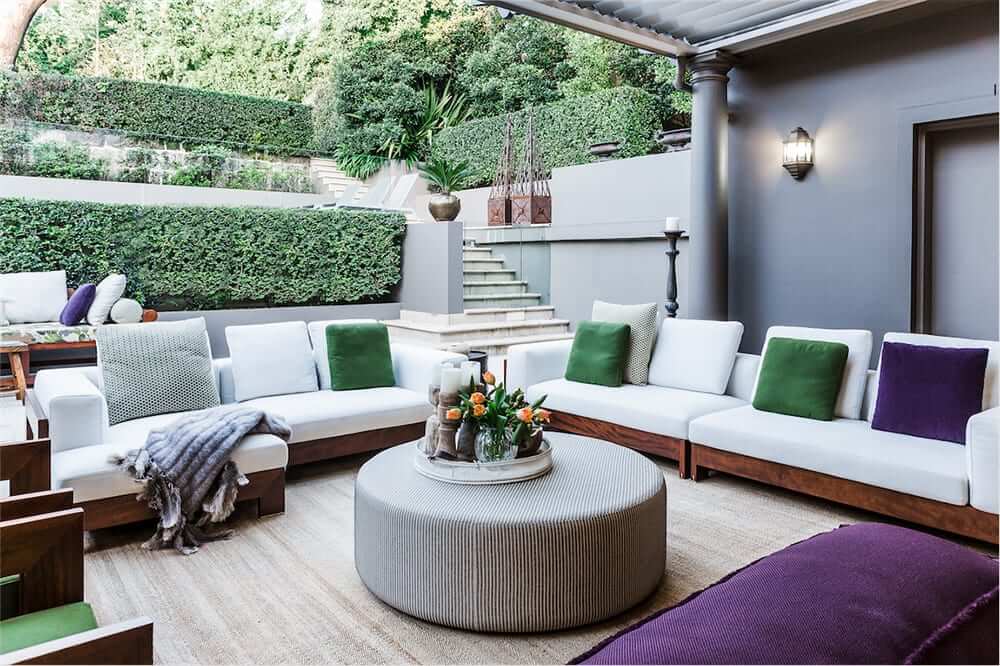 The decorative use of metal above included wall sconces, planters and ornamental pieces, which brought a sense of sophistication to this outdoor room.
The ornate metal framed mirror and light fittings enhanced the opulence of this bathroom and beautifully complemented the basin and tapware.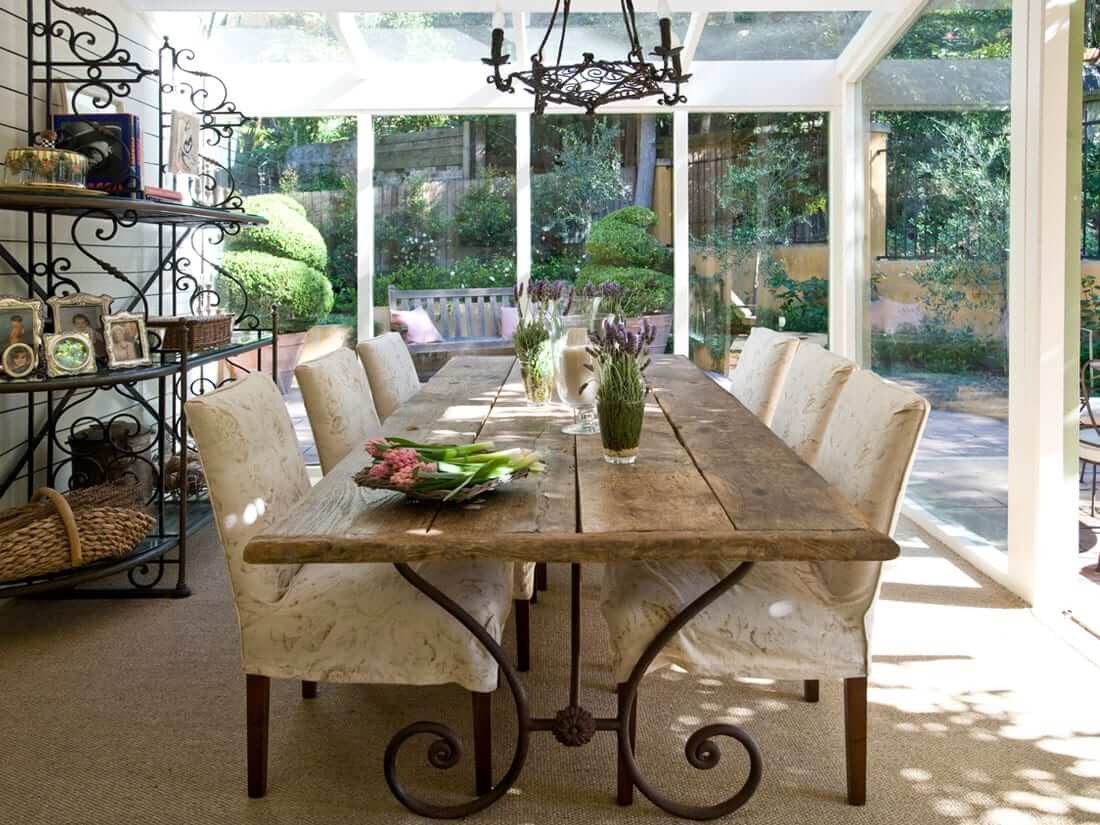 Above, the wrought work in the chandelier, the table legs and the shelving added a gorgeous earthiness to this sublime, light-soaked conservatory.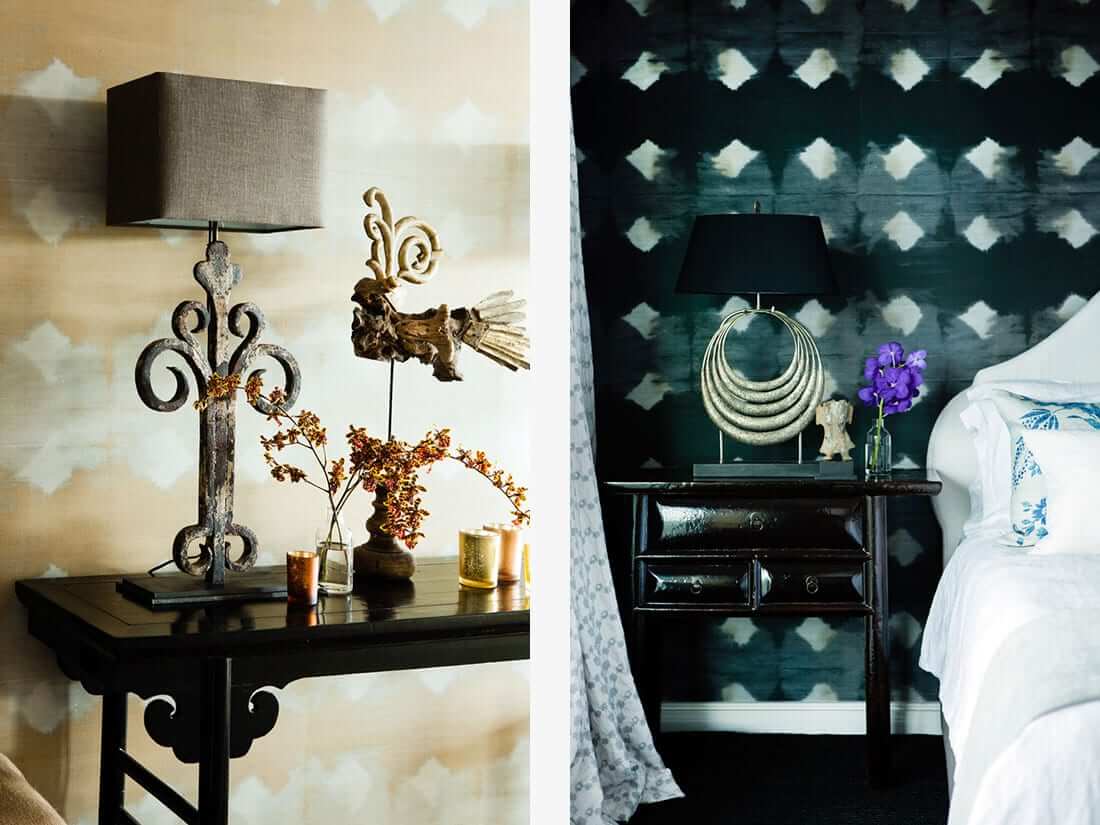 Even the smallest metal accessories can have a big impact in a room (above).
The glowing copper pots and cookware in this kitchen are both functional and decorative, creating an atmosphere of warmth and 'home'.
Perhaps best of all, metal is extremely versatile – dark and imposing as wrought iron, shimmering and light as aluminium, bright and bold as copper, polished brass or gilt, deep and rich as bronze. The forms – and applications – are virtually endless, and its beauty is, of course, timeless.
One of my favourite suppliers, Elements I love (www.elements.com.au) has an exceptional range of decorative metal items – pressed and cast iron metal panels (for wall-hangings), chandeliers, zinc letters, iron framed pendant lamps, framed mirrors, and jardinières, poissonières, urns and vases – everything your heart could desire! This store (and site) is one of my 'go-to's', when I want to introduce the organic beauty that only metal can provide.  Below is a small but gorgeous sampling of their metal collection.