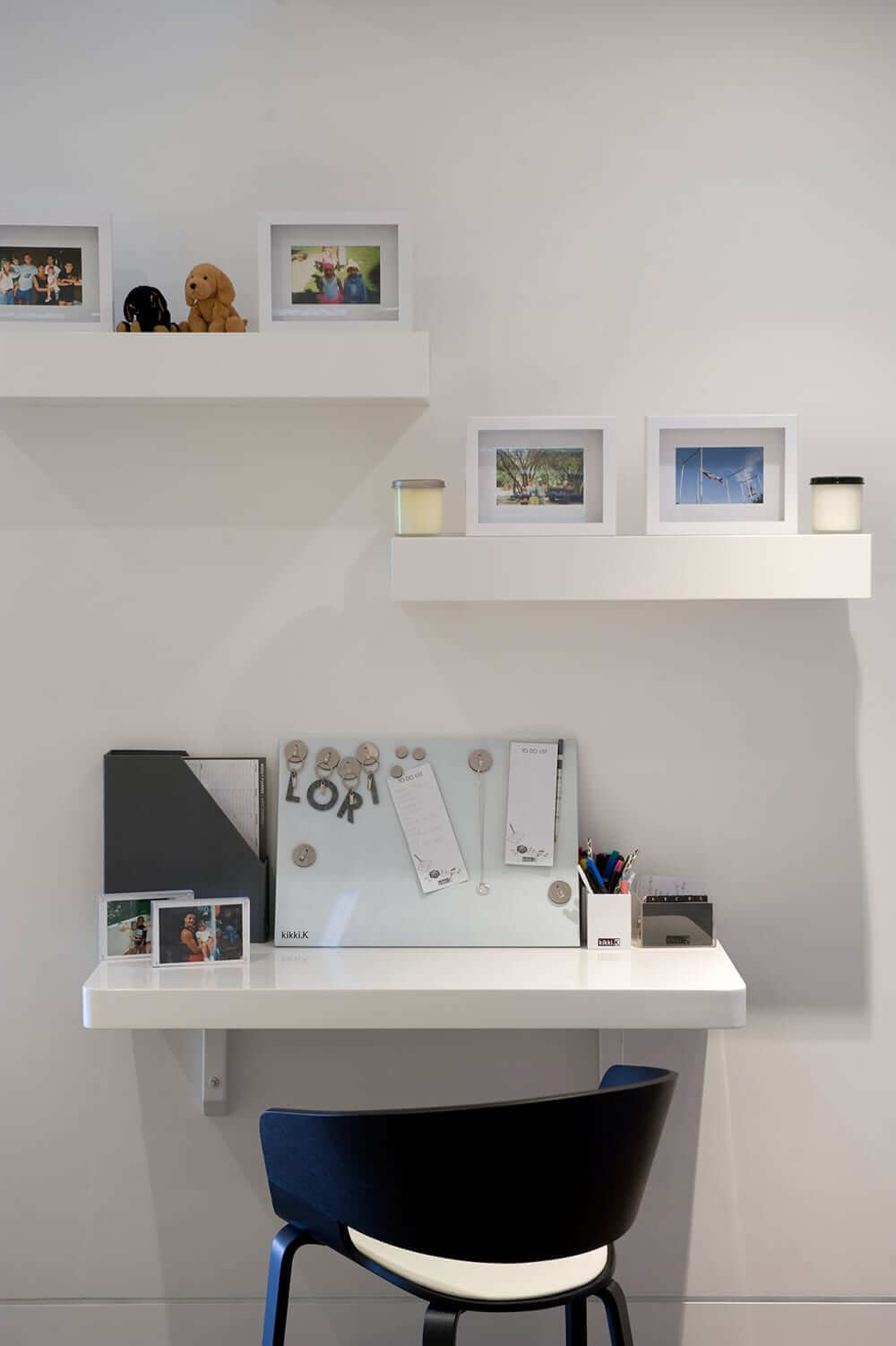 28 Feb

Inside Design – Designing a Home Office

The highly connected world we live in has many advantages and one of these is how it helps us busy people achieve a work-life balance due to the fact that we can work more from home.   That, however, raises issues of how to integrate work space with home space, and then leads to us talking about home offices . . .

A poorly planned home office/workspace can lead to disruption in both areas of life – work and home – but some careful thought is all it takes to ensure the home office is efficient and productive, and as stylish and well-ordered as the rest of the home.

A home office can – and should – be stylish.   I believe the space that one works in everyday should be pleasing to the heart and soul – it leads to more productivity and enjoyment.

As a designer, I am constantly thinking about both form and function – two fundamental aspects of design.  It is quite easy to create visual appeal ("form") – the challenge is achieving form that is also appropriately utilitarian ("function"), but it can be done.  I love aesthetic detail, but I love it even more when aesthetics and functionality combine.
This home office is a perfect example of a workspace that is as inviting as a living room.
My approach is to start by working with what is there and by ensuring the basic necessities are right – lighting, space, storage, ventilation, ergonomic furniture, and so on.  Then, it is about using the available space wisely – this is when the need for good planning comes in. Thought needs to be put in to whom it is that is using the space – what are their needs, what is the nature of their work, what are their regular tasks, what do they like and dislike in a work space?  People will often have definite opinions about whether they do or don't like open shelving, for example. (As a side note, open shelves do require a bit of extra planning so that the shelves don't just end up as repositories for random papers and files – coordinated filing systems,  folders etc, are key).
Functional pieces can be of aesthetic value when the right pieces are chosen – and good lighting is critical in a home office.
As with the functionality of the space, the aesthetics can also depend on the needs of the user and the nature of the work being done.  For example, a creative workspace – say for a designer – might allow more colour and pattern, while another workspace may be better suited to its user if it is a serene, quiet space, in which case I would use softer, quieter colours and simple textures. There are no hard and fast rules, however.
The same elements of design used in the rest of the house can be carried through into a home office to ensure an appealing space.
Generally, I feel that a home office should be decorated recognising that it is still a part of the overall design aesthetic of the home,  but I do think it  can push the boundaries of the aesthetic and be allowed  to have its own identity, reflecting that of the user (especially if it is in a separate room). And don't avoid decoration, accessories or 'luxury' pieces (like a gorgeous chaise).  After all, a bland, cold or impersonal space is not desirable – this space needs to be somewhere you want to be.   At the moment, "man caves" are very common and these often represent the identity of the person who most often uses the space and can be filled with personal touches to make it inviting.
As for location in the house, while it is not often that we have unlimited choice, it is ideal that, if the workspace is to properly function as proxy office, it will be in a separate room.  This is especially true for designers, as we need more than just desk space –  we need a space to put out our fabrics and finishes, i.e., tiles, timber, and so on, especially when working on a presentation.
A study tucked into a nook or comprising a corner of shared living space will never provide the same level privacy or separateness, and can make it hard to concentrate and focus on tasks. From my own experience, I prefer my home office, or 'study' as we often refer to it, to be my space, and to be mainly used just by me and my assistant, although family members are welcome when they need to share the space.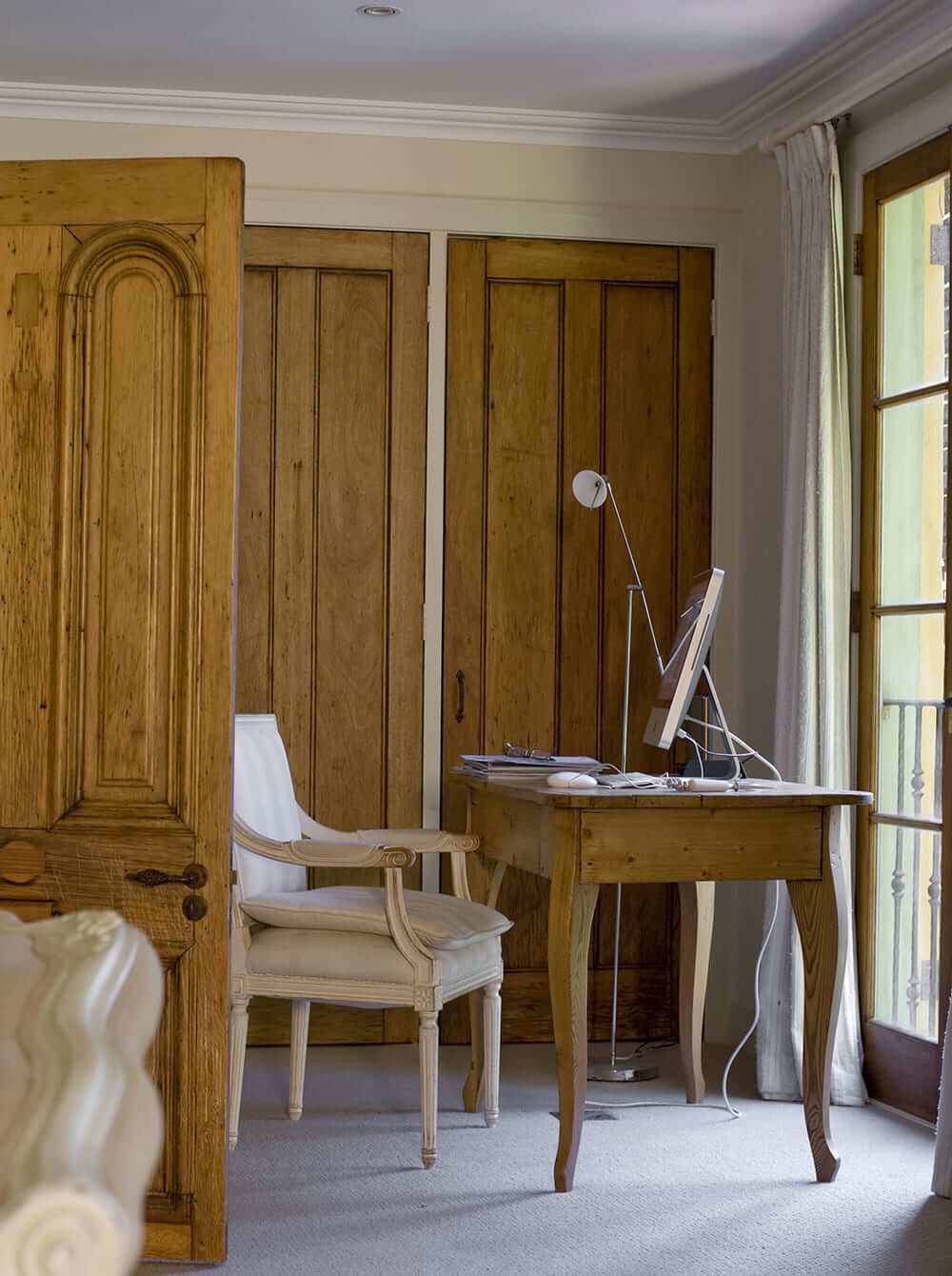 The decor of a workspace that shares a living space should complement the rest of the room
Though it might seem off topic to talk about shared office/living spaces, the reality is that with technology as we know it today, your laptop can essentially be all you need for an office to function.  And certainly, for a young family, a shared living/work space can function very well especially if the user/s need to be amongst the rest of the family. For example, if children want to be around their siblings or parents, or the parents want to watch over the children, or if parents need to get work done but can't shut themselves away in a study.  In these situations, it is critical that the aesthetics of the work space complement the rest of the room.
Study nooks are a good compromise if space is an issue as they are more distinct and offer some of the privacy that a stand-alone home office provides, without needing a whole room to be available.  I love seeing unused spaces converted for that purpose – under a staircase, in a converted closet, for example, especially when either are tucked into a passageway.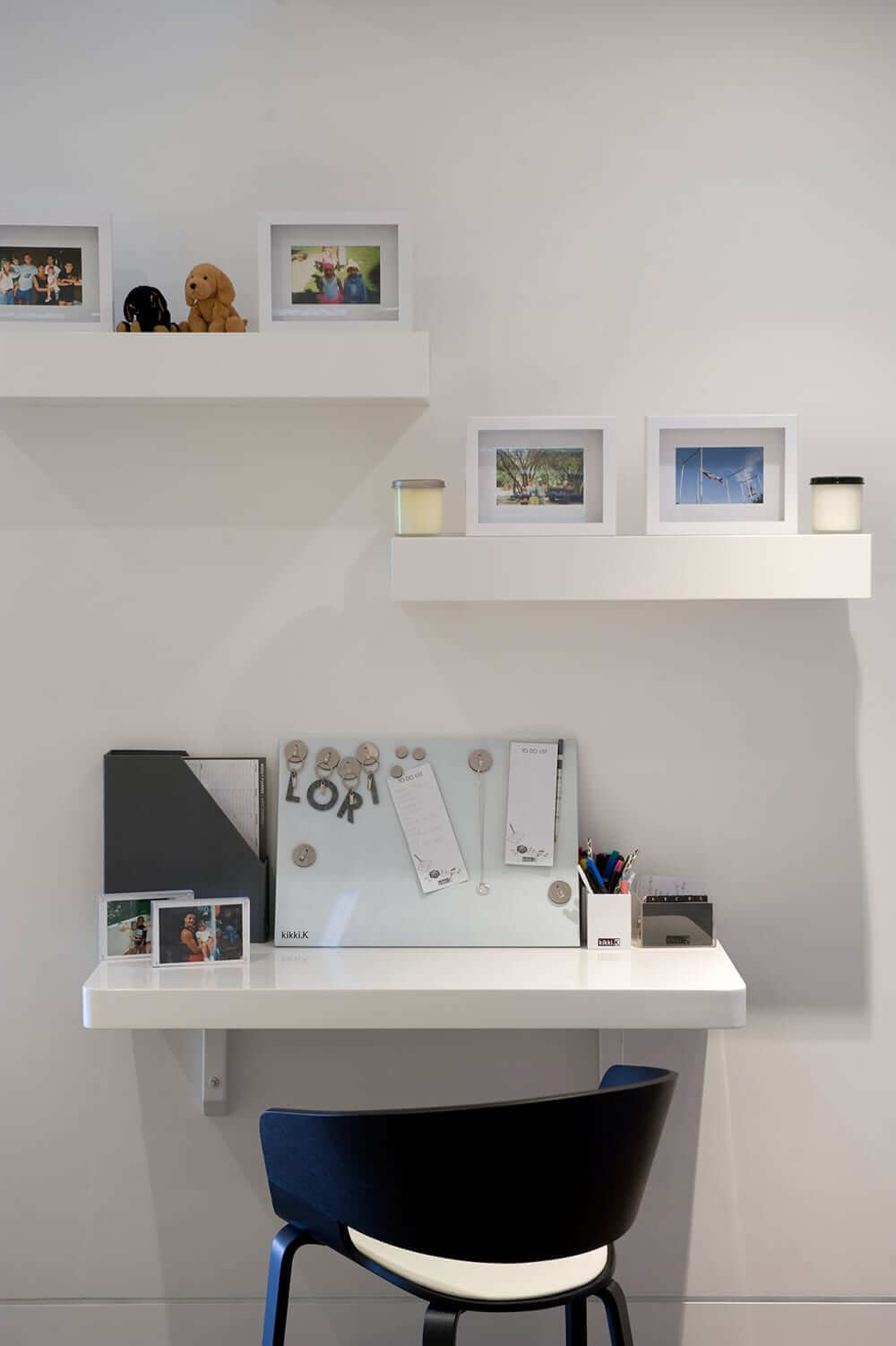 A study nook can be as simple as utilising an unused passageway, and personal touches can ensure it is inviting
Essentially, as long as you combine good lighting, adequate space (including desk space), ample storage, good ventilation, a comfy chair (and an added sofa or beanbag for those extended reading sessions), systems to reduce clutter (for example, I like to put all wiring under the desk and behind doors so that they are hidden), then you are most of the way there.  Aesthetics will come in as part of the specific choices you make around those features and through additions.
Ultimately, the brief and the needs of the client are most important – and that should always be your starting point in any project.
****
All images Marylou Sobel Interior Design