07 Aug

Inside Design – Working with Window Treatments

Window treatments are an element of a room that exerts a subtle yet unmistakable influence on the essence of that room; an element that plays a role as functional as it is decorative.

On a functional level, window treatments can bring warmth to a space, filter light, or minimise noise – important roles – but on an aesthetic level, window treatments are equally important.  They can introduce colour, texture and detail to a room in a way that nothing else can. They have the ability to enhance a room, tie it all together decoratively, and can instantly introduce a sumptuousness and sense of luxury – really, is there anything more luxurious than gorgeous curtains that puddle on the floor?
There are as many styles of window treatment as there are styles of room, which means that making the correct choice for your space can be fraught with difficulty.  From vertical and roman blinds to shutters, sheers and curtains (with and without pelmets!), window treatments are available to enhance every room design.
So how do you choose the right window treatment for your space?  Well, you need to consider the home, the room and the window itself – the architectural style, how it is decorated, the size of the window and the outlook.  Considering all these things will help you decide whether you can – or need to – go minimal, and it will also help you understand what function the treatment needs to perform.  Is it to block light, or allow, or even exaggerate, it? To keep in warmth or to block a draft? To frame a view or to obscure one? Does the chosen treatment need to increase a sense of space and height, or to make a large room feel more intimate or cozy?  What does the client want?   All of these things need to play a role in your decision making?
A school of thought has been to keep window treatments neutral and understated, but I don't think that is always necessary. Instead, I consider how various textures, patterns or colours may complement or enhance the style of the room, the other soft furnishing in the room, and also the view.  We want to complement, not compete, with a view and other elements in a room, but sometimes well-chosen colour and pattern in window treatments can bring a room to life.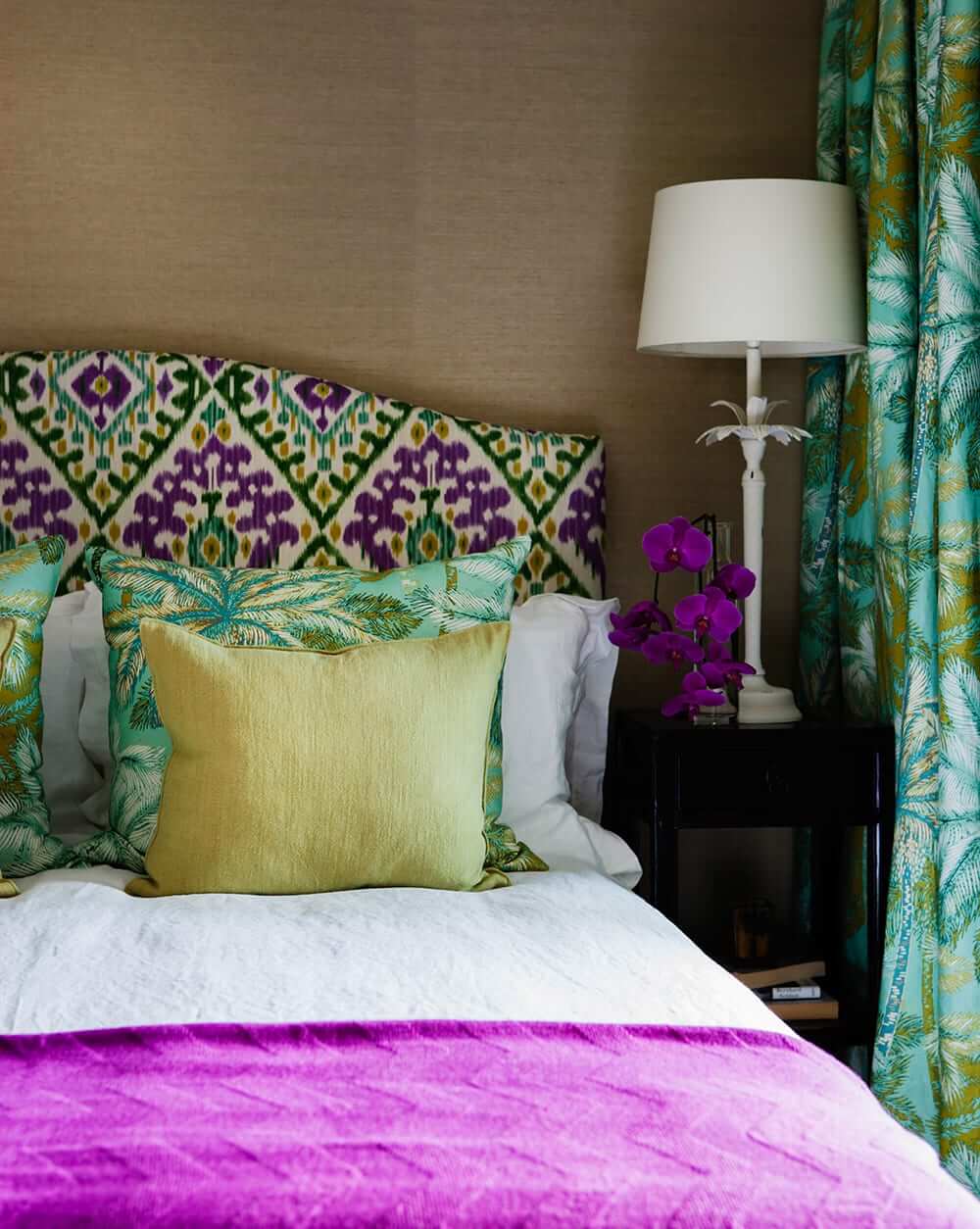 The hardware you use (or don't use) is also an opportunity to add some personality or finish off the effect of the window treatment.
Elements like the shape and height of the windows and doors can influence – even at times dictate – the type of treatment. And of course, there are times when there is no choice as to what you can use, and other times when it is immediately evident what will work best, and what won't.  For example, I would not put pelmets in a modern or contemporary home – especially one overlooking, say, Sydney Harbour.  Instead, I may choose sheers, which will allow for the view but also counter Sydney's harsh west sun in the afternoon.
If light is needed but the view is not much to write home about (or worse), I would consider plantation shutters or something similar. In a situation where both privacy and light are desired then I may layer – first using roller blinds, which allow light while providing privacy but don't add much value aesthetically, and then introduce an aesthetic layer, such as roman blinds, curtains or sheers.  This is a good way to combine function and style.
What's my favourite window treatment? It would have to be curtaining – but done in a way that starts with gloriously thick fabric that is cut 2 times the width of the fabric, which gives it a sumptuous, chunky, incredibly generous appearance, which is just divine – especially when they fall to the floor in a puddle!