25 Nov

Interior design style for a summer beach house

Summer is almost upon us, and although it's been a particularly wet spring here in Sydney, it seems to be that time of year that people are venturing up and down the beautiful coast here in Australia on holidays with the family or weekends away with friends. Or if you're staying local, there is a mass migration to the stunning Sydney beaches that happens like clockwork every summer. It's this immediate (and very fortunate) access to coastal living that has inspired today's interior design article; styling a summer beach house. 
Choosing your colour palette
When you imagine a beach house, like many of us you will naturally associate the colour blue in some shade with the home. The popularity of blue in a beach house stems from taking the colours of the environment and bringing them into the home. Every different shade of blue you can imagine too, from the navy blue and white stripes of a typical 'Hamptons' home to stunning turquoises or more subtle pastel shades like a duck egg blue. 
But the beach doesn't just mean blue. Naturally, greenery (which ties in nicely with all of the blues) can be found throughout the home (again drawing from the colours of nature outside), even if it's incorporated with perfectly placed plants. 
And last but not least, white, and lots of it. Often a beach house can appear Greek in theme with the abundance of white combined with timber. Alongside the staple of white, you will find an array of taupe tones that reflect the beautiful sandy shores on your doorstep. Combining these tones and textures can really create that 'beachy feel' that you are seeking on your excursion or escape to the seaside.
Blending in with the environment… 
Not your typical beach house, but with sustainability at the forefront of people's minds and maintaining the beauty of the natural world, more and more people are choosing to build homes that blend into the terrain. Think the use of natural materials to disguise man-made constructions. 
You will often find that glass is a common feature in the modern beach house; taking advantage of the spectacular views outside and bringing them inside through cleverly designed windows to fully encapsulate the surroundings. 
Taking the inside, outside
Another way to bring the outside inside is by taking the inside outside. A little confusing, but bear with me. Beach houses are a winner in the summer, and could there be a more perfect way to soak up as much of that summer weather as possible than to move your bathroom (or parts of it) outside. Adding an outdoor shower or bath (Bali villa style) is a fun way to give your beach house a unique twist, and allows you to enjoy that fresh sea breeze/warm sun rays even more. 
Alternatively, if you find that you have spectacular views from your beach house, you don't need to limit this to views from the living area or bedroom. Choosing to place your bathtub where there is a wonderful view to take in while you soak after a long day down at the beach is invigorating.  
Relax in a simplistic environment
A common theme throughout the beach house style is one of relaxation. Your beach house should have an instant calming and relaxing effect, to allow you to fully indulge in that holiday feeling. 
This ties in with another common theme of simplicity. Beach homes are not heavily decorated, creating a much more relaxed environment for everyone to enjoy. Think of linen curtains without lining to allow as much light to shine through as possible. Simple finishes and fabrics that blend into the natural surroundings. Serenity. 
Style & practicality…
While focussing on style, it's also important to allow room for practicality, after all this is a holiday home by the beach, and subjected to the harshest conditions. Consider using fabrics that are suitable for both indoor and outdoor use, this way you don't have to worry about wet sandy people sitting on the lounge after a quick morning dip. Durable fabrics will hold their own against the elements, resisting fading in that strong summer sun and remaining waterproof for those sporadic downpours. 
Tips & hints for the perfect beach getaway
I'll finish off with a couple of my personal tips for creating your perfect beach home. Firstly, it's very easy to just furnish your home with your old or excess furniture. For all of the reasons above, I would strongly recommend that you don't. You should always consider the right colours, fabrics, textures and tone that you want to create, which is very difficult with 'handed down' pieces.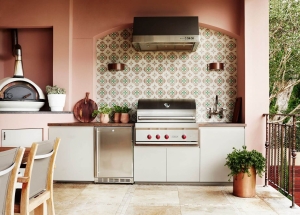 Secondly, a well-stocked kitchen and BBQ area is a must. Being on holiday is often one of the few times that people really get to indulge and enjoy cooking meals for family or friends, so it's important to ensure that all of your favourite necessities are also found in your beach home that you would expect at home. 
If you are considering redesigning your beach home or would like to discuss your interior design needs with us, then contact us online today for more information.