Welcome to my 'How to Design' series, taking you through my methods of designing three of the most important spaces in your home – the kitchen, bathroom and bedroom. Get inspired and join me as I explain the processes behind creating timeless, elegant spaces within the home. 
We're starting at the heart of the family home, the kitchen. A place for aspiring chefs to practice their talents, for families to gather together, a place to entertain friends and family. The kitchen is going to be one of the most costly parts of your home to design, whether you're starting from scratch in a newly built home or renovating, so it's vital you get it right the first time, so you won't find yourself having to do it again for a very long time. 
Are you building a new home and 'starting from scratch' or are you planning to renovate an existing kitchen? 
Kitchen Interior Design: Starting from Scratch
When you are designing a kitchen for a new home, there are usually certain aspects of the space that have been determined by the architect – such as the waste, electrics, windows and door placements etc. By being part of this design process, within reason, these things can be adjusted or changed to accommodate your dream design. 
As an interior designer, when I work with clients to design this particular space in the home it is very clear to me who is the cook in the kitchen. It's important to listen to the needs of the chef of your household, as they are the ones that will be making most use of the space, and will most likely have very specific ideas of how they would like for their kitchen to work. Starting from scratch is every home cook's dream, as they can create something that suits their own specific needs. 
Kitchen Interior Design: Renovator Recommendations 
When renovating a kitchen, unlike in a new build, you are less likely to change the position of the services such as the plumbing, waste, electrical appliances unless budget is not an issue and it is feasible. 
If you're renovating a kitchen in an older home, when designing the new kitchen it is important to consider the original style of the property, as well as how you intend to design the rest of the home. Nothing should be designed in isolation, everything should work in harmony together as you move from one space to another. 
Renovating an existing kitchen allows you the opportunity to update and modernise the space, purchase new appliances, perfect the functionality and flow of the space, and even correct any past mistakes, producing an exceptional high-end finish and quality that creates a timeless space that will suit the family for many years to come. 
Kitchen Interior Design: Cohesive Design
Designing a kitchen can be a daunting task for those inexperienced in interior design practices. There are so many different elements to consider during the designing process, whilst ensuring that everything is timed perfectly for installation and completion. This is of course a task left best for the professionals, time to call in an interior designer if you wish to achieve a high-end cohesive outcome. Regardless, here are some considerations before you begin designing your kitchen. 
Planning for Appliances
Although kitchen appliances hardly qualify as one of the sexy items on your shopping list, they are nevertheless a very important consideration when designing your kitchen, even more so for during the early stages of the design. For example, if your heart is set on a La Cornue freestanding oven, these dimensions will factor in your overall kitchen layout and design. The same goes for the fridge that you choose. 
Some common appliances such as a microwave oven can be hidden behind a cupboard, and others such as a dishwasher or fridge can be integrated into the kitchen itself. If you are planning on integrating appliances into your kitchen, it is vital you source your specific appliances first, and ensure that they can be integrated. 
Joinery
Before designing a kitchen for a client, during our initial consultation I find out all of the finer details that we would need to know when planning the joinery of a kitchen space. How much storage space is needed to accommodate pots, pans, cutlery, crockery and serving bowls/platters. You'll find that the person who does the most cooking in your family will appreciate the value of a carefully planned and designed kitchen that caters intuitively to the person cooking in it. The same applies to those who don't like to cook at all, a simplistic yet practical kitchen will cater to that. 
The actual style and colour of the joinery itself will very much be dictated by the style of the kitchen and home. A classical design of the kitchen will lean towards more traditional features and hand-painted cabinetry, ordained with its own hardware that compliments the style honouring the original architecture of a home. Or likewise, a contemporary kitchen may have no hardware on any of the cabinets or drawers, but a simple finger pull or more slim-lined hardware.
Kitchen Benchtops 
When deciding on the stone for your kitchen benchtop, there is little need to worry about it getting stained or marked. I personally always encourage my clients to let a worktop grow old gracefully, but if that's not for you, then there are some fantastic man made stones that will wipe down and clean as easily as a ceramic wall tile. 
Quartz is one of the strongest stones to live and work with, followed closely by granite and then marble. Depending on how many slabs you need on your kitchen benchtop, you can get multiple that are 'book matched', so they will join effortlessly where needed and be perfectly colour-matched. 
When you're considering stone for your benchtop, you may also consider natural stone as the material to use for your kitchen floor. As stone is hardwearing and easy to keep clean, it's an ideal choice for a kitchen space, but can be hard to stand on for long periods of time, and if this is the case for your kitchen, perhaps stick to stone for your benchtop and consider a softer timber option for your flooring instead. 
Kitchen Extras 
Depending on the client I am designing for, there are endless ways to create useful spaces within your kitchen. Some people like to have a cozy 'nook', i.e. a sitting area to the side, which is very popular. Often people like to have a television in the kitchen, which should be considered during the design process, not as an afterthought. 
As the kitchen is the heart of the home having a large kitchen island is often preferable, someone to sit or stand around while someone is busy preparing food, it's a very social feature, and useful for those casual family meals or intimate gatherings with friends. 
If the space allows, a scullery is a uniquely functional extra to add to your kitchen. You can include additional counter space, fridges or sinks. Equally, a large walk-in pantry or walk-in cool room are kitchen features that work well, especially for large families or those that entertain. Speaking of entertaining, don't forget to add a wine fridge or bar area in your kitchen, or even a cellar. 
Kitchen Interior Design: The Details
Up to this point, every item in the kitchen appears to be a big ticket item, but to create a cohesive design outcome, considering the details is just as important as the bigger items in the design. 
Kitchen Lighting
In a kitchen you have to ensure that you have task/directional lighting – it needs to be quite sharp and bright exactly where you need it to be, for example areas where food is prepared. Don't worry, you can always add a dimmer to this lighting so when the cooking is over, ambience can easily be created for enjoying dinner. 
This is why natural light is so important in a kitchen, and why skylights are such a popular feature. But lighting in the kitchen isn't just about task light. Lighting can be used to create a feature, such as a stylish pendant light for above a counter or dining area. Or beneath cabinets to create both ambience as well as a practical lighting addition. Lighting in the kitchen is a way to get subtly creative. 
Smaller Appliances & Powering Them
For me, a coffee machine is a must have in the kitchen (and my studio!). But not all appliances have to live on the kitchen counter, in fact I much prefer a clutter free kitchen. Planning ahead for common appliances like kettles or toasters means that they could be cleverly placed within a cupboard, yet are readily available all of the time. Others like a blender or slow cooker can be appropriately stored in the same space for easy access and use. 
Remembering, that all of these appliances need to be powered. When you're designing your kitchen, consider where you need the GPOs (General Power Outlets) to go, whether that be inside of joinery or on your kitchen island. This should be factored into the design from the start, not considered as an afterthought.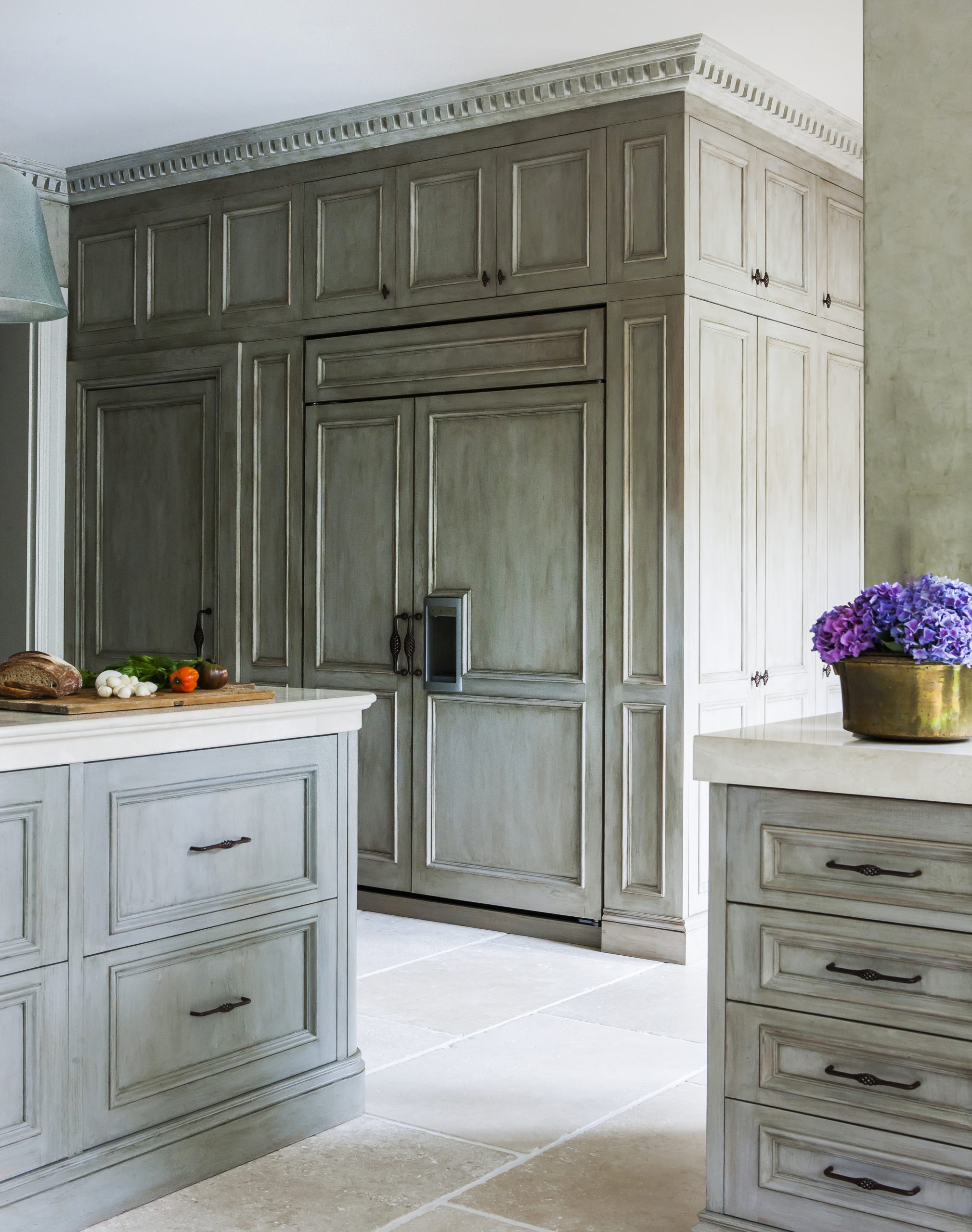 Your Bin 
Let's not forget that the kitchen is a practical space, and every kitchen needs a bin. In fact, most families require more than one bin in the kitchen for recycling. When you are designing your kitchen you must ensure that you are factoring in an area for an appropriate-sized bin (depending on the size of your household) and that it can be cleverly hidden out of sight. 
Styling Your Kitchen
And finally, let's style the kitchen. As we would recommend timber or stone for a kitchen floor, it's always good to compliment this with a rug, for both aesthetics and practicality (acoustics, warmth). You can even get washable rugs that are perfect for messy spaces like a kitchen, or children's playroom. 
Open shelves in a kitchen are a great way to 'Never leave a wall behind'. They can be used for crockery that you would like to display, cookbooks, plants, the potential combinations are endless. And of course there are other furnishings to consider, depending on your design, such as bar stools, tables/chairs, window treatments… to create a cohesive design, including these details during the design process will provide the best potential outcome when your kitchen is completed. 
Personally, I always finish the styling of a kitchen with flowers. They can breathe life into any space and can change effortlessly with the seasons and the natural light in your kitchen. I'll also add little touches, such as the salt & pepper, oil, vinegar (and other favourite condiments) in a little basket near the stove, not just attractive but practical. 
I hope today's blog has inspired you to begin designing your own perfect kitchen, whether you're starting from scratch or renovating. Look out for the next instalment in the series, Bathroom Interior Design.