13 Nov

My Favourite Instagram Accounts to Follow for Design Inspiration

It's no secret, I absolutely love Instagram! Not only am I actively sharing some of my favourite designs and projects on my own profile, but I am also regularly on the platform scrolling through my feed, which is filled with accounts that I follow for design inspiration.

I really enjoy discovering new and unique accounts to follow, so, for this week's blog post, I have decided to gather and share some of my absolute favourites with you. I hope that you enjoy this post and uncover your own new and inspiring accounts to follow.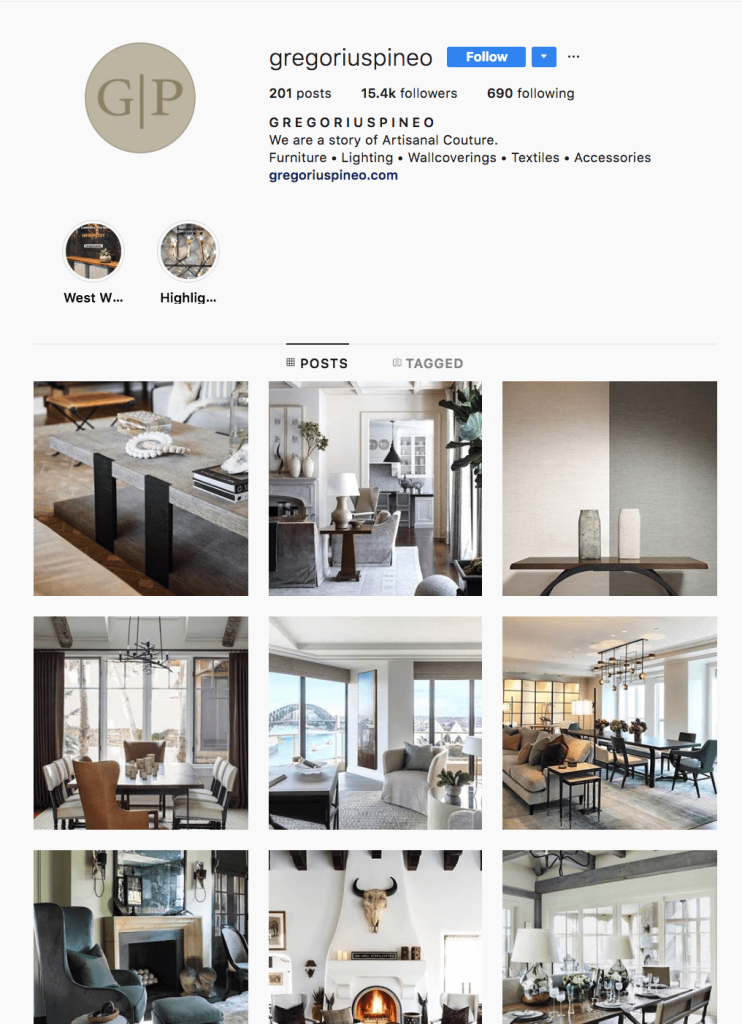 From stunning design projects to simplistic yet detailed finishes, Gregorius Pineo showcases their pieces in situ on Instagram, allowing followers to see just how exquisite their selection of furnishings, lighting, accessories and wallcoverings are. I often turn to their profile for ideas and inspiration for my own client projects.
A stunning eclectic array of interiors that come together beautifully. Dylan Farrell is an extremely talented designer and one I love to follow along with on Instagram. With a real international flavour, the images that Dylan and his team shares are often a sneak preview of a project that is both intriguing and exciting at the same time, leaving you wanting more.
Brooke Giannetti is living her dream life and taking her followers along for the ride. I can not get enough of this account, everything shared is absolutely stunning. I have also fallen for Patina Farm, the place Brooke and her husband call home.
As an interior designer, when a project calls for a unique and very special piece for my client's home or office space, I always have my eye on The Vault Sydney's Instagram profile. When it comes to vintage and antique finds, everything is one-of-a-kind, so it pays to be following one of Sydney's leading dealers to be first in and best dressed.
Greet Lefèvre is an Interior Designer from Belgium who writes a blog and shares regular design inspiration and project updates on her Instagram account. As a lover of European design, I love to follow along to see what Greet gets up to and what the talented designer is working on, it is very inspiring.
I adore the eclectic curation of interiors and gardens on this account. Based out of Los Angeles, Richard Shapiro Studio has a unique design aesthetic that is beautifully detailed and really tells a story, bringing together fabulous antiques and vintage finds.
Who doesn't love a little South Hamptons style? If you are after an afternoon pick-me-up to go with your cup of coffee or tea I encourage you to have a scroll through the One Kings Lane Instagram account. From traditional American style interiors to inner-city New York Apartments, be inspired by some gorgeous interiors with a certain classical charm about them.
London and New York… What fabulous cities to be based out of! The style and sophistication of Interior Designer and consultant Rosie Seabrook's Instagram account is a true reflection of her international lifestyle. I love how the British designer has a way of bringing together a beautifully curated Instagram feed that really makes you stop to appreciate the finer details.
Last, but certainly not least, Alexander & Co showcase their impressive and beautiful projects over on their Instagram profile. If you are a lover of sophisticated details and fine finishes, you will love everything that this team have worked on, from boutique apartments to some of Sydney's best bars and restaurants.
---
I hope that you enjoyed my latest post. Have you found a new favourite account to follow? Or have you got a favourite Instagram account for me to take a look at? I would love it if you could share in the comments below and let's discuss.
If you aren't already, be sure to follow me over on Instagram, where I post daily and share behind the scenes on Instagram Stories, as well as project sneak-peaks! We have many new projects being unveiled in the coming weeks and months, so be sure to keep your eyes on @marylou_sobel_interior_design.
Until next time, best wishes, Marylou.
---