15 Sep

Wallpaper- a bold but rewarding choice

If you have had a look through my portfolio, then you will know that I love incorporating wallpaper into my designs.

I believe that when the right choice is made in wallpaper, it can bring a new level of luxury and sophistication to the living space. Below I have listed some advantages of selecting wallpaper for your home, as well as some tips for making the right choice.
1. The possibilities are endless
Particularly when working with an Interior Designer, you have access to an endless variety of textures, prints, colours and finishes in wallpaper. Whether you are redecorating a bedroom, bathroom, hallway or nursery, there are wallpapers to compliment every room- no matter what shape or size.
Just look how this dining room is transformed by this luxury wallpaper- I believe that it really does make this space.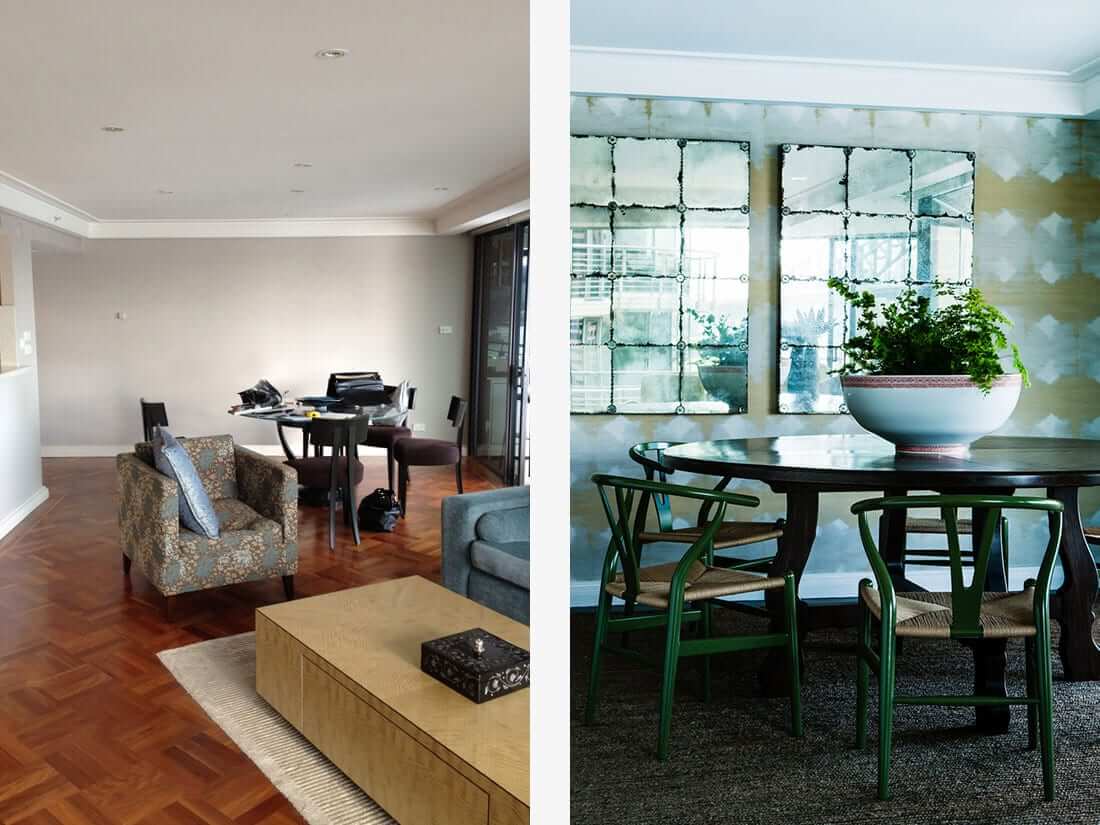 2. Wallpaper is durable
Although your initial investment might be higher than if you were to chose paint for your wall, wallpaper can stand up to children, high traffic and many varieties are now scrubbable for an easy clean. The right selections can withstand the test of time, more so than regular paint, which will save you having to repaint the room in a couple of years .
When choosing and installing wallpaper, be sure to ask your designer or supplier about the level of clean your selection has (washable, scrubbable, water resistant etc.), and ensure that your installer is experienced and great at what they do- there is an art to the application process.
3. Wallpaper will hide any imperfections
This is particularly important if you are remodelling an older home, as the angles of your walls and the movement in the building can cause defects as time goes on. If you are on a budget or need to scale back at all, using wallpaper in problem areas will hide any cracks and surface issues easily.
4. Wallpaper will add texture, depth and another layer to your space.
Gone are the days of daggy, drab wallpaper! We have so many amazing ranges to choose from, which can bring a whole new dimension of style to your home. Wallpaper will allow you to express your personality and unique sense of style, as well as help you bring all of the elements of the room together so that it all comes together seamlessly.
Whether you are looking to create an accent wall, decorate a foyer or even a powder room, using wallpaper can allow you the opportunity to have a lot of fun with metallics, textures, colours prints and more. The role that different lighting can have on wallpaper is also interesting, so be sure to consider this and the effects when making your selections.
Photo taken of the Harbourside Living project- see more images here. 
5. Using wallpaper can give you that timeless sense of style.
The luxurious look and feel of wallpaper can give you a level of sophistication and style that ordinary paint just can't deliver. There are wallpapers made from natural fibres that can really bring a coastal home together, digital printing where you can have any image or print you like printed on to the paper and even paintable textured wallpaper- the list goes on and on. What ever your personal sense of style and personality, chances are that it can be reflected in your home by using wallpaper.
Photo above taken from the Centennial Park Residence Project, you can view more images here.
 I have I tempted you into considering decorating with wallpaper in your home or office? I would love to help you out further in making the right selections. If you like, you can have read through my Work With Me page for more details about my Interior Design Services.
---
Are you following along with me on Instagram?
I love to share my daily inspirations, projects and behind the scenes with my followers.
You can find me here- I look forward to connecting with you.
---