20 Feb

Ways to create an impactful entrance
There is nothing that I love more than a home with a beautiful entrance that really makes a statement. In my opinion, an entrance should have a successful balance of the following elements:
Give you a preview into what is to come…
When you enter a home, it should immediately give you an insight into who lives there, what travels they have been on and what stage of life they are at. It should leave you wanting more and wondering what can be found around the next corner.
For me an entrance or entrance hall should have a sense of intrigue, some wow factor. Your eye should be lead in, whether its down a hall to a huge pane of glass looking towards a garden or view, whether its to a piece of art or a beautiful console. It sets the tone of ones feelings and for whats to come as you walk through the home.
Find a balance between the practical and the splendorous…
An entrance to a home with a place for shoes, handbags, keys and even the mail can provides those who enter with feelings of comfort and harmony. Not only that, but you will be able to avoid a build up of clutter, as an entrance can often become a dumping ground- having a place for these everyday items can make all the difference.
An Interior Designer's tips on creating an impactful entrance:
1. Add colour and texture
Nothing evokes emotions and adds personality like a generous splash of colour, whether just tonal with an accent of colour or a lot of colour. I have always loved a beautifully painted door, in a deep shade of red, teal or pop of green.
Designed by Marylou Sobel, photographed by Simon Kenny
If you weren't too keen on a coloured door, perhaps consider an accent wall in your entryway- wallpaper or textured paint in a suitable colour will really bring your entrance to life.
2. Create wow-factor with a double volume ceiling
I absolutely love double volume ceilings and they can have that wow factor with the addition of a fabulous pendant, artwork or sculpture. Something visual and impactful to really compliment the open space, a sculptural staircase is also the perfect addition to a double volume ceiling entrance.
Designed by Marylou Sobel, photographed by Simon Kenny
3. Create interest with artwork
There is plenty that can be said about creating an entrance featuring artwork. Style, sophistication, texture and depth can all be added with the right choice in painting.
Depending on the configuration of your entrance, a piece of art works well reflected directly opposite the front door, on a niche wall or at the end of the hall, like below for example:
Designed by Marylou Sobel, photographed by Maree Homer
4. Make sure you have that personal touch
Adding elements such as a gallery wall or framed pictures arranged on your console will ensure that your entrance has a warm, friendly welcoming feel to your home. Other framed objects or memorabilia from travels, family achievements or milestones will also make uniquely beautiful focal points and story-tellers for your entrance.
5. Introduce a touch of life
Greenery in the form of a potted plant, palms in a vase or a gorgeous bouquet of fresh blooms will really bring your entranceway to the next level. A living plant or flowers will really breath life into your home and welcome you every time you come home- it will be an investment worth making.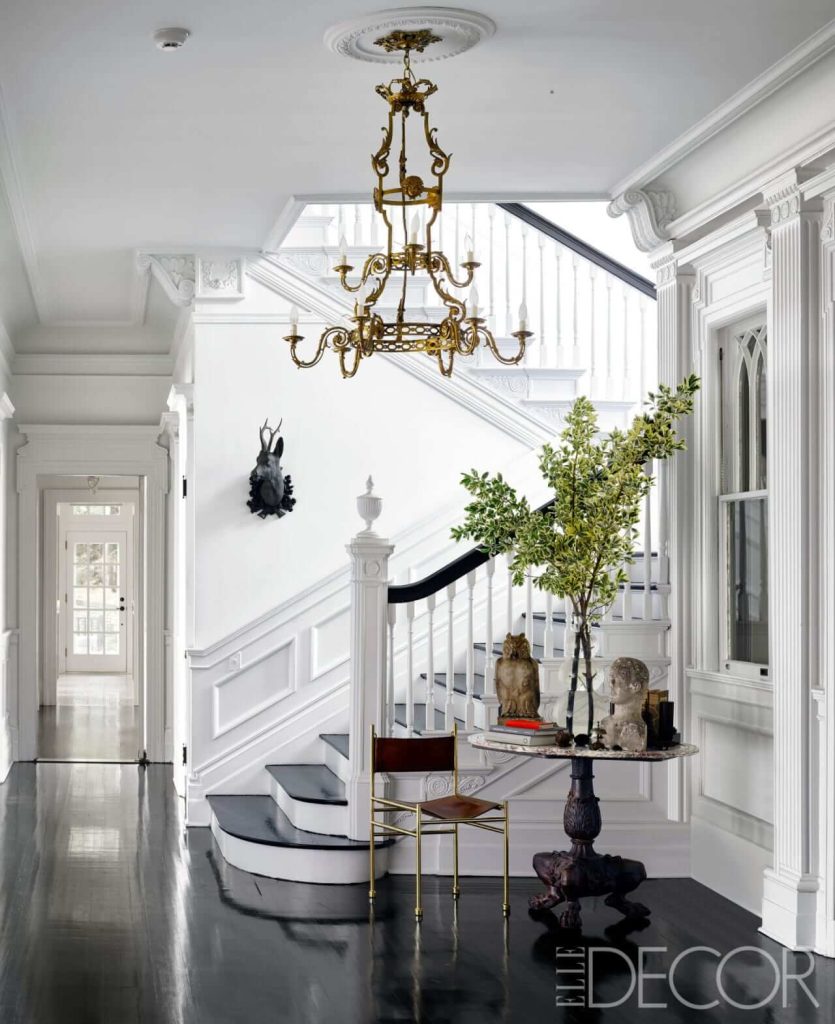 6. Source an exquisite console table
A beautifully detailed, stingingly simple or contemporary table for your hallway or entrance can really bring your look together.
Adding the base items such as a lamp, key tray and some thoughtfully curated objet and your entrance is complete. Also consider, whether you would like to go for a symmetrical look, like below, or something a little more asymmetric.
Photo source Marie Claire Maison
7. Lighting is important
You can make your home feel all the more welcoming with lots of warm lighting. A wall sconce, lamp or chandelier all make fantastic additions to an entrance, however I believe almost always that a lamp is essential. A naturally scented candle lit when you are expecting visitors is also a lovely addition.
Photo Luxe Source by Architect Dillon Kyle
8. Consider hiring an Interior Designer to work with you
As you can see from the above, there is a lot of thought, careful planning and design that goes into an impactful entrance. Working with an experienced Interior Designer will ensure that you achieve the results that you dream about for your home.
If you are considering building your dream home, remodeling or updating your family home, get in touch with me here, I would love to hear from you and have the opportunity to bring your vision to life!
---