21 Oct

Why you should let your interior designer have creative freedom & why it's good for your project

You have a unique sense of style. You can be quite selective about what you want. You're used to being in control. You are unfamiliar with the process so would like to be involved to understand. You are concerned that you aren't going to like the finished space. All very valid, and often common, reasons why clients struggle with the concept of handing full creative freedom across to our team of interior designers. 

As an interior designer, I consider myself a creative, an artist in my own right. Let me ask you this; if you engaged an artist to paint a picture for you, would you take your brush to the canvas? The answer to that question is why you need to start thinking about your home as a blank canvas, and us, the artists. 

Today I would like to give you an insight into why, if you engage an interior designer to work on your next home or project, you should allow them the creative freedom that they deserve to create your perfect space. You've already done your research, found a designer that you like the style of and more importantly you feel comfortable that they understand your vision, so why hesitate?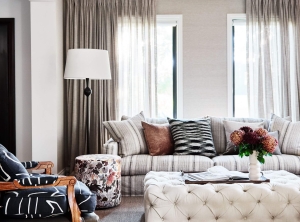 Too many cooks spoil the broth
Too many cooks spoil the broth, or too many cooks in the kitchen is a common phrase known worldwide. Unsure of the meaning? Essentially, a plan or project is destined to fail if too many people are working on it at the same time. And the same goes for designing your home. 
The best outcome is achieved when the design is in one person's head (i.e. the interior designer). If you (the client) are designing independently of the designer, there is little or no combination of ideas. It creates conflict and confusion, not just between the designer and the client, but in the final outcome. In addition to conflict and confusion, it can also become costly in terms of not only money but time wasted too. 
Not to be confused with collaboration
Asking a client to not get involved in the design process does not mean that we don't want them to be involved in the process at all. We collaborate with our clients on all of our projects. It is their vital input about their lifestyle, likes/dislikes, their own unique taste and style that we use as the foundation for our creations. 
By allowing an interior designer like myself to take full creative control of your project, you are allowing me to visualise the home like a model inside of my mind. There I can consciously consider all of the finishes simultaneously, placing materials in the correct locations. All of this is communicated to the client, but the difference is being allowed the creative freedom to work this way in the first place. 
Designing your home is probably one of the most important and expensive investments that you will make (after purchasing the home of course), so it's always best to engage an expert that has the expert knowledge and experience to guide you to a finished space that you may not even have been able to imagine possible.  
Furniture, fittings & fixtures
Referred to in the interior design industry as FF&E, furniture, fittings and fixtures are a crucial element of the design process. We coordinate all FF&E from the front door right throughout the entire home. By being allowed the creative freedom to pursue this, we can create consistency in style and this is something that is very evident throughout our projects. 
If you're seeking any reason to hand over control on these elements it is this: we know where to procure the best possible FF&E, no matter the style your home dictates. We have spent many many years building strong and meaningful relationships with suppliers and tradesmen here in Sydney, throughout Australia and internationally, to enable us to bring you the perfect solutions. Giving your interior designer full creative freedom also gives you full access to their wonderful array of contacts. 
Still not convinced? 
I can't speak for every interior designer out there, but I can confidently speak for myself and the wonderful team that works with me day to day. So here are a few reasons why you should feel confident in handing over the entire design process to us for your next project. 
Trust that we know what we're doing because… I personally have been doing this for over 30 years. I have an unrivalled knowledge of proportion, aesthetics and a genuine love of textures. 
Enables the speed and flow of the entire project… by working with an interior designer like myself, allowing us full creative freedom will most definitely have a positive impact on the speed and flow of your project. We can save you time and money this way.
Communication & transparency… I mentioned earlier that we endorse full collaboration with all of our clients on our projects. Just because you have allowed your interior designer complete creative freedom does not mean that you should be kept in the dark until the final product has been presented. Communication and transparency along the way are key to ensuring success. 
I hope that you have found today's blog useful and that when choosing to work with an interior designer you go into the project with an open mind and a willingness to allow the designer all of the creative freedom that they deserve. If you are interested in working with the team and I, then please contact us online to arrange a consultation.