25 Sep

Five tips for renovating for profit

Renovating for profit has grown in popularity over the past few years, so I have decided to put some of my top tips together for you in this latest blog post. Purchasing a house and making some improvements by remodelling areas that need it, is a challenging process to undertake. It takes time, careful planning and a lot of energy, but, when done properly with a clever strategy, it can be very rewarding.

Overall, when renovating for profit, you should keep it simple. Select colours and finishes in neutral colours and textures. You should remember that the house needs to appeal to a wide range of people, with different tastes and style preferences, so a clean, modern blank canvas is best. This will allow them to use their imaginations upon inspecting the property, enabling them to envision themselves living there.
Here are my Top 5 Tips for renovating for profit:
1. Paint inside and out
Nothing will freshen up a tired house better than a fresh coat of paint. Neutrals are key here and clean, white walls will make the space feel large, open and inviting. Be sure to select the right shade and tone, for some more extensive help with selecting paint colours, you can download my free guide by clicking here.
2. Update the kitchen, bathrooms and laundry
These are the big selling points for potential home buyers and investors, so invest the time and funds into updating these high traffic areas. A kitchen can sell a home, so don't be afraid to put a significant part of your budget toward making it a show stopper. There are lots I could share on this topic, and I have a blog post on designing the ultimate kitchen for you to do further reading on here.

A neutral, simple kitchen that would appeal to many, with minimal, yet impactful styling.
Design by Cedar & Suede, photography by Natalie McComas.
One of the main things to consider when remodelling these areas of the house is to use the same (or similar) finishes and fittings in each room. Ensure a consistency with the tapware, tile choices, flooring and bench tops. Really think about how each room will be used and be practical with your selections and design. Select good appliances, not necessarily top of the range, but not the cheapest and smallest either.
A neutral bathroom with detailed touches.
Designed by Marylou Sobel, photography by Simon Kenny.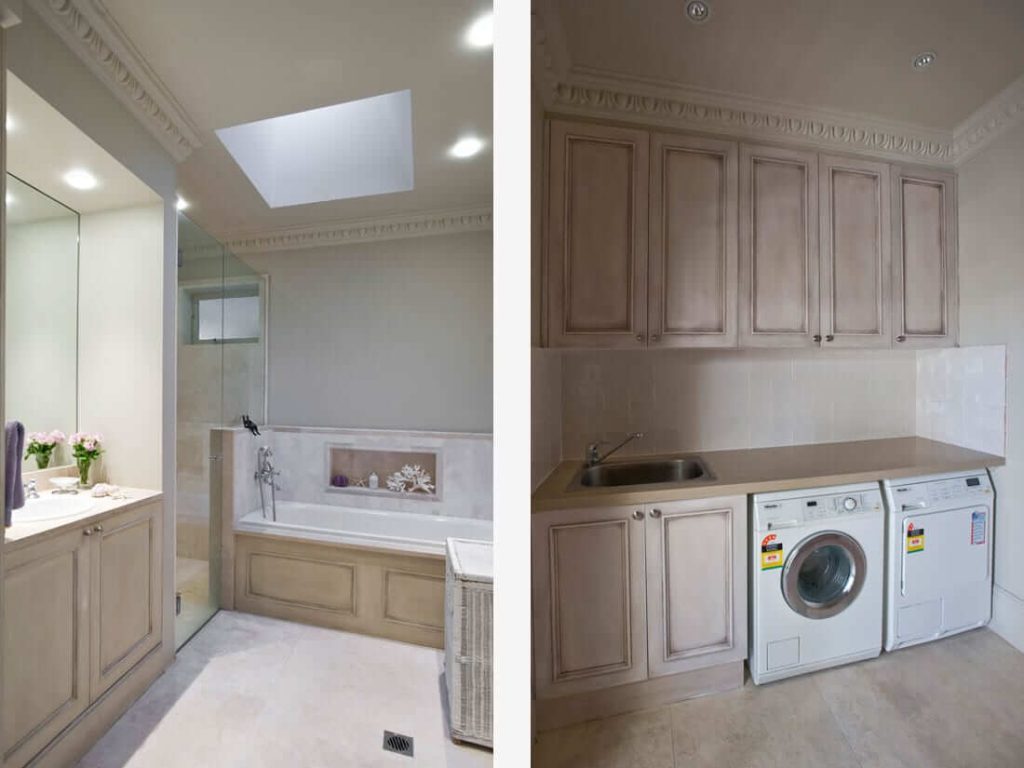 Selections carried through from the bathroom to the laundry.
Designed by Marylou Sobel, photography by Simon Kenny.
3. New flooring
Let's be honest here, no one wants to purchase and move into a new home with tired and worn flooring. New carpeting or sisal can really lift a home, particularly in the bedroom and study areas. If the home has timber floorboards, it is definitely worthwhile having these refinished and looking fresh for staging and inspection.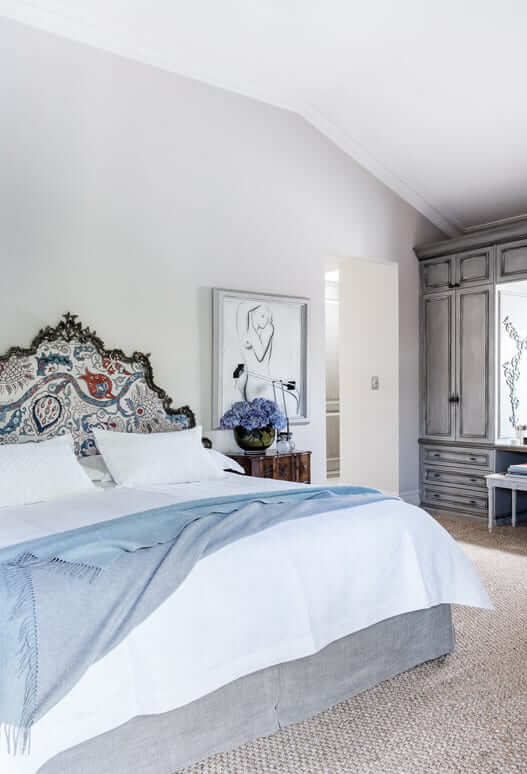 Sisal flooring can give a room a 'homely', comfortable feeling and adds texture.
Designed by Marylou Sobel, photography by Maree Homer.
4. New window treatments
To help you maximise your profits, updating the window treatments in the house is also a great idea. Consider the overall style of the house and whether shutters, curtains or blinds are the right choice. The right window treatments can definitely give a house a more grand feel, so if you are unsure of what is right for your project, I suggest consulting with a professional.
It is easy to feel overwhelmed when it comes to selections and window treatment options. My advice here would be to consider your buyer and the style of the home- a grand, luxurious house definitely calls for high-quality window treatments and the right selection can definitely take the house to the next level. Whereas, if it is a more modest home and you are working with a moderate budget, you can consider saving by scaling back on window treatments.
Luxurious window coverings.
Designed by Marylou Sobel, photography by Maree Homer
5.  Feature lighting
Last but not least, an effective way to add value and interest to a newly renovated home is with accent lighting. Be sure to pay particular attention to areas like the dining room, kitchen and bathroom, as well as the front entryway. For the outside, the front entrance, outdoor entertaining area and front areas that will increase the curb appeal.
Outdoor sconces are a great idea for outdoor feature lighting.
Designed by Marylou Sobel, photography by Maree Homer
To summarise…
When renovating for profit, it is important to plan out the project and take everything into consideration. Be sure to know your budget and keep a detailed list of what needs refinishing or replacing. It is also helpful to measure up each room carefully and create a floor plan of the home, so when you are out and about making selections and sourcing materials, you have the plan on hand.
Think about your potential buyer and what they might be looking for- be sure to do your research before spending money on unnecessary improvements.
As always, if you need assistance, I would love to discuss your project, feel free to get in touch with me here.
---