04 Nov

Friday Favourites

If you didn't know that your bedroom can be your sanctuary, a chance to escape the daily grind and truly unwind and relax, perhaps your bedroom needs a few modifications…

I truly love designing master suites. I enjoy really getting to know the individuals that live, sleep and start their day in these special spaces and discovering what it is that they want for their own sanctuary.
"A bedroom should have a sense of luxury and textile elements that are pleasing to the heart, soul and touch,"
For this round of Friday Favourites, I wanted to share with you some of my favourite bedrooms from all over the world. Spaces that truly reflect the personality and lifestyle of the people that live in it, are beautiful to look at and are filled with detail, luxury layers and gorgeous texture.
For my Centennial Park Project, in the bedroom a more contemporary feel was requested and delivered, with sumptuous fabrics and furnishings ensuring a modern aesthetic in complete keeping with the grandness of this home.
For my Dumaresq Road Project, I devised a colour scheme reflecting the hues of this home's harbour views. The curtains blend with the paper-grasscloth wallcovering while the diamond-buttoned ottoman was designed to look like something from the ocean.
I absolutely loved designing three stunning bedrooms all with amazing views for my Harbourside Living Project. I played with colour, texture and pattern to amplify the natural light and spectacular views.
The above bedroom is also from my Harbourside Living Project, and I love the calming effect that these gorgeous shades of indigo blues have on you as you enter the room.
Interior designer Charles Prior of Baxter Creative created this stunning room to feel both glamorous and luxurious and I think he has achieved this perfectly.
Simplistic, deco-style luxury features in this Parisian Apartment designed by  Laura Gonzalez. I am loving these black doors and the unique owl print- just gorgeous!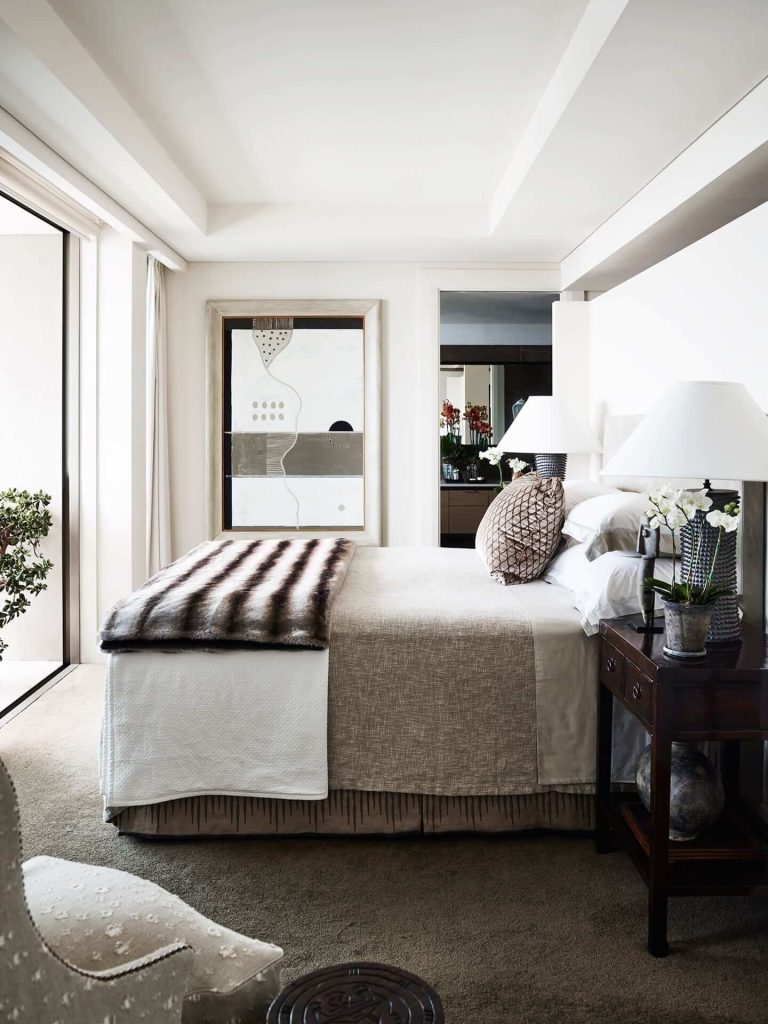 I love the way that Thomas Hamel has layered dark and light elements to bring this room together beautifully.
Simple, beautiful and calming design by David Hicks. I feel like this carpet would feel super luxurious under foot, whilst a simple colour palette would leave you feeling calm before bed.
---
Did you like this round of Friday Favourites?
I would love to hear your thoughts- what bedroom is your favourite?
Leave me a comment below x
---
Are you wanting to remodel your master suite or home?
I would love to hear from you- let's discuss working together.
-Click here to find out more-
---