16 Oct

Inside Design – Incorporating trends without being faddish

I would describe my design aesthetic as timeless, classic; but interior design – like all the fields of design – experiences trends; fashions in décor that come and go.  My design motto has always been, 'buy once, properly' and, while, on the face of it, that doesn't seem to leave much room for trends, you can strike a balance to create a stunning, current, yet classic, home.

It is important to recognise what is a fad and what is simply an evolution of design, as that will help you decide what will still be beautiful tomorrow and the next day (and the next, etc.) and what you will soon hope to never see again. Of course, to some extent, it is inevitable that décor and bought pieces will be 'of an age'; the key is not to limit yourself to the décor trend that is all the rage at the time you are decorating, as it will soon look dated.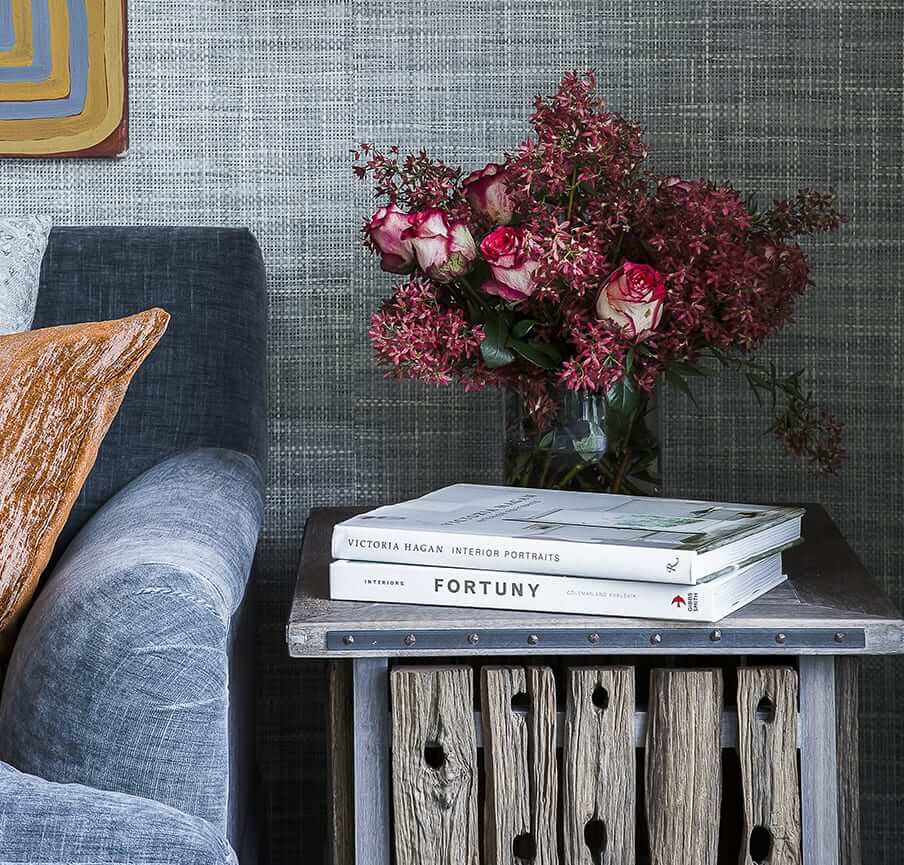 Flowers can be used to introduce the latest colour trend – like here, this floral display reflects the 2015 Pantone Colour of the Year, Marsala
You also need to remember that beauty is in the eye of the beholder.  There may be something that is really 'hot' but that the clients truly love and want to have in their home – to them, it may never go out of style.  As it is their home, that is their prerogative. As their designer, I can work with a piece (or pieces) and create a beautiful space around it. If a client comes to me wanting something that is a current (and, I suspect, short lived) trend, I will find a way to incorporate some element of the trend without overwhelming the more classic nature of the overall design.  An example that comes to mind is the trend for iron garden furniture a few years ago.  When clients wanted to use iron furniture, I would choose a timeless design and fabric (if needed) that was easy to live with for a long time.
Upholstery can be a way to blend classic and modern elements
Before you dive into the latest trend, think carefully about whether you really do love it for its aesthetic quality or whether you are attracted to it because it is in fashion.  Does it suit the rest of your furniture and home?  Can you live with it long term, even if it goes out of fashion? And if not, are you happy to redecorate soon? These questions will help you understand the potential longevity of a trend in your home.
The best way to escape the trend trap is to layer.  Make your foundation timeless, and then introduce elements of the trend that really speak to you via accessories, wall colour, rugs, wall art, etc. By foundation pieces I mean beds, lounges, tables, cabinetry, carpeting, floor coverings and so on – often the more expensive elements of home design. Accessories give you the freedom to indulge in trends, to have fun and play with your décor, but having a classic foundation means that you can move on to another trend without too much effort and cost.
Accessories allow you to adopt trends without changing your foundation pieces – like here, with on-trend cushion fabric
We all want to be surrounded by things we love, but it is important to understand your own style – if you can identify this, you might be less likely to feel the need to completely change your home according to what is in fashion.
I think balance is key – while there is something to be said for being on-trend (to some extent), personally I think classic can be current.  And then, if you can inject some of yourself into that, you will have a home you can be proud of for years to come.