04 Sep

Inside Design – The Role of a Designer

The phenomenal success of Pinterest is a strong indicator of just how much we love to be inspired by beautiful homes and gorgeous design. This inspiration has led many people to tackle their own design projects, which I applaud.  I love that people want to make their home environment beautiful.  This is not so strange as, after all, I have made a career of helping people achieve that beauty.  There are many people who, despite being inspired, look to a designer – rather than themselves – to achieve their interior design dreams, and there are many good reasons why they should do just that.
The role of a designer
One key advantage of using a designer is experience – in my case, nearly 30 years of it!  Experience has a multitude of benefits – it brings with it relationships with suppliers, stockists, furniture makers, and quality tradespeople; it brings with it an ability to see how a project needs to progress to achieve the desired result; it brings with it an ability to see problems before they arise; and it brings with it wisdom – the wisdom to recognise a good purchase, to not be swayed by the latest fad, to know what works and doesn't work in a space.
Experience, when combined with the rigorous training designers undertake (and an eye for design), gives an understanding of light, space, colour and the ability to apply it in a way that enhances the beauty of a home.
Before & After: A designers' eye can transform the every day into something special
Another major benefit is, simply, time and commitment.  When a home owner opts for DIY, they typically have to squeeze it in around their day job.  Often life intervenes, so projects get completed in fits and starts, which can lead to a disjointed look.  When I become involved in a design project, that project literally becomes my job, my priority, and that has several positive outcomes.
Firstly, I have the time to treat the job as one big project, not several small ones put together – this ensures that flow, cohesion and correct proportions are all achieved.
Secondly, because this project gets my full time attention, I am able to commit to it and manage it in a way that most home owners cannot.  This not only means that small (or big) details  do not get overlooked or disregarded as too hard, but also that the project is fully finished in a timely manner, something that often does not occur with DIY.
Lastly, because I spend lots of time ensuring that I have understood the brief before I start, I can picture the end result before the project is underway.  Having this vision makes a world of difference to the finished product and is a big saver of time, tears, and money. No purchase is made, no project is undertaken without consideration of the relationship with other elements in the room or the impact on the space.  This all feeds into my guiding principle of design: "Do it once, properly".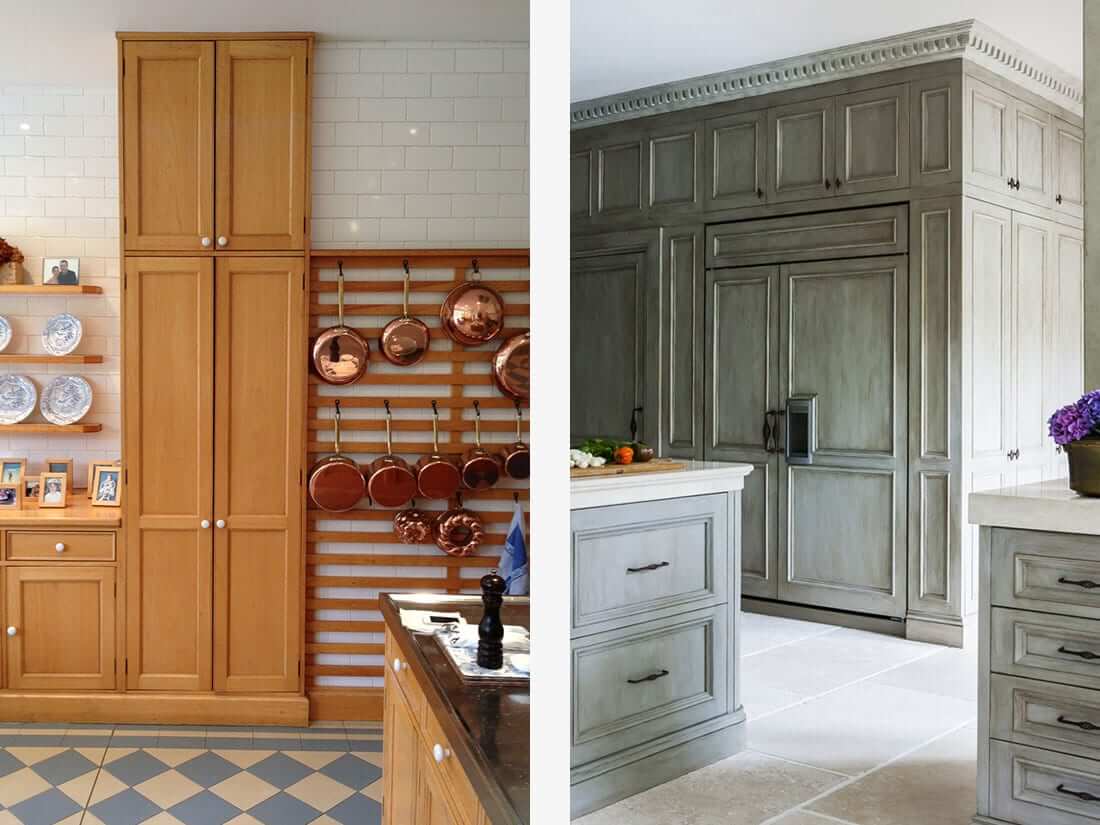 Before & After: A classically beautiful kitchen with a style that is timeless
The detachment that comes with being 'external' to the home is also an advantage.  I can see clearly what needs to happen and when, while the client is often too close to it, too emotionally invested, and can often find it difficult to make a decision.  Detachment also helps when project managing, especially when dealing with the occasional truculent trades- or salesperson. The project management side of a design or renovation project is often the aspect that causes the most stress to an owner – a designer can eradicate that.
Before & After: Having all the elements in harmony makes a bedroom restful, luxurious, gorgeous
When a collaboration between designer and client occurs, it results in it a team effort that can generate big ideas and great results.  The more information the client provides (regarding how they like to live and what they like and dislike, etc.), the better the outcome, because it brings the brief to life and I can completely see it through their eyes.
Before & After: Bringing unique style and cohesion to a gorgeous living space
When it comes down to it, perhaps the most important reason for hiring a design is the very fact that they are a designer.  I have made this my profession because I am good at it! I have a natural eye for aesthetics and detail and a certain flair; I can see what is possible, even if it seems impossible – and I have passion! I create beautiful spaces that my clients (and I) love!