29 Oct

Five ways to add value to your home

When I speak with my clients about remodelling a home, adding an extension, or renovating on a large scale, it can come down to comfort and style, but more often than not, we discuss and plan a project to ensure that we will be adding value to the home.

Whether you are planning on making your house into your 'forever home', creating more room for a growing family or simply renovating a rundown purchase to make it more into your style, adding value should be front of mind. Here are a few points for you to consider:
Overcapitalising on your primary residence can be a risky financial move
By focusing on a few key things, you can add value that can increase what your property is worth, by a great deal.
These changes and updates don't need to be on the large scale, you can make simple and affordable updates with an end goal in mind of an increase in property value.

Following on from my recent blog post, which was all about renovating for profit, I wanted to share some tips and ideas for those who might want to make some home improvements, with the hopes of increasing the value of your property. So, here are five ways to add value to your home, enjoy!
Designed by Marylou Sobel, Styled by Bree Leech and Photographed by Maree Homer
1. Kitchen update
You know what they say, that the kitchen is the heart of the home? Well, it is also the heart of the buyer. A beautiful, functional kitchen can capture the heart of a buyer and sell a home. Updating your kitchen ahead of a sale or valuation can mean a substantial increase in property value.
Designed by Stephanie Nadel, Photographed by Daniel Nadel
As well as the finishes and cosmetic update, also consider the location of the kitchen. Can it be opened up or repositioned for entertaining? A kitchen that is designed around food preparation and entertaining can be seen favourably from a valuers prospective.
You don't need to go overboard too, you can always do more affordable updates such as resurfacing existing cabinet doors, leaving the existing carcasses as is and replacing tired benchtops and hardware. Cosmetic updates such as these can be taken to the next level with the addition of quality appliances.
Designed by Marylou Sobel, Photographed by Maree Homer
2. Ramp up your curb appeal
Often, a book is judged by its cover- and in this case, a house can be judged from the street. A great way to effectively raise the value and appeal of your home, is to complete a few updates to the front of your property.
Depending on your budget, you can either make a few minor changes or more dramatic updates that will increase the value of your home. It's surprising what some well-thought-out landscaping and a fresh coat of paint in a strategic colour palette can do for your home.
Along with paint and landscaping, pay particular focus to the entrance of your home and how you can decorate it in order for it to have a maximum impact.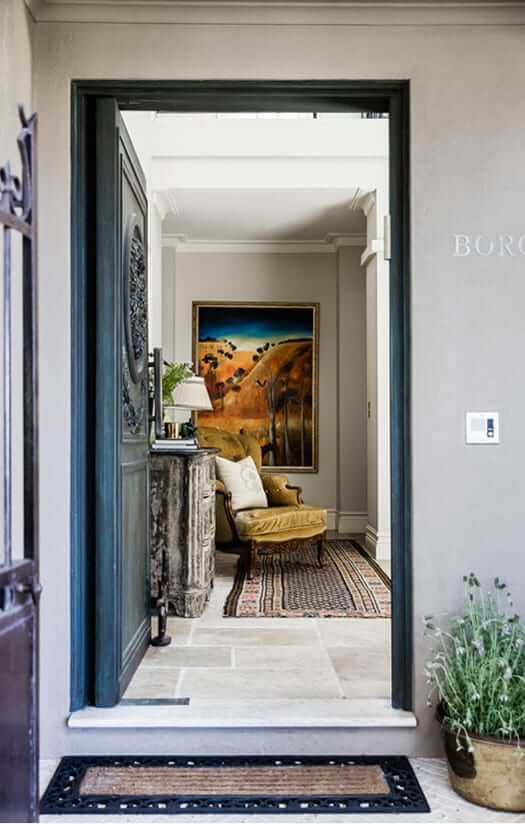 Designed by Marylou Sobel, Photographed by Maree Homer
3. Climate control
Something to take into consideration when making home improvements is climate control. A home with ceiling fans, ducted airconditioning and aesthetically pleasing heating is looked upon favourably by both the buyer and the valuer.
Of course, your budget will need to come into play here, but by doing your planning and research, these additions or updates can make a big difference.
Other factors to consider here might be sustainability. You should think about eco-friendly products such as solar, double or triple glazed windows and new window coverings. All of these additions can decrease the impact on the environment and assist with controlling the climate in your home.
Designed by Marylou Sobel, Photographed by Maree Homer
4. Floor & wall finishes
Worn flooring and tired paint can decrease the value and appeal of your home. A home that is seen as fresh and ready to move into will be looked upon favourably by the prospective buyer or valuer.
Fresh carpeting and a coat of paint will freshen up the home, you can really help to bring a house up to date by making these simple and effective refurbishments. When selecting colours and finishes, you should think about your intentions for your home- are you making these improvements to sell your property? Or, are you updating your home to simply live in and enjoy? You will need to select your colour palette and any finishes with this in mind. A neutral palette will appeal to many, however, a bright and printed colour palette may polarise the buyers.
Designed by Marylou Sobel, Photographed by Maree Homer
5. Entertainer's delight
Consider ways in which you can appeal to the buyer or valuer when it comes to entertaining. Can you set out and style a couple of outdoor entertaining areas? Dedicated entertaining areas are a great way to make the most of your outdoor spaces.
Also, think about this if you are designing a new kitchen– consider creating open spaces and modifications that you might be able to make to ensure that the home is seen as one to entertain and welcome guests to.
Designed by Marylou Sobel, Photographed by Maree Homer
---
I hope you enjoyed this post and found some value and ideas for your own project. For further reading, I suggest the below posts, just click on the title to read the full post:
---