14 Mar

My Top Wallpaper Picks for the New Season

I have always loved using wallpaper, even when it has gone out of design vogue for a period of time. I believe that when used effectively, it can create mood, brings interest, colour, pattern and texture to a space. Not only that, but wallpaper can also add depth and layering to a room – something that paint and furniture on their own can't always achieve.

Inside a home, wallpapers can be fun and whimsical, creating a fantastical space. It's especially endearing in a baby's nursery or child's bedroom, but an adult's bedroom can have texture and that desired calming effect by using something such as a grasscloth wallpaper. There are also endless possibilities for kitchens, bathrooms, and dining rooms that can create a unique setting, or provide additional interest for a living space.

One of my personal favourite objectives when using wallpaper is to create drama, particularly in a powder room. Getting creative when selecting a wallpaper for this is always a fun task. The powder room in my Boronia House project below is an example of where I have done this previously.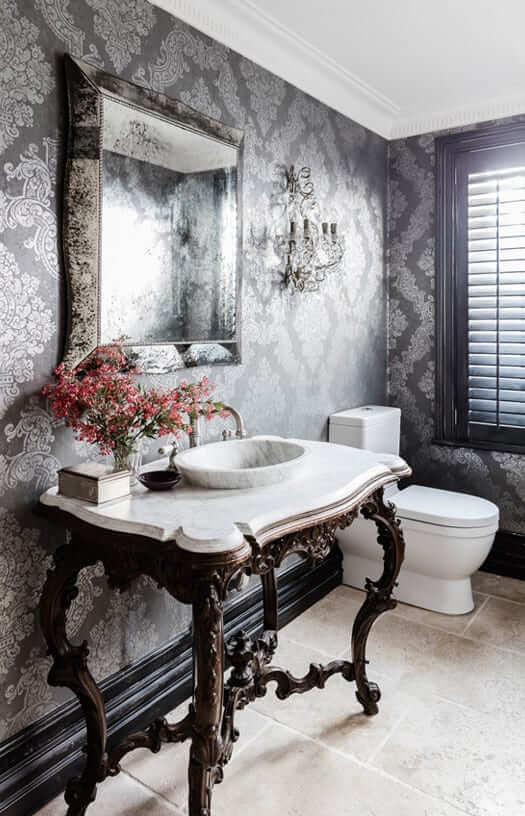 Designed by Marylou Sobel Interior Design, Photographed by Maree Homer
Each season there are so many beautiful new wallpaper designs from all corners of the world, so it is always exciting to see the new murals I could potentially specify for a project. Following are some of my new favourites…
Anewall Peonies
Large pattern wallpapers are very in-style at this point in time, particularly those with large floral prints. The lovely white Peony mural by Anewall is a wallpaper I have actually used in a recent project – below you can see a preview of how I used it in a bedroom for a bold feature wall. The smooth matte finish of the wallpaper offset against plush cushions and bedding fills the room with feelings of deluxe attention to detail and luxurious sophistication.
Floral murals such as this also create a sumptuous statement by using a vintage-style artwork or photograph. Bedrooms are a fantastic place to set the mood with dark colours like the black background behind the light bouquet and utilising texture to create a cosy, relaxing space to call your own.
Admore Collaboration
Also on my list of top picks this season is the new Cole & Son wallpapers where they collaborated with Ardmore from South Africa. Admore's quirky ceramics are the inspiration for the collection, featuring majestic motifs of Africa's wide range of exotic flora and fauna, like elephants, big cats, rare birds, rhinos and monkeys. Inspiration is also drawn from traditional woven baskets and beautiful beadwork patterns of the Zulu tribes.
Colour has definitely taken my interest in this collection as well, with palettes inspired by 'chalky, ochred desert plains and sun-bleached shimmering outcrops to the vibrant fresh greens of water-kissed rainforests' [exerpt from Cole & Son]. Together the intricate patterns of traditional African culture and the natural landscape inspired palette create a captivating vibrancy and sophisticated appeal.
This work, titled Singita, meaning 'Place of Miracles' is a rich vision of fabulously patterned forests. Incredibly, the design was hand-painted using the decorative foliage motifs onto the luxurious tapestry-like paper.
Eijffinger Wallpower
Lastly, I would like to share with you a project where my use of wallpaper led to a truly incredible room which I actually won an award for. The wallpaper I used in this project – my Neild Avenue project – was a large floral paper by Eijffinger for a young woman's bedroom. The wallpaper used in this case was actually a digitally printed mural, which is known in the industry as wallpower.
Previously the whole apartment on Neild Avenue was somewhat lacklustre and needed a complete overhaul. By using the wallpaper with soft furnishings, light fittings and a glorious Missoni rug, there was an abundance of colour, texture and pattern, and a room full of life and zest!
---
THANK YOU FOR READING, I HOPE YOU HAVE ENJOYED THIS INSIGHT INTO WHY AND HOW I SPECIFY WALLPAPER FOR A ROOM. IF YOU ARE INTERESTED IN WORKING TOGETHER AND THE POSSIBILITIES, PLEASE FEEL FREE TO REACH OUT.
-VISIT OUR CONTACT PAGE BY CLICKING HERE-
---