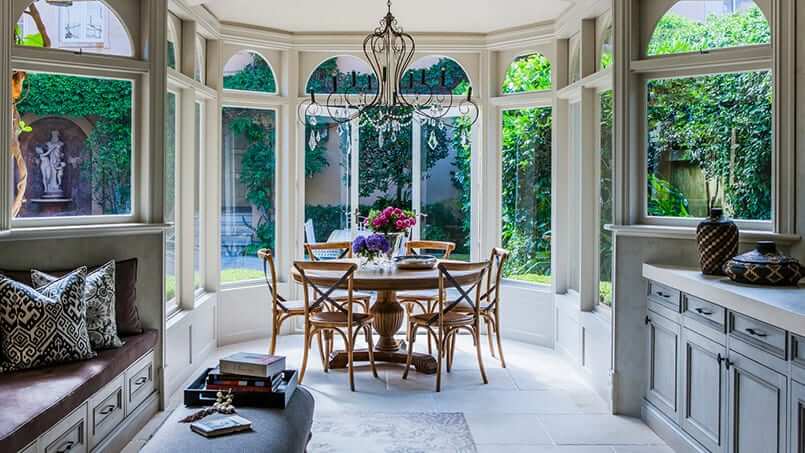 18 Feb

In focus: Centennial Park Residence

As an interior designer Sydney, nothing is more rewarding than seeing your vision become a reality. While I love the creativity that comes with refreshing or designing a home, the end result is always satisfying, and always special. I'm excited to share a project I've been working on for a while.

For this Centennial Park home, I was asked to transform the kitchen, daughter's bedroom, and the guest powder room. The client felt these spaces were quite outdated, quite tired-looking, so she gave me the freedom to come up with fresh designs – while staying true to the grand, Italianate style and architecture of the home. It was the kind of challenge I thrive on.
Kitchen
If I had to describe the existing kitchen in one word, it would be "outdated". The blue and white colour scheme seemed at odds with the rest of the home, and the appliances were not exactly modern. It was a very disjointed, confusing space.
Naturally, my client wanted the kitchen to have a welcoming yet cosy vibe, and to function as the family 'gathering' place. In other words, it had to look and feel like the heart of the home. On a practical level, the kitchen needed new appliances, and a fresh, 'user-friendly' layout.
Thanks to the freedom my clients gave me, I was able to combine form and function and create a calming, modern but still Italianate space. I moved the dining table and chairs in the conservatory section, and installed a window seat, perfect for lounging and watching TV. I also got rid of the two cane chairs and coffee table, as they were never used and just taking up space. Together, we decided on large rectangular-shaped tiles set in a brick pattern.
One of my client's top priorities was better storage. We updated the walk-in pantry, and fitted more cabinets. They were gorgeous: solid oak and finished with hand paint. For the final touches, I added pendant lights over the island, and a chandelier over the dining table to create a sense of intimacy. It's amazing what lighting can achieve.
Guest powder room
My client was eager to give this room the 'wow' factor. She wanted to create a fresh, chic space that her family and friends would enjoy using, and that she would feel proud of.
Since this room was in desperate need of an overhaul, we basically gutted it to allow for new rectangular floor tiles (in the same pattern as the kitchen), a new joinery cabinet, and a new basin, tap, mirror and toilet. As for the colour scheme, we chose to move away from the tired blue and white and opt for a baroque-style wallpaper instead.
The result? A gorgeous, dimly-lit/sensual powder room that almost looks too good to use.
Daughter's bedroom and ensuite
The client's daughter knew exactly what she wanted: a total change. She felt she'd outgrown the classical French-inspired, peach-coloured bedroom and bathroom. I didn't blame her; they were a little too traditional and tired, and did not suit a 21-year-old with a bubbly personality.
We agreed to give both rooms a total refresh, focusing on clean lines and a balance between character and simplicity. After settling on a colour scheme, I painted the walls and ceiling in shades of silver, black and white, with splashes of colour and a hint of pink here and there. I added wallpaper, along with a new desk, chair and beside drawers for storage. Finally, I replaced the blinds with curtains as they were much more modern. Now, this room definitely has the 'wow' factor, and their daughter was ecstatic with the result.
Bathroom

In the bathroom, I concentrated on creating a sense of space. To do so, I used cream and white tones, and installed an oval bath and basin as well a large shower (with frameless glass). Off-white limestone tiles and more storage ticked the final aesthetic and practical boxes.