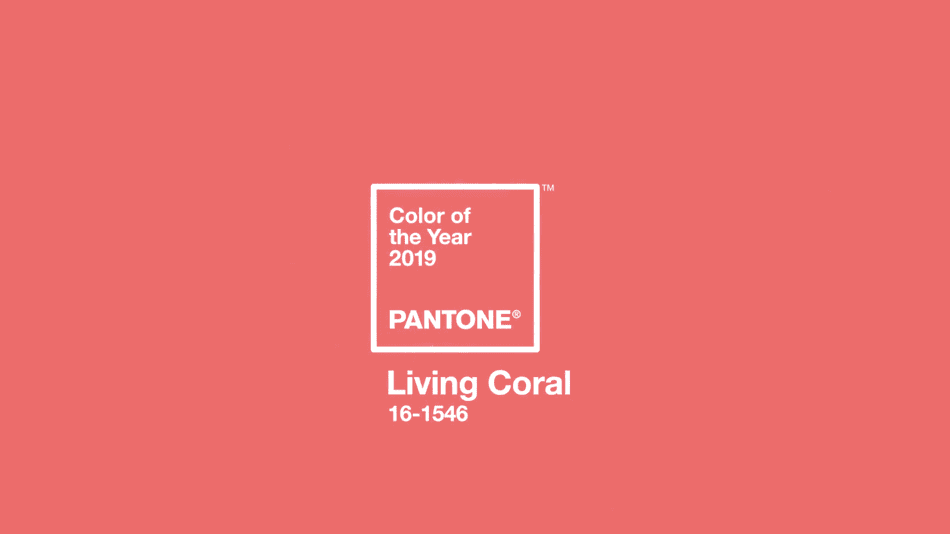 20 Feb

INTRODUCING THE 2019 PANTONE COLOUR OF THE YEAR
An exciting, vibrant new colour of the year has been announced: PANTONE 16-1546 Living Coral
Described as an animating and life-affirming coral hue with a golden undertone, to me the 2019 Pantone colour of the year has an energising effect that can add a vibrant pop of colour to a room, bringing it to life.
Recent work- Vaucluse Project
I was very excited when Pantone announced this year's colour, particularly because we had just wrapped up a project where we painted the external patio in 'Coral'.
It was a beautiful base for the Moroccan style feature tiles and outdoor pizza oven areas. It really compliments and softens the stainless steel BBQ too- the perfect backdrop for entertaining.
Centennial Park Residence
An example of how I have used this colour in the past can be seen in the Centennial Park Residence – where the living space was brightened with "Living Coral" hues throughout the textiles and furnishings. I am interested to see where this colour will pop up again in future projects, but until then, here is some beautiful interior design inspiration using the 2019 Pantone Colour of the Year.
Powder Rooms in Living Coral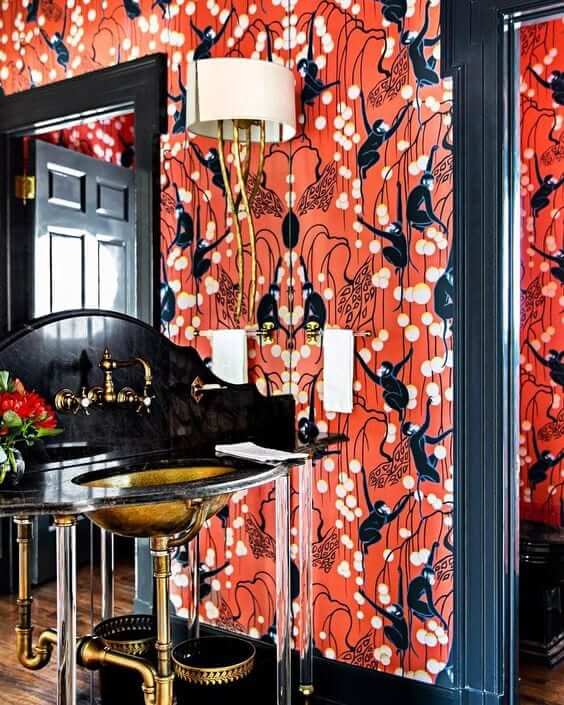 Another exquisite hand-painted wallpaper by de Gournay, this time appearing in a luxurious powder room interior. The vibrant coral background immediately draws your eyes to the walls, then to the intricate details of the monkey motifs. I always love an exciting powder room, especially ones where the wallpapers are the masterpiece.
Living Coral Hotels
The Siren Hotel, Detroit. Design by ASH

The Siren Hotel, Detroit. Design by ASH
It's hard for The Siren Hotel interiors not to capture your attention with an abundance of coral lighting and textiles. A magnificent display of using the 2019 Pantone Colour of the Year as a primary colour palette selection.
Living Coral for Children's Bedrooms
So often little girl's rooms are full of pink and purple tones, and although they are beautiful, I do love to see alternative colour palettes. This room offers such a fun, warm feeling through colour and patterned textiles; I think it is a delightfully inviting design for a young girl to enjoy as a her own space.
Living Coral for Luxury Shopping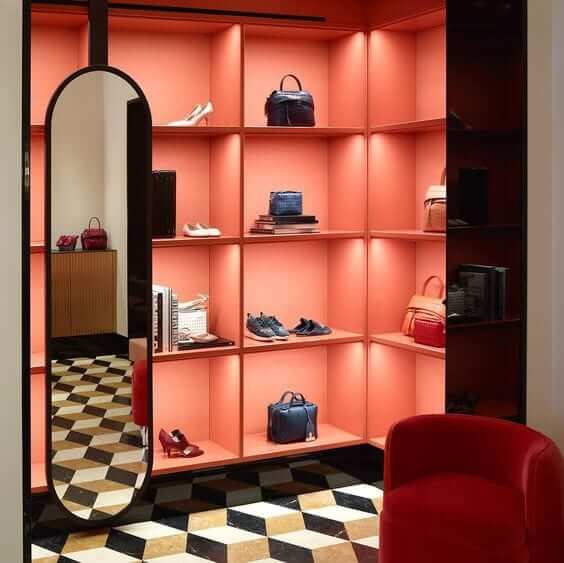 Living Coral has even made an appearance in Sloane Street, an exclusive shopping destination in London, featuring as a background for luxury leather goods displays in Tod's. I am inspired by the way such a bold colour that usually demands attention can be used to highlight products without taking away from the beautiful leather goods themselves.
Bathrooms in Living Coral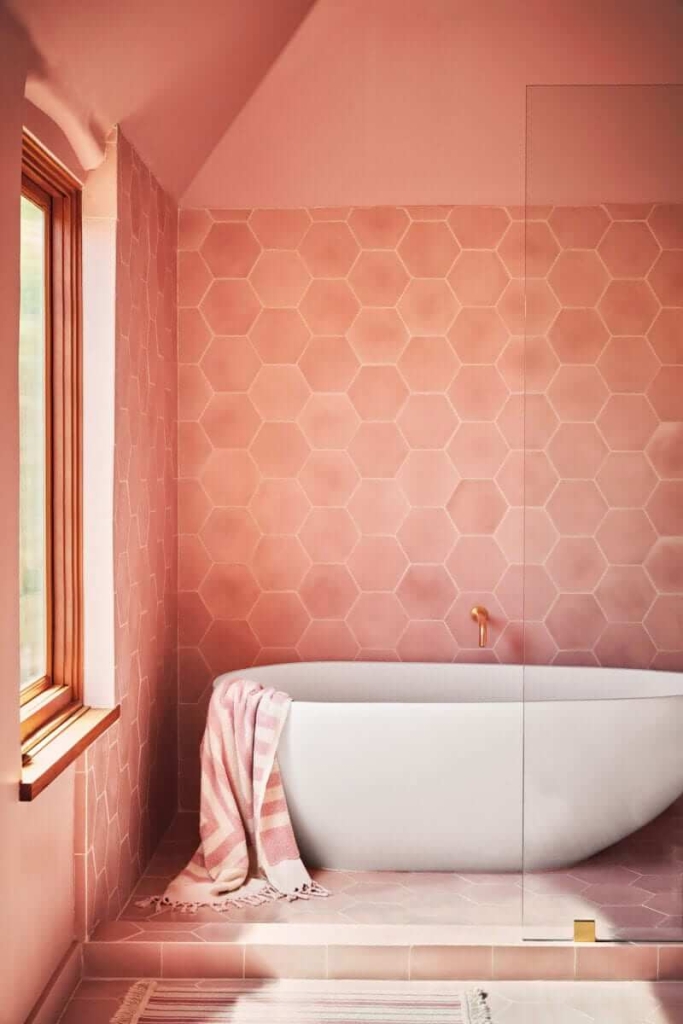 I adore the way this bathroom has been designed with living coral as a complete base note used to highlight the shape of the brilliant white tub, the patterns of the tiles and the brass finishes. I always love unexpected colour choices for home interiors, particularly creating fun bathrooms.
Living Coral Commerical Interiors
Arbor, a "faintly bohemian" fine dining restaurant located in Hong Kong cocoons you in a living coral experience. There are many commercial interiors such as this one using living coral to create unique spaces, immersing visitors in a world of colour. I can see this space being the inspiration for residential butler's pantries and cellars, for those not afraid to embrace impactful colour schemes in their home.