07 Apr

Magnificent stone
we share our advice on stone selection
With no piece of stone being the same, we thought that we would share some advice and simple tips when it comes to selecting the right stone for your project. Over the many years of putting projects together as an experienced team of Interior Designers & Interior Architects. we love to celebrate the results that we get from selecting the perfect stone. Stone is timeless and makes a statement, but it is also a durable and long-lasting surface that will have you in awe of its natural beauty for years to come.
We hope that you find this information helpful- if you have further questions for us, drop them in the comments below the post, we would love to hear from you…
Start here…
Before sourcing the stone for your project, you will need to consider, what is the application of the stone? Will it be going into a kitchen? Bathroom? Joinery? or flooring? From there you can assess if you need a particular absorption rate or need to achieve a certain slip rating. Make notes and take measurements before embarking to source the right stone.
You will need to consider…
The type of stone you are drawn to – marble, onyx, travertine, limestone, granite or sandstone. It might be the colour, the pattern or even the texture that captures your attention. There are so many interesting choices but always keep in mind how it will be applied and how you want your space to look once it is finished. If you are working to an existing or planned colour palette, you will also need to consider how your stone will look against your paint colour, artwork and flooring etc.
How would you like to have your stone finished?
Once you have narrowed your choices down, it is important to decide on the finish of the stone. Common finishes are:
Polished
Honed
Antique
Hammered
Sandblasted

It is worthwhile noting, that both a hammered and sandblasting finish can aid in achieving slip rating if the application is for the floor.
Format of your stone:
Stone can also be selected considering the different format or look that you are after, depending on the space, scale and design of the areas you are putting together. Stone can be customised to suit, with different shapes and sizes a possibility.
The stone can come as slabs or pre-cut sizes, so it is always worthwhile to look at the various slabs that are on offer. As it is a natural material, remember that there are always variations and no two slabs are the same. We suggest taking the time to look at the slabs and consider all of the above.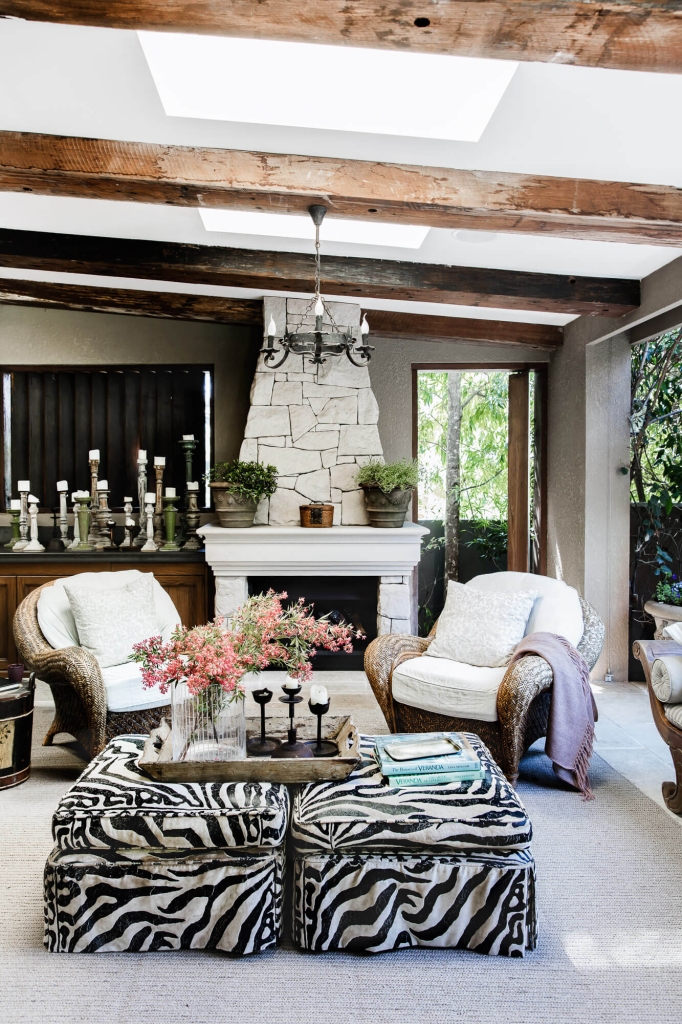 Find the right people to work with
Once you have selected your stone, be sure to find a reputable stonemason or tiler that shares your vision and work with them on the installation of your stone. Depending on where your stone is being installed, you may also need to consider things like vanity, sink or tapware location.
Look after your stone
Stone finishes and types can vary, so be sure to receive instructions on cleaning and maintaining it properly. This will ensure that you can admire it for its long lifetime.
Natural stone is porous and it should always be properly sealed in order to protect it. There are different strengths of seal and they can be matte or shiny depending on the look you are wanting to achieve, but the finish will protect the stone from harsh staining and maintain the appearance for longer. There are many reconstituted stones available, they also need to be sealed but are far more stain resistant. Our lead designer Marylou personally loves stone to age graciously, by marking and staining over time.