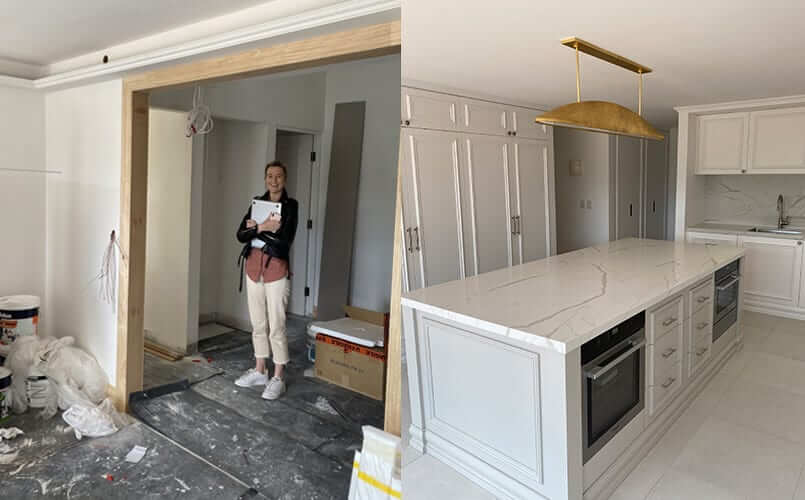 18 Dec

MSID behind-the-scenes: a Darling Point makeover

When a couple approached Marylou Sobel Interior Design to completely renovate their apartment in the heritage suburb of Darling Point, we were excited to get on board. Being able to totally gut a place and redesign everything, while combining the client's needs and our vision, is a very rewarding experience.
An early progress site visit in Darling Point
The single-storey apartment is located within the beautiful grounds of a heritage complex called The Annery. Part of the brief was that the redesigned apartment needed to be more functional: the original kitchen was a pokey, galley-style space that was pushed back into the existing living room, and the lighting throughout the apartment was poor. The couple also wanted the laundry area to be more accessible, and, since both often work from home, a study area was needed.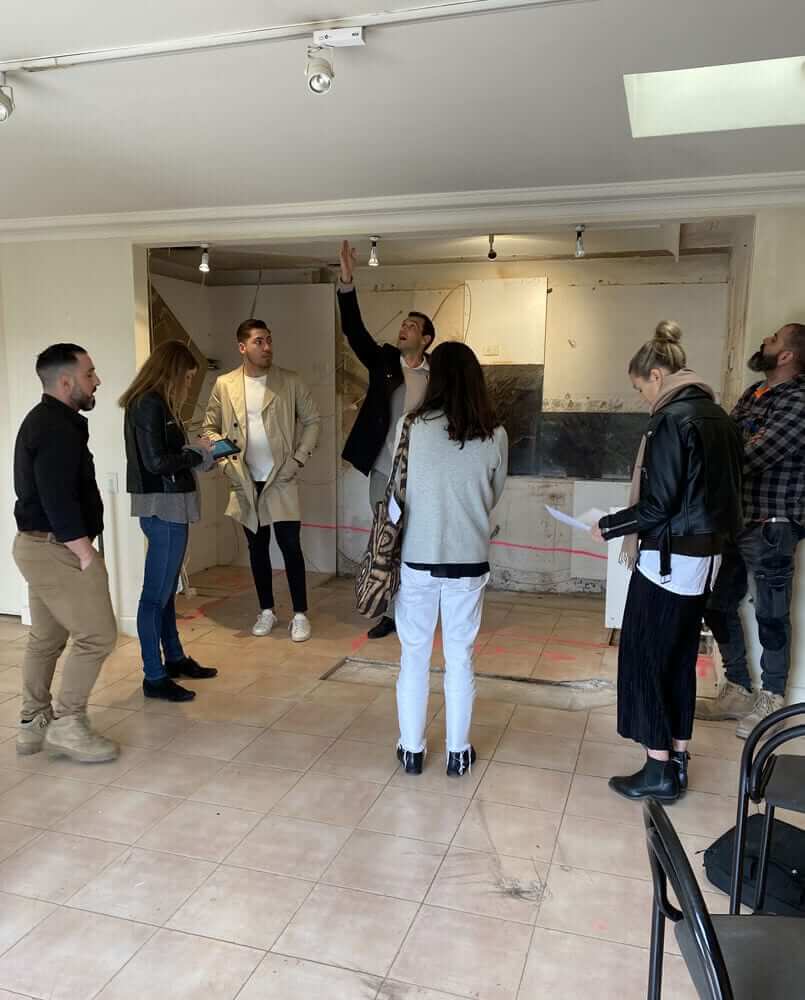 With low floor-to-ceiling heights, we couldn't lower the concrete ceilings without losing more height, so we engaged a lighting specialist (Wildly Illuminating). MSID designed the perimeter lighting to ensure it looked like it had always been there; the lighting design was based on the suggested application of up-lighting by Wildly Illuminating (thanks Genevieve!)
Large floor-tile selection coming through!
To address the laundry placement issue, we moved it out of the second bathroom and put it more conveniently in the scullery/pantry behind the all-new kitchen. For the study, we decided to re-use the existing space. All-new skirting, cornice, door mouldings and hardware was installed throughout, as well as all window treatments.
Finishes board
Through a carefully selected palette of materials and finishes, MSID transformed a once dark apartment into a light, spacious, and tranquil home
Selecting finishes
"I particularly enjoyed the design process around reconfiguring the existing lounge and kitchen," says Stephanie, senior designer at MSID.
"We created a far better functional space for our clients, incorporating a concealed laundry and pantry, as well as a large, central island and a bench seat in the kitchen for dining and working with ample storage space."
This new, eat-in kitchen became the central point of the home, replacing what was once just a small, galley-style kitchen pushed to the back of the family room.
Stephanie adds that subtle contrast in paint colours, new bolection moulds, skirting and architraves, as well as nickel and black and white accents, were used throughout to create continuity and a classic interior that could be enjoyed for many years to come.
"We added plenty of detail into this project, as the apartment lacked character initially," explains Emma Evans, MSID's interior architect.
"I enjoyed the challenge in refining these details and ensuring lighting and joinery were exactly how we envisaged to provide a seamless and timeless result."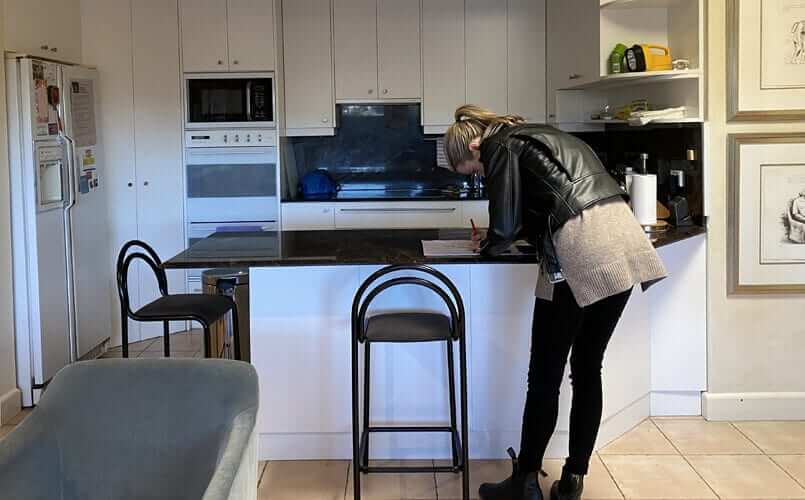 Trade day note-taking. Here, the 'before' version of the kitchen can be seen
The kitchen after being redesigned
"The outcome of the Darling Point project is so pleasing; it's a dream," says Marylou.
"I believe we have exceeded the clients' expectations – which is something we aim to do on every project!"
MSID would like to add that after the first night in their new apartment our clients said: "It was amazing sleeping in our new apartment. Such a beautiful space to wake up in! The apartment's new design is considered and brings in so much more light."
Does your home need an interior design makeover?  Contact us; we'll exceed your expectations.