27 Apr

Project Spotlight – Fawkner Park

In this blog I am excited to share a recent project with you – a gorgeous, richly decorated apartment overlooking an amazing, vast park in metropolitan Melbourne.

It is always a joy to work with old clients on new jobs and this exhilarating apartment design project was one of those occasions. For the project, I was given the gift of, virtually, a blank canvas – an apartment consisting of two bedrooms, a living room, a study and a covered balcony to be used as an outdoor room. (An existing bathroom and kitchen were not part of the brief.) I was also given the gift of having almost free reign, which is always exciting.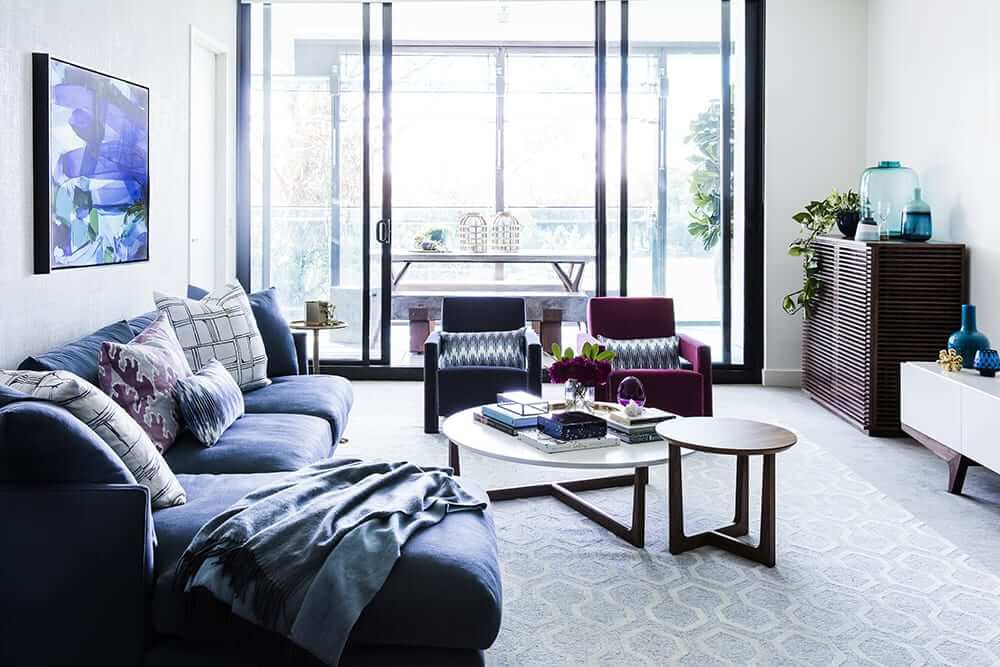 The brief was for blue and white tones and retro furniture to anchor the design
My client's main request was comfort – to be achieved via retro furniture and the use of base tones of blue and white. The brief of blue and white served as a springboard for the final palette. (I wanted to feature blue and white but not have a solely blue and white palette.) I had a lightbulb moment when I saw the wine and mulberry colour swatches for the Cassina chairs (used in the living room, seen above) and just knew these were the right colours for the apartment and would be perfect with the blue and white tones.
The upholstery of this armchair and the arched lamp bring in some retro accents
Choosing the anchor pieces to use in a project is always an exciting part of the design process and for this project, I was spoilt for choice. The apartment features a sumptuous L-shaped sofa, two lovely Cassina chairs, and a stunning dining table with neoprene covered dining chairs.
Neoprene covered chairs brings a modernity to a classically styled chair and complements the stunning dining table
There are other standout pieces as well, including two bespoke beds by Fanuli and a rattan daybed and zinc dining table, which jointly, when used on the balcony, perfectly pull that space together. The artwork is by Kerry Armstrong Art.
A project with this many spectacular elements is always a joy to work on.
These two bespoke beds were amongst the standout pieces in the apartment
The project was managed by me remotely from Sydney, a process that often presents challenges. I was particularly lucky on this project however, as my wonderful Melbourne-based industry friends generously shared resources and information with me. My task was eased further by serendipitously finding a brilliant cushion-maker to hand-sew some beautiful scatter cushions, who also happened to have an equally brilliant cabinet-maker husband to install the study desk and shelves. Kismet!
Scatter cushions were specially made to complement the rich furnishings and bring another design element to the room
It is probably clear that this project was a pleasure to complete – it has a beautiful and unique location situated in the heart of a busy city but overlooking a vast park, giving the impression of tranquillity and being far from city life, and involved the use of some absolutely stunning furnishings and fabrics. The design scheme and colours add to the sense of calm and beauty coming from the outside and are the perfect complement to that view.