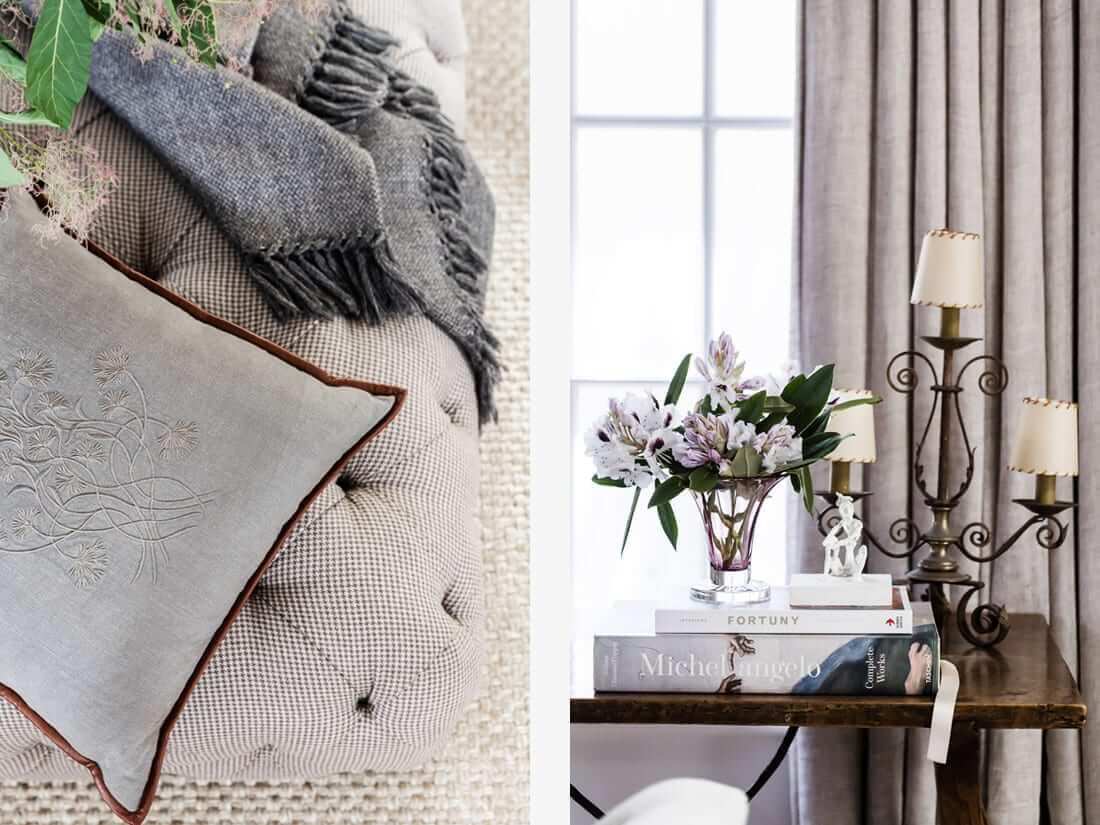 12 Apr

How to add interest and depth when decorating with a softer neutral palette

In my previous blog, I took you through some of my favourite interiors with a calming, neutral colour palette, and also discussed why using a neutral palette can be beneficial and beautiful for interiors. Today, I'm excited to share with you some tips on how to add interest and depth to your home when decorating with softer, neutral colours.
Use a Variety of Shades
Neutral colours, in general, cover a wide palette, including ivory, grey, beige, white, taupe and brown and black. Each of these colours also come in a large variety of shades, which when being used as the predominate palette for an interior should be mixed and used in variety to add depth.
Dark colours tend to recede, and lighter colours highlight. This is why using several shades creates interest and depth. You should also consider this when choosing which shades to use where – use lighter colours to emphasize interesting architectural features or other beautiful elements you want to stand out. Black, however, or other dark neutrals, can be used almost like punctuation in a room when specified sparingly.
Layer Textures
Using a neutral palette means that your eyes aren't guided by colour. Instead, your line of sight will be guided by finer details and distinctions, such as texture. Layering different textures creates contrast, and thus areas of interest.
A really beautiful room can be created by purposefully layering lavish textiles that make an interior feel welcoming and warm, and a variety of high-quality textural elements to create distinct areas of detail and others of relief. This planning and consideration in a room shows great attention to detail and provides a feeling of luxury too.
Use Different Materials
A great way to decorate your room with a variety of textures is to use furniture and furnishings made from different materials. Natural materials like woods and linens are warm and earthy, and used in combination with matte, polished or metallic finishes provides contrast and distinct differences to catch the eye's attention.
Different materials also catch light in unique ways, adding an extra element of interest during various times of the day. A room designed with a neutral colour palette also gives you an opportunity to specify unusual materials without it feeling over the top.
Experiment with Shape and Pattern
Removing colour from a room also brings shape and form into the foreground. Use beautiful or interesting shapes to capture attention, or use shape repetitively to create pattern and draw the eye to a larger area. Pattern is also a fun way to make a contrast between otherwise similar elements and to show consideration of placement and well-thought-out design.
Accessorise
There are many ways to accessorise a room, but in a space with a neutral palette it is particularly important to add accessories. Whether you choose beautiful pieces of art, oversize or grand-scaled fixtures, playful or unexpected pieces of furniture or lighting to create mood, drama or elegance, you need to add some sort of accessorising elements to make the space special.
---
Can I help you and your family by creating a home for you to love coming home to each day?
I work on a wide variety of design projects and I would love to hear about yours.
Visit my Interior Design page for more information, or to be in touch, contact me here.
---