11 Oct

The art of styling shelves and interiors
When it comes to design and interior styling, it's all about layers. I have gathered my styling tips for you below so that you too, can appreciate and learn the art of styling.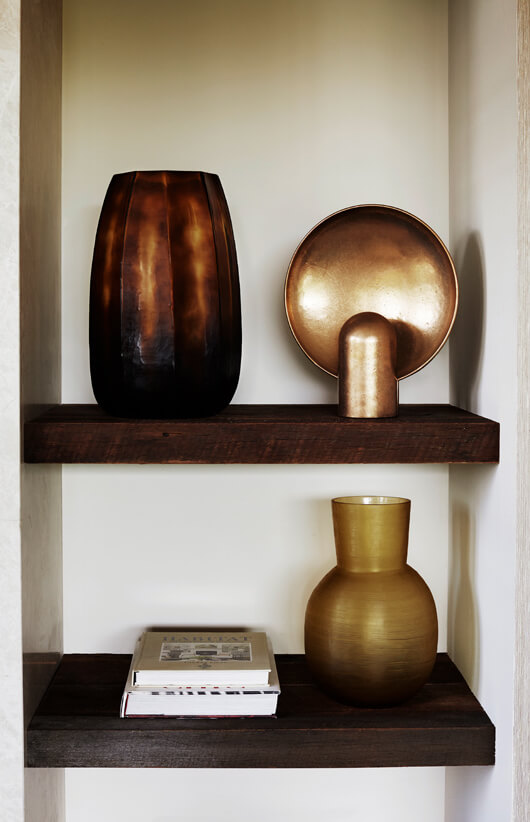 Have a vision
When you embark on your styling project, whether it be for a complete home build, makeover, or just an update, I think the best way to start is with a vision for what you want the space to look and feel like once it's complete.
There are many ways to do this, but start with collecting images of interiors that you love- what makes them 'special'? What style are they?
If you would like to do some work on really bringing your 'look and feel' together, you can make a vision board, either digitally or using magazine cuttings and paper. This will also help you really hone in on the look that you would like to achieve and help others to see it too, particularly if you are shopping around or sourcing things from various places.
If you wanted to, you could also bring together your fabric and paint colour swatches and any hardware to establish what works with your existing finishes and what might not.
This can be an overwhelming step for some, particularly if you aren't sure of your own personal style preferences. Remember, you can always edit and refine, I cover this step later in the post.
All in proportion
When you are bringing decorative items and objet into a space, one must consider proportions, size and the overall impact each piece will have on the room. Size definitely does matter, so it's all about weighing up the open spaces and shelving, furniture etc. that needs items and the size of the space when sourcing and styling additional pieces.
This is particularly important when selecting and sourcing rugs and artwork. These are fundamental styling additions and can really make or break a room.
I have covered the fundamentals of rug selection here, so when it comes to styling, be sure to position your artwork and rug effectively to really give it impact.
One should consider, what kind of impact you would like each piece to make. Is it a large, impactful piece that is to become the hero of the room? Does it demand attention? Then, style accordingly.
White space is also just as important when decorating with big items, including wallpaper- to avoid overstimulation to the eye, make sure there is a restful place for the eye- don't fill every little space with something, instead, leave white space too.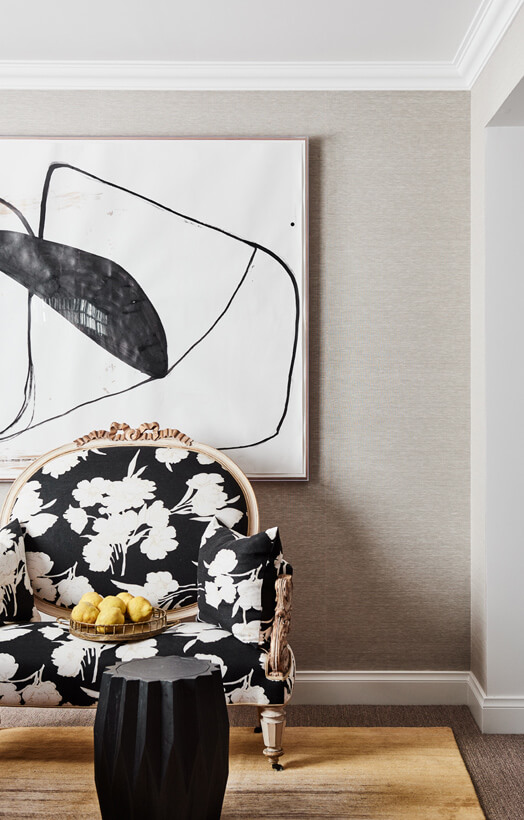 Stick to the colour palette
Whether you have designed the space to feature neutral tones and a natural colour palette, or have used a couple of key colours within your design, it is important to work off the colour palette when bringing in styling items.
This is because it can easily start to look busy- the balance is important to get right. If you have gone with a neutral palette, you may wish to introduce accent colours to compliment your artwork or rug choice, or simply colours that you feel drawn to. The great thing about styling, is that it can be easily refreshed or updated, according to personal preference, or, a change of season or trend.
The main piece of advice I have here would definitely be to have fun with colour and to not be afraid to experiment with it. Have a vision and a palette as a base and play around to find out what works and feels good for you and your home.
Less can be more
This can definitely be very true- it can be easy to get carried away with styling, but refinement is rewarding. Invest in quality, beautiful pieces that you love- pieces that will leave you and your guests with a lasting impression.
Here are a couple of key tips that might help when styling shelving and furniture vignettes:
Decorating in groups of three or odd numbers, is always a helpful guideline.
When grouping different pieces together, different heights and sizes will make a positive impact.
You can use decorative trays on tables, ottomans or vanities to keep items looking neat and tidy, and it's adds another layer to your styling.
Look for items that stand out to you, that you love. Whilst trends can be fun, they won't last the distance- if you want timeless, go for meaning and/or attraction.
Foliage and flowers are also a cost-effective addition that will help you bring some life and colour into your space.
A mirror over your table or console is a clever and cost-effective addition that can also elevate the amount of natural light that filters into the space , as well as give the illusion of scale.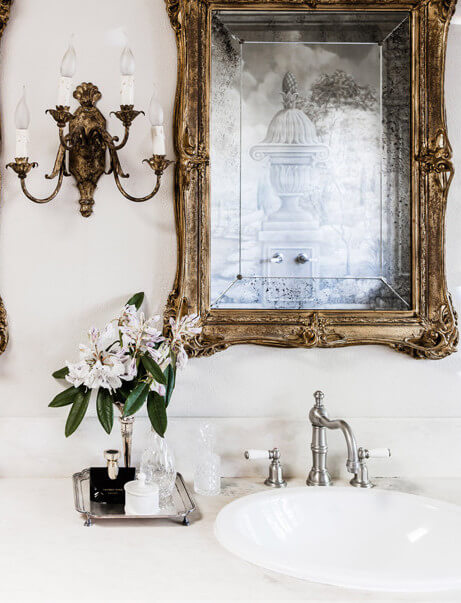 Edit as you go
Try to take the pressure of yourself to get everything right the first time. Bring your room together with decorative items, cushions, textiles and artwork and edit as you need to. As a designer, I have developed long-standing and valuable relationships with suppliers, which often means that editing the styling can be a very seamless and enjoyable experience because items can be loaned out accordingly. If you are able to, perhaps discuss your project with the stores representative to see if you can have items out on loan, or simply check that they can be returned if they do not work for you and the room.
Don't be afraid to have a play around with the positioning and styling of your shelves and furniture vignettes, sometimes it can take a few tries to get it looking just right, but, that can be the fun part!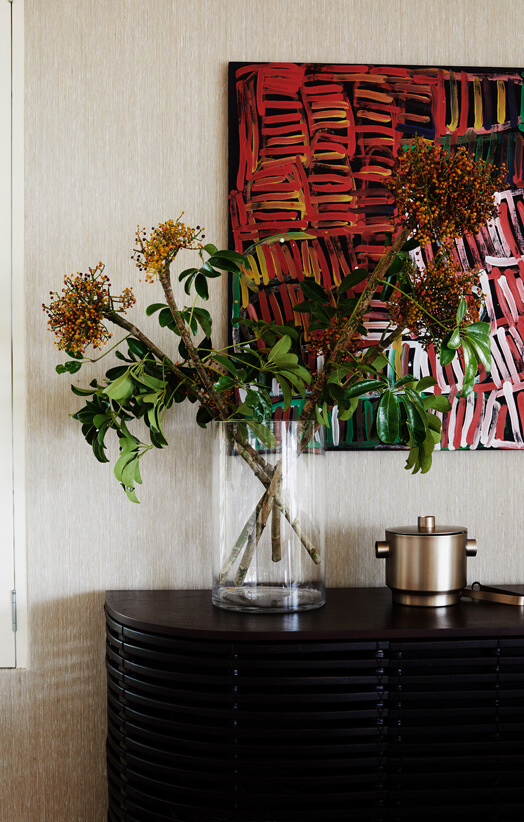 Take your time
I believe that you should never be in a rush when sourcing pieces from your home. You never know when something you love will jump out at you, it could be over a long weekend away, or after a lunch date. Collect objet over time and you can fill your home with memorable items that you love.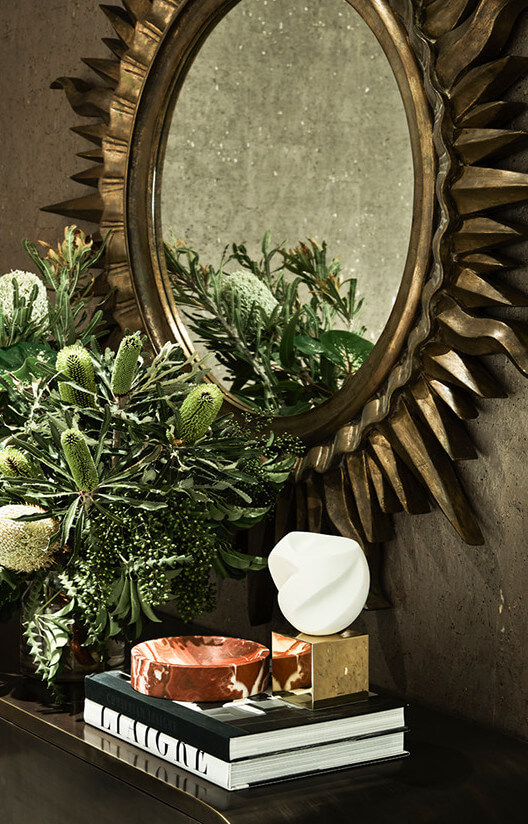 ---
Would you like some assistance with a project coming up?
Perhaps you would like to consult with Marylou on styling and how you can really elevate your home, taking the styling to the next level?
Marylou and her team at Marylou Sobel Interior Design would love to hear from you and discuss your project and vision.
Get in touch by clicking here.
---